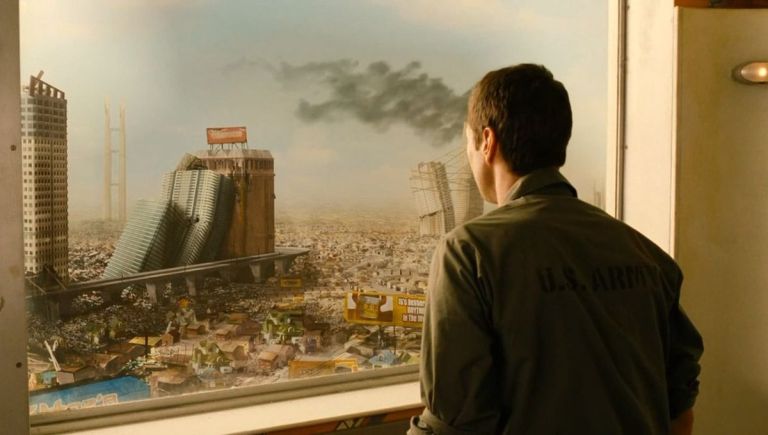 Weekend Reads: Realizing That We are Living "Idiocracy"
Posted by Maggie on December 18, 2021 in From the editors
Haven't yet seen that satirical flick? Better find it, watch it, and compare and contrast where we are at this moment in time.
At this time I would like to release that NBC and I have reached a settlement. The terms are confidential.

— Nicholas Sandmann (@N1ckSandmann) December 17, 2021
Unfortunately, such damages have become the cost of doing business for many in the media in the age of advocacy journalism where the narrative is more important than the news. …https://t.co/qUu2yB9YQr

— Jonathan Turley (@JonathanTurley) December 18, 2021
…Having a MAGA-hatted, racist, pro-life high school student abusing an elderly Native American was a fact too good to check — even when it required as little as watching the unedited videotapes.

— Jonathan Turley (@JonathanTurley) December 18, 2021
Jonathan Turley: "Our Pride is Showing": NBC Settles With Nicholas Sandmann
Former Covington Catholic High School student Nicholas Sandmann has reached another settlement with a major news organization over the widespread false reporting of his encounter with a Native American activist in front of the Lincoln Memorial on January 18, 2019. Sandmann previously settled with the Washington Post and CNN. He has now settled his $275 million defamation lawsuit against NBC…
Charles Creitz: Nicholas Sandmann reaches settlement with NBC in Covington Catholic High School controversy: Sandmann announced on Twitter the terms of the settlement were confidential
Nick Sandmann has now set legal precedent for and jump-started the much needed ability of people to sue the media for slander and libel, something that has pretty much been ignored in the last several decades … and which led to our current 'fake news' media trainwreck. Sandmann has expressed his support for Kyle Rittenhouse, and has strongly suggested he and his lawyers seriously consider filing his own lawsuits with the media and others who lied about him and his recent case/trial. That said, I am not in favor of making Rittenhouse a 'celebrity'. For me, I felt he was 'not guilty' as I looked at the circumstances and the evidence and the laws and agreed his was a strong and valid case of right of 'self-defense'. To me the trial was indeed all about retaining and preserving that right. Now it is time for Rittenhouse to get on with his life the best way he can, and for future legal cases to use his case as legal precedent. His trial was that important for all of us.
Kevin Downey, Jr: A Christmas Miracle! December Sees Antifa Thugs (Finally) Going to Prison!
Who's Who in the White House, eh?:
Steven Nelson: Biden accidentally calls VP 'President' Kamala Harris
Brie Stimson: Kamala Harris interview with Charlamagne Tha God gets heated after he asks who 'real' president is: 'Don't start talking like a Republican,' the vice president answered after Charlamagne suggested Sen. Joe Manchin was in the driver's seat in D.C.
Joe Concha: White House private meetings with media cannot save sinking Biden: NBC's Chuck Todd said this week that Biden's low approval numbers weren't all his fault
VIDEO: Democrats moved so far left they've become unelectable: Miranda Devine: Miranda Devine and Joe Concha react to possible replacements for President Biden on 'Hannity'
Jeffrey Lord: Liz Cheney, Adam Kinzinger, and the New American Fascism: Collaborators in the authoritarian January 6 Committee.
Nate Hochman: The Tragedy of Portland: 'It's a Ghost Town, Except for Zombies'
Twitchy: 'Incredible gaslighting': Karol Markowicz thread demolishes spin on schools from NYTs Michelle Goldberg & Randi Weingarten
I got a covid question. How come it seems more widespread now than ever even with vaccines? Why is FL no different than other states when they ignore it? Like whats benefit of freaking out when it appears freaking out is as effective as letting people make their own life choices?

— Dave Portnoy (@stoolpresidente) December 17, 2021
Twitchy: Barstool's Dave Portnoy is asking the Covid questions that we should be hearing from the corporate media, but aren't
David Solway: What Is Evil? Everywhere we turn these days we see evil in action…
Leslie Eastman: Major California School Districts Adopt Senseless "Equity" Grading System: Soft bigotry of low expectations.
Stacey Matthews: Redfin, Realtor-dot-com To Stop Including Crime Stats on Listings Due to Possible 'Racial Bias' Concerns: "…given the long history of redlining and racist housing covenants in the United States, there's too great a risk of this [crime data] inaccuracy reinforcing racial bias," Redfin's chief growth officer Christian Taubman wrote.
Chris Queen: Woke Health Insurer Claims to See a Racist Behind Every Stethoscope
I'm done decorating!
Found these posters at my local Big Lots store…
Posted by Maggie on December 18, 2021 in From the editors Haven't yet seen that satirical flick? Better find it, watch it, and compare and contrast where we are at this moment in time. At this time I would like to release that NBC and I have reached a settlement. The terms are confidential. — Nicholas Sandmann (@N1ckSandmann) December 17, 2021 Unfortunately,…
Posted by Maggie on December 18, 2021 in From the editors Haven't yet seen that satirical flick? Better find it, watch it, and compare and contrast where we are at this moment in time. At this time I would like to release that NBC and I have reached a settlement. The terms are confidential. — Nicholas Sandmann (@N1ckSandmann) December 17, 2021 Unfortunately,…