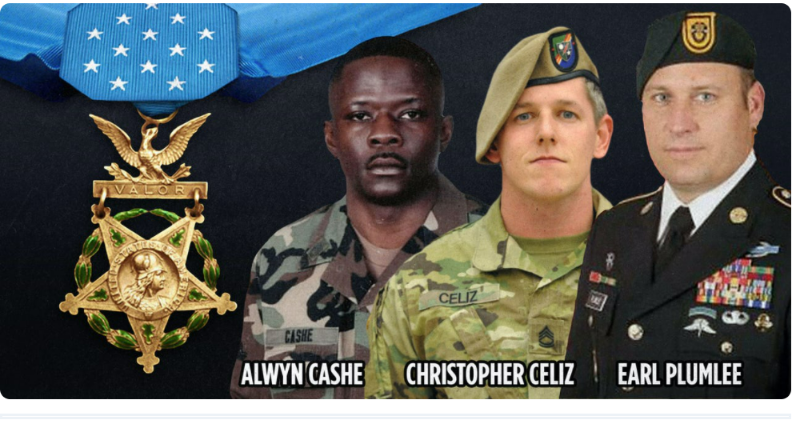 The Medal of Honor: Cashe, Celiz, and Plumlee
By MARK ALEXANDER December 17, 2021 in Armed Forces and Military Service
"For conspicuous gallantry and intrepidity at the risk of his life above and beyond the call of duty."
There was a highly unusual Medal of Honor ceremony this week — unusual because there were three recipients recognized at one White House reception, two posthumously.
The awards were likely combined into one ceremony because the current commander-in-chief has proved himself an abysmal failure in the wake of his surrender and retreat from Afghanistan and, thus, chose not to host individual recognitions — given that two of the recipients were Veterans of the Afghanistan war.
The CINC's failures notwithstanding, the character, service, and sacrifice of the three most recent American Patriot recipients of our nation's highest award for military valor are extraordinary examples of all that is good and right about our great nation.
I invite you to pause and read the profiles of these three Army recipients: Sergeant 1st Class Alwyn Cashe — Iraq (posthumous); Sergeant 1st Class Christopher Celiz — Afghanistan (posthumous); and Army Master Sergeant Earl Plumlee — Afghanistan.
The courage they demonstrated in their commitment "to support and defend" our nation and "for conspicuous gallantry and intrepidity at the risk of his life above and beyond the call of duty" — placing the lives of others above their own — is why they stand apart. But they do not stand alone. To a man, those living recipients today are quick to assert they wear their Medals in honor of all who have served with valor and dignity. The heroic acts by other American Veterans in combat are countless.
Since the first six Medals of Honor were awarded on March 25, 1863, there have been, in the name of the United States Congress as of this date, 3,530 Medals awarded to 3,511 recipients, including 19 double recipients. Today, there are just 65 living recipients.
Over the last two decades, I have profiled many recipients, all but one of whom I have known personally, and my words only touch on the exceptional lives of these individuals: Desmond Doss, Charles Coolidge, Emil Kapaun, Ralph Puckett, Chuck Hagemeister, Clifford Sims, and Leo Thorsness.
Most recently I wrote about Army combat pilot Larry Taylor, whose much-deserved Medal of Honor consideration is pending.
God bless these Veteran Patriots and their families, one and all.
Semper Vigilans Fortis Paratus et Fidelis
Pro Deo et Libertate — 1776
~~~
~~Reprinted with permission. See the original article here and leave some comments! 
By MARK ALEXANDER December 17, 2021 in Armed Forces and Military Service "For conspicuous gallantry and intrepidity at the risk of his life above and beyond the call of duty." There was a highly unusual Medal of Honor ceremony this week — unusual because there were three recipients recognized at one White House reception, two posthumously. The awards were…
By MARK ALEXANDER December 17, 2021 in Armed Forces and Military Service "For conspicuous gallantry and intrepidity at the risk of his life above and beyond the call of duty." There was a highly unusual Medal of Honor ceremony this week — unusual because there were three recipients recognized at one White House reception, two posthumously. The awards were…