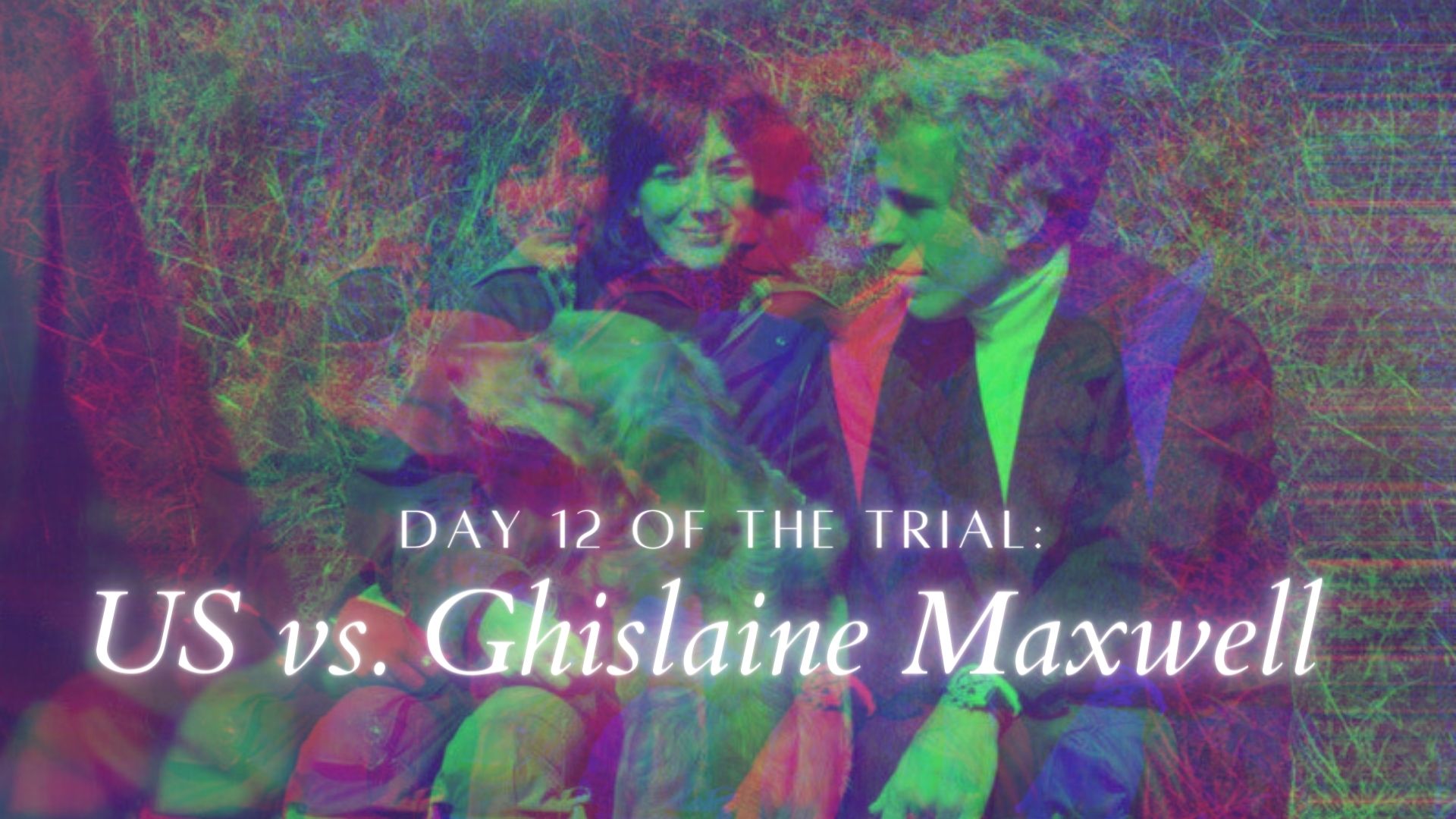 Ghislaine Maxwell Trial: Day 12
December 17, 2021 — Today began the twelfth day of trial in the case of the U.S. vs Ghislaine Maxwell. We have been providing daily coverage of the ongoing trial.  If you haven't been following the trial, be sure to read our prior reporting to get caught up first.
Ghislaine Maxwell, daughter of infamous Israeli "superspy" Robert Maxwell has pleaded not guilty to eight charges, including child sex trafficking. Maxwell was partners with disgraced "financier" and "philanthropist" Jeffrey Epstein. Epstein was charged with child sex trafficking and arrested in 2019 but then died while in custody, conveniently shelving his expected trial. U.S. District Judge Alison Nathan has been presiding over the Maxwell case and has imposed strict secrecy, refusing to livestream the trial and redacting and sealing many exhibits. The judge also declined the public call-in line, despite this being a fairly standard practice.
Today's Proceedings
Today's proceedings began with the defense getting off to a bad start, with some of the witnesses they planned to call not showing up. They may rest and conclude their argument early next week.
MSM out in full force at the #GhislaineMaxwellTrial #MaxwellTrial #GhislaineMaxwell #JeffreyEpstein #JeffEpstein #Epstein #EpsteinFiles pic.twitter.com/foGKxD3eZX

— (Ghislaine Maxwell Trial Coverage) (@OneAddyAdds) December 17, 2021
The mainstream media has been making the false assertion that this trial is getting "full coverage" by them, but as you can see from images and video coming from outside the courthouse, that simply isn't true. Moreover, the media refuses to touch on Maxwell and Epstein connections to Intelligence services and a foreign nation. As investigative journalist Whitney Webb noted yesterday:
The trial of Ghislaine Maxwell, the alleged madam of Jeffrey Epstein's sexual blackmail and sex trafficking network, has attracted considerable mainstream and independent media attention, though not as much as one might expect given the level of media attention that surrounded Epstein's 2019 arrest and death or given the public interest in the Epstein/Maxwell scandal and its broader implications.

Unsurprisingly, the broader implications of the Epstein/Maxwell scandal have been largely, if not entirely absent, from mainstream media (and some independent media) coverage of Ghislaine Maxwell's trial as well as absent from the case itself. For example, despite physical evidence of sexual blackmail stored at Epstein's residences being shown by the prosecution (with the names of those incriminated being notably redacted), the prosecution chose not to mention even the potential role of blackmail in Ghislaine Maxwell's activities and motives as it related to her involvement in sex trafficking activities alongside Jeffrey Epstein. Not only that, but the names of Ghislaine's close contacts and even some of her defense witnesses, along with considerable information about her role in Epstein's network that is very much in the public interest, is due to be filed under seal and forever hidden from the public, either due to "deals" made between the prosecution and the defense in this case or due to rulings from the judge overseeing the case.

Going hand in hand with the blackmail angle of this case is the specter of Ghislaine Maxwell's family ties to intelligence agencies, as well as the intelligence ties of Jeffrey Epstein himself. Given that blackmail, particularly sexual blackmail, has been used by intelligence agencies – particularly in the US and Israel – since the 1940s and beyond, it is deeply troubling that neither the blackmail or intelligence angle has played any role in the prosecution's case or in the mainstream media's coverage of the trial. – Whitney Webb, Unlimited Hangout
According to Vicky Ward and the Daily Beast, former Trump official Alex Acosta, who oversaw Epstein's controversial 2007 non-prosecution deal, claimed he was told to back off Epstein:
Epstein's name, I was told, had been raised by the Trump transition team when Alexander Acosta, the former U.S. attorney in Miami who'd infamously cut Epstein a non-prosecution plea deal back in 2007, was being interviewed for the job of labor secretary. The plea deal put a hard stop to a separate federal investigation of alleged sex crimes with minors and trafficking.

'Is the Epstein case going to cause a problem [for confirmation hearings]?' Acosta had been asked. Acosta had explained, breezily, apparently, that back in the day he'd had just one meeting on the Epstein case. He'd cut the non-prosecution deal with one of Epstein's attorneys because he had 'been told' to back off, that Epstein was above his pay grade. 'I was told Epstein 'belonged to intelligence' and to leave it alone,' he told his interviewers in the Trump transition, who evidently thought that was a sufficient answer and went ahead and hired Acosta. (The Labor Department had no comment when asked about this.) – Daily Beast
It was Robert Mueller's FBI who made Epstein an FBI Informant in what they deemed "child prostitution" matters.
Addy Adds confronted Ghislaine Maxwell's sister Isabel Maxwell outside the Manhattan Federal Courthouse today, asking about the Rothschild family and their connections to the Maxwell clan:
Isabelle Maxwell appears to nod when I ask her if the Rothschilds are "the great protectors of the family." #GhislaineMaxwellTrial #MaxwellTrial #GhislaineMaxwell #JeffreyEpstein #JeffEpstein #Epstein #EpsteinFiles pic.twitter.com/EOCN2W9xKs

— (Ghislaine Maxwell Trial Coverage) (@OneAddyAdds) December 17, 2021
We should all be asking if the Rothschilds are still protecting Maxwell, including during this show trial.
The 81-YO witness is/was the owner of the Nags Head pub, watering hole across the st from Maxwell's former London townhouse. Defense wants him to refute accuser recollection that she met Maxwell at that address during the time period.

— julie k. brown (@jkbjournalist) December 17, 2021
It appears the witness mentioned yesterday named Michelle is a former Epstein employee. If I heard lawyer Christian Everdell correctly, he said the woman's name was Michelle Hugh.

Defense stated Kelly wasn't a witness they asked to testify under a pseudonym.

TBD on Eva.

— kate briquelet (@kbriquelet) December 17, 2021
It appears Maxwell's defense team is having some issues getting witnesses to testify on Maxwell's behalf since they are not allowed to remain anonymous.
United States v. Maxwell
Letter — Document #549

"In advance of the agents' testimony, the Government writes regarding the boundaries of the Court's prior rulings on the scope of questions put to law enforcement witnesses.." pic.twitter.com/NT9iuhV1rY

— EcommBlonde (@ecommblonde) December 17, 2021
This filing was made by the Maxwell defense today.
United States v. Maxwell
Letter — Document #550

re: Prior inconsistent statements. #GhislaineMaxwell #GhislaineMaxwellTrial #JeffreyEpstein pic.twitter.com/XRFyStZEkK

— EcommBlonde (@ecommblonde) December 17, 2021
The defense filed this yesterday, alleging prior inconsistent statements made by witness "Carolyn."
Eva Andersson-Dubin—Epstein's ex girlfriend, longtime pal and whose husband Glenn was accused of abuse—will testify at Maxwell's trial today. https://t.co/1oaivNYv1g

— kate briquelet (@kbriquelet) December 17, 2021
Eva's husband Glenn Dubin has been accused of rape.
Judge Nathan: I'm letting in the documents about residence versus ownership. If I weren't, you might have a point. Is this deposition transcript new to you?
Maxwell's lawyer: She was deposed in a slip and fall case.
Judge Nathan: You'll provide the transcript.

— Inner City Press (@innercitypress) December 17, 2021
This is very strange, and it is unclear how this testimony is relevant to this case.
Judge Nathan: I have a rule, you have your next witness or you rest. If otherwise the case closes today, it closes today.
[Couldn't Maxwell's lawyers just do super-long direct examination? And what about the 3 day hiatus?]

Maxwell's lawyer: Also if the Marshals can produce another witness we've subpoenaed… The other witness, from the UK, if they will stipulate to it, there'd be no review.
Assistant US Attorney: The subpoenaed witness Kelly, we have no idea what she'd say. No stip.

Maxwell's lawyer Menninger: I understand your Honor wants to run this quickly, but it's a lot of work.
Judge Nathan (laughs) I understand that, Ms. Menninger. Give me a written application and a proposed order in half an hour.

Judge Nathan: There are also some 40 prior inconsistent statements. My colleague Judge Kaplan has helpfully set forth the standard.
[He's the judge with Giuffre v. Prince Andrew before him, which Inner City Press is also reporting on]

Judge Nathan: Annie said she didn't remember a chef being there [on the Zorro ranch] but that it made sense to her, so not inconsistency. And the amount of horseback riding is a collateral issue.

Maxwell's lawyer: I think impeachment is for the truth [of the matter asserted] Judge Nathan: That's way too metaphysical for me to handle right now. (Laughs).

Maxwell's lawyer: We'll have a law enforcement witness and we'd like to ask leading questions.
Judge Nathan: Truth comes out on direct. Start with that.
Maxwell's lawyer: I want to get to the absence of evidence, the lack of GPS given the age of the allegations.

Maxwell's lawyer Everdell: I wanted to ask the agent, that the complaint was first on one time frame then more recent, with Carolyn. I think that's relevant.
AUSA: The court has already ruled on this – the path of the investigation. Let's them raise it in closing.

Judge Nathan: Who's the first [defense] witness today?
Maxwell's lawyer: First Special Agent Jason Richards. Then we would have had Agent Young. Then [drumroll] Eva Dubin.

OK – jury is finally called in at 10:30 am, an hour late All rise!
Witness is Agent Jason Richards.
Maxwell's Pagliuca: Where are you based?
Richards: Miami. Before, Palm Beach.
Pagliuca: Let's turn to 2006.
Richards: I was in Unit PV-2. We investigated Epstein.

Pagliuca: Did you interview Carolyn – don't say her last name?
Agent Richards: I did.
Pagluca: Did you recall Carolyn saying she obtained Epstein's number from a phone book and that Epstein returned her call?
Richards: If that's what's in the 302 report.
Maxwell's lawyer: Agent Young, was your partner Detective Burns?
Young: Yes. We both check the 302.
Maxwell's lawyer: You just heard Ms. Comey's questions to Agent Richards. 302s are not transcripts, right?
Young: They are not.

— Inner City Press (@innercitypress) December 17, 2021
The FBI is one of the only agencies that doesn't have to record its interviews. They have agents take handwritten notes, which can be inaccurate, called 302 reports. There is no logical reason for this, except that it gives the agents control over the narrative.
Maxwell's lawyer: You interviewed Annie Farmer. About the boots, right?
Young: Yes. The boots were obtained by law enforcement this year. I don't remember which month.

Maxwell's lawyer: Read this.
Young: "In the beginning, Jane would be with her mother and brothers at the Epstein house."
Maxwell's lawyer (Menninger) – I want to turn to page 7. You wrote, Jane did not recall specific abuse that may have occurred in New Mexico.

Maxwell's lawyer: Just to emphasize, the boots were discussed recently?
Young: Yes.
Cross.
AUSA: What did you do before?
Young: I interviewed children about child abuse.

[Now there is a sidebar. Agent Amanda Young sits in the plexi-glass witness box, in dark blue shirt, black jacket. They're back]
Judge Nathan: Jurors will disregard the statement about Agent Young's previous job interviewing children.

AUSA: Did Jane need more than one meeting to say what happened?
Maxwell's lawyer: Objection! Beyond the scope!
AUSA: I'll try another way. Who was there for the interviews?
Maxwell's lawyer: Objection! Beyond the scope – I didn't ask about this.

Redirect:
Maxwell's Menninger: You used these notes with the grand jury, right?
Young: Some of them.
Maxwell's Menninger: Did you show her the 302s?
Young. No. It's not ethical. It's not appropriate.

Maxwell's Menninger: You don't record them?
Young: Only those in custody. Not victim / witnesses.
Maxwell's Menninger: Are you familiar with the DOJ Obtaining Evidence protocols?
AUSA: Objection.
Judge Nathan: Overruled.
Menninger: I have a document, I can show it.

[And now, yet another sidebar. and now – the next witness: Eva Dubin]
Witness: I am Eva Andersson. I also go by Eva Andersson-Dubin. I live in NYC. I am 60.
Maxwell's lawyer: You are married to Glenn Dubin?
Eva: Yes. 28 years. We have 3 children: 27, 25 & 20.

Maxwell's lawyer: Gender?
Eva: Female, male, female.
Maxwell's lawyer: What does Mr. Dubin do for employment?
Eva: He is self-employed. I was previously employed as a medical doctor.

Eva: I went to medical school in Stockholm, then UCLA. Then Lenox Hill Hospital in NYC.
Maxwell's lawyer: Did you know Mr. Epstein?
Eva: We dated off and on from 1983 until 1991.

Maxwell's lawyer: Did you ever witness any sexual contact between Mr. Epstein and —
AUSA Moe: Objection!
[Another sidebar]

Maxwell's lawyer: Let me show you some photographs under seal. Is one person Mr. Epstein and the other one of your children?
Eva: Yes it's the 20. I've never seen this picture before.
Judge Nathan: I'll give the jurors their mid-morning break.
Jurors leave, and witness steps out.
Judge Nathan: If there's something inaccurate in the media writ-large, like a blog post…

— Inner City Press (@innercitypress) December 17, 2021
It is really weird that Inner City Press request has not been docketed.
Judge Nathan: I sustain the government's objection [to asking about published flight logs] under 401 and 403. Now we'll take our break.
Here's fast podcast during the break https://t.co/OfXD0QAExG

— Inner City Press (@innercitypress) December 17, 2021
Jury is back.
Maxwell's lawyer: Let's look at GX662r, the redacted flight logs of Dave Roberts. Can you see it Doctor Dubin?
Judge Nathan: Can we make sure it is redacted? If so it may be published.

On the screen, flight with "JE, Eva Andersson" and Ms. Francis Jardine.
Maxwell's lawyer: Do you remember Francis Jardine?
Eva: I remember Francis, I didn't know her last name.
Maxwell's lawyer: you knew Mr. Epstein was dating her?
Eva: Yes.

Maxwell's lawyer: I'll show you sealed exhibit GX12… and now, only for the witness and court, unredacted Exhibit 662.
[Nothing shown on screen]
Eva: I recognize Sophie Biddle, a massage therapist… And I see my husband's name.

Maxwell's lawyer: Without saying the name that we are not saying, do you see it on the list?
Eva: Yes.
Maxwell's lawyer: Have you ever been in a group sexual encounter with Jane? Eva: I have not.
Maxwell's lawyer: That's all I have.
Judge Nathan: Ms. Moe.

Cross.
AUSA Moe: Are you the only Eva in the whole wide world?
Maxwell's lawyer: Objection on relevance.
Judge Nathan: Overruled.
AUSA Moe: Did you ever discuss with Mr. Epstein his relationship with Ms. Maxwell?
Maxwell's lawyer: Hearsay.
Judge Nathan: Sustained.

AUSA Moe: With respect, do you have issues with your memory?
Eva: I can't remember things from last month.
Maxwell's lawyer: This does not need to be discussed.
AUSA Moe: Nothing further. No redirect.
Judge Nathan: Defense may call its next witness.

It's Michelle Healy. She says: I'm 47, live in Dallas, as a housewife. My husband is an architect. My system Shannon lives in Albuquerque. I grew up on Long Island. NY from 1974 to 1999.
Menninger: Where did you work in 1996?
Healy: J. Epstein and company.

Healy: I went to Zorro ranch, my sister was working there.
Maxwell's lawyer: Were you ever involved in any group sexualized massages with Jane?
Healy: Absolutely not.

Cross.
AUSA Comey: Are you the only Michelle in the world?
Michelle Healy: I hope not.
AUSA: Never flew on Epstein's plane?
Healy: No.
AUSA: Nothing further.

Still not out in Foley Square – in court with jury out, Maxwell's lawyer pushing to have Nag's Head Pub witness testify on Monday.

Judge Nathan: I always say, I have so many bridges to cross. I cross the bridge that is in front of me.
Maxwell's lawyer: We want to put in property records about Stanhope Mews, too. They are self-authenticating.

Judge Nathan: What do we have after lunch?
Maxwell's lawyer: We'll try to work out the other stips.
Judge Nathan: So, no more defense witnesses? I'm going to spend my remaining lunch hour reviewing Kelly.
AUSA: If not Monday morning, it's too late.
Jury *still* not back, 2:42 pm. Judge Nathan said she intends to ask #GhislaineMaxwell whether she intends to testify. Now Maxwell is talking at length with her lawyer Bobbi Sternheim and others.

— Inner City Press (@innercitypress) December 17, 2021
NEW: It seems possible that Ghislaine Maxwell's lawyers have run out of witnesses.

Judge Nathan will soon ask the question to Ms. Maxwell, if she will take the stand to testify in her own defense and rebut the allegations of her accusers. #GhislaineMaxwell

— CaitlinSinclairTV (@CSinclairtv) December 17, 2021
"Search Every Known Flight Made by Jeffrey Epstein's Private Jets"

Archive to get around paywall

Glenn Dubin?

https://t.co/mBGqDtgTLl pic.twitter.com/04JnCKNPCl

— Bigfish (@trebillion) November 29, 2021
There is Eva and Glenn Dubin.
— Bigfish (@trebillion) December 17, 2021
The Judge has returned from break:
Judge Nathan has returned, and AUSA Comey says, we have reached stipulations and we can wrap up the case today.
Judge Nathan: How long to read the stips?
AUSA Comey: 10 to 15 minutes.
Menninger: We ask you to take a notice of a 1996 case before 2d Cir Judge Chen.

Judge Nathan: You've given Judge Chen an early promotion (laughs).
Menninger: The US leased a building to Epstein [had been Iran's consulate?] Inner City Press going to look up the case…
The problem is, at least on PACER, all of the links to this 1996 case of US and Epstein are dead. Must seek out paper copies 2/3 pic.twitter.com/A6Qgjud6F2

— Inner City Press (@innercitypress) December 17, 2021
Judge Nathan: I'm sustaining the objection, given the posture of that case at the time [it was on summary judgment]
AUSA: In the old deposition of Epstein, the government's goal wasn't what it is here, to determine where he was living, there or on 9 East 71st St

— Inner City Press (@innercitypress) December 17, 2021
Maxwell's lawyer: Jane says Epstein was living in 9 East 71st on 1994. But this case says different.
Judge Nathan: It's not coming in. And I heard, no arrest warrant for Kelly> Maxwell's lawyer: No need to arrest Kelly "Bolino" (sp)
AUSA: No government rebuttal case.

Now: allocution.
Judge Nathan: Ms. Maxwell, please rise. The decision to testify or not is your decision. Do you understand?
Maxwell: Your Honor, the government had not proved its case beyond a reasonable doubt. So there is no need for me to testify.

Now stipulations being read into the record including… Annie Farmer's boots were seized by the FBI on June 29, 2021. Also, when the Lion King opened. and that Dominique Hyppotite would testify that the Palm Beach school maintains records (Roberts).

More stipulations: "It is agreed that the birthday of Mike Wallace is May 9, 2018." (Jane cited 80th birthday party Now London addresses and dates.)
Note: Judge Nathan indicated when this is done, she'll tell jurors to come in Monday 9 am, to 5:30 or 6.

US says its closing will be 2-3 hours, rebuttal 45 minutes. Maxwell's closing will not be longer, they say. Then charge.
Judge Nathan: I'll given them a shortened lunch break too, to get it all in on Monday. Then deliberation Tuesday, Wednesday & more if necessary.
The defense has rested its case after two days, with Ghislaine Maxwell declining to testify at her trial. The trial resumes Monday at 9 a.m. for closing arguments. We will continue to provide updates for you throughout the remainder of the case.
December 17, 2021 — Today began the twelfth day of trial in the case of the U.S. vs Ghislaine Maxwell. We have been providing daily coverage of the ongoing trial.  If you haven't been following the trial, be sure to read our prior reporting to get caught up first. Ghislaine Maxwell, daughter of infamous Israeli…
December 17, 2021 — Today began the twelfth day of trial in the case of the U.S. vs Ghislaine Maxwell. We have been providing daily coverage of the ongoing trial.  If you haven't been following the trial, be sure to read our prior reporting to get caught up first. Ghislaine Maxwell, daughter of infamous Israeli…