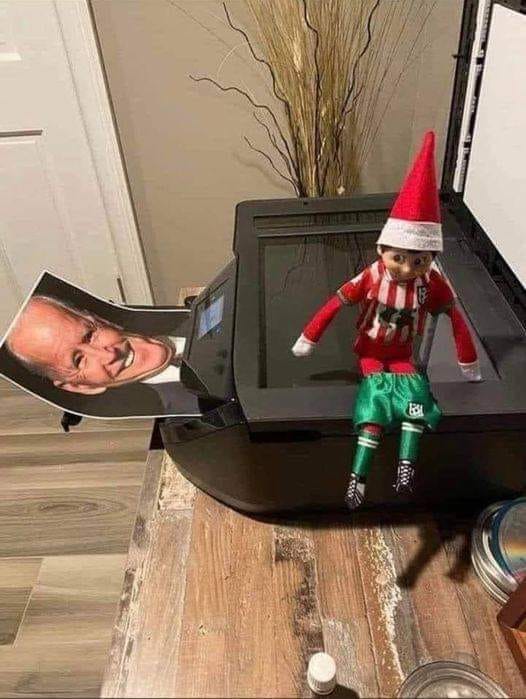 Friday Newsfeed: "What's The Big Deal?"
Well, sorry, Prezy Poopy Pants, but "This is a big f***ing deal."
An alleged POTUS that scoffs at and dismisses "We the People" and their freedom and liberty is a dictator and tyrant in the making.
Jordan Boyd: Biden Scoffs At Unvaxxed People Concerned About Freedom: 'What's The Big Deal?'
President Joe Biden shrugged off personal freedom as a reason to refuse the COVID jab to scold people who are hesitant to get the shot.

"Everybody talks about freedom and not to have a shot, or have a test. Well, guess what, how about patriotism? How about making sure that you're vaccinated so you do not spread the disease to anybody else? What about that? What's the big deal?" Biden asked…

In addition to completely disregarding concerns about personal freedom in a world with rising COVID-induced tyranny, Biden's comments also indicate that he still believes people who have had the shot can't spread the virus. This directly contradicts the data, which suggests that "people who get vaccine breakthrough infections can be contagious."

"COVID-19 vaccines are effective at preventing infection, serious illness, and death. Most people who get COVID-19 are unvaccinated. However, since vaccines are not 100% effective at preventing infection, some people who are fully vaccinated will still get COVID-19," the Centers for Disease Control and Prevention website states. "…People with vaccine breakthrough infections may spread COVID-19 to others."

These breakthrough infections are on the rise in the United States as COVID variants blow through communities…
Twitchy: Peter Doocy asks why President Biden is still suggesting you can't spread COVID if you've been vaccinated
Short read, "You're all gonna die, man. No joke"…
Andrew Mark Miller: Biden warns of 'winter of severe illness and death' for the unvaccinated: The omicron variant has been detected in 36 states
"It's here now and it's spreading and it's going to increase," the president said about the omicron variant while meeting with his coronavirus response team. "For unvaccinated we are looking at a winter of severe illness and death if you're unvaccinated for themselves, their families, and the hospitals they will soon overwhelm."

"But, there's good news," Biden added. "If you're vaccinated and have your booster shot you're protected from severe illness and death."
Nobody rabidly pushing the fear factor(s) in all of this COVID bullshit, especially the vaccine panic, is honestly, and most definitely'scientifically', addressing the infection, and even deaths, with breakthroughs for those fully-vaxxed. And as we are dragged, some of us through the mud, into the end of the second year and the horizon of a third year, We are also still left hanging to hear any of these "science" champions ever publicly address therapeutic treatments for those infected and sick with the virus. Why is that? Oh, yeah, because they only want the people rolling up their collective sleeves and accepting an experimental "vaccine" … and now "it's for the children".
Just a reminder that in the best of times of fully-staffed hospitals, those facilities are typically overwhelmed during flu season. But what the MSM, and this administration and its "science" minions consistently and intentionally fail to point out is the nation's hospitals have severely cut/fired staff that have refused for one reason or another (many refusals because of their actual natural immunity from having had COVID) and are now not only shorthanded of medical care workers but have had to cut down the number(s) of beds and rooms available for in-patients because of those staff shortages. Cause and effect.
VIDEO: CDC recommends Moderna, Pfizer vaccines over Johnson & Johnson: Dr. Nicole Saphier on CDC encouraging Americans to choose the Moderna and Pfizer vaccines over the Johnson & Johnson vaccine due to issues. … She also discusses the issue of vaccinating our children, noting that if kids have pre-existing/core-morbidity health issues there should be strong consideration for their taking the vaccine, as opposed to healthy children … and always at the parents' choice. And Saphire also points out how it is usually the second dose that brings about the vaccine side-effects, some acute, and that there is a major question as to the possibility/probability of such bad side-effects for children who've had COVID and have natural immunity and then risk taking the vaccine on top of that. She points out he big pharma company Pfizer has the data but is refusing to release it. Feeling confident, Mom and Dad?
Reuters: Moderna COVID-19 shot more likely to cause heart inflammation than Pfizer's, study shows … And they wonder why we're not buying their crap?
There is another curious issue in all of this that is foolishly not being seriously addressed. There is a growing number of athletes who have taken the vaccines around the world collapsing, and even dying. There are those snapping in to defend the vaccine by barking "There's NO evidence this is happening because of the vaccine!". Well then, unless this is an annual tally of such medical incidents of perfectly healthy and optimally fit adult athletes, how would they explain this, as the vaccine appears to be the only thing they have in common? "No evidence"?? Is anyone even scientifically (real science, that is) investigating this?? And now they are pushing the vaccines on children and teens, many teens who are healthy/fit athletes themselves.
And now this unscientific bullshit is threatening national security within our military ranks…
Elizabeth Faddis: More than 100 Marines discharged over refusal to get COVID-19 vaccine: The Marine Corps announced Thursday that 103 members had been discharged following other branches of the U.S. armed forces taking action against those who defied a vaccination order… … This, on top of firings and resignations (as I said in hospitals) in our police and other first responders ranks for the same reasons. Note: the nation's police departments were already stressed by resignations and retirements in the #WOKE wake of the left's "defund/abolish the police" crap, and the increase in lack of leadership support while officers continue to be targeted and murdered in the streets over these last two years.
Graham Colton: Hannity: Last year's COVID 'dark winter' has become this year's 'winter of death' for Biden: The 'Hannity' host rebuked the president for his response to the coronavirus
Twitchy: 'Merry Christmas, everybody!' Joe Biden promises that the unvaccinated are 'looking at a winter of severe illness and death'
Tyler Olson: FOREVER PANDEMIC – Democrat-run cities quick to impose strict COVID-19 mandates but offer no plan to roll them back Cities say vaccine mandates aren't forever, but don't have plans on when they'll lift them: Philadelphia Health Commissioner Cheryl Bettigole: 'It doesn't come with an end date'
Twitchy: Bill de Blasio says that vaxx mandates work because 'human beings are pretty predictable' and if you threaten them hard enough, they'll comply … Comrade Bill said the quiet part out loud.
As they now reach for our youngest generation:
Melissa Suran, PhD, MSJ @ JAMA: Why Parents Still Hesitate to Vaccinate Their Children Against COVID-19
However, not all doctors (peers) agree with the JAMA missive…
COVID panties in a wad…
Twitchy: WATCH: Florida man kicked off of a United Airlines flight for wearing thong panties as a mask
ALEJANDRO AVILA @ OUTKICK: MAJOR AIRLINE CEOS CALL OUT NONSENSE BEHIND MANDATORY MASK WEARING
BONUS:
FAUCI on holiday gatherings: "If the counts keep going up and the test positivity keeps going up, we may need to be more restrictive. But for right now, people who are vaccinated and boosted should feel reasonably comfortable."

— Jacqui Heinrich (@JacquiHeinrich) December 17, 2021
He who sits upon the sleigh-shaped candy cane throne, The Father of Reindeer Dragons, commands you "Bend the knee!" because "COVID Christmas is coming!"
Meanwhile, in other Bidenville news:
Ashley Soriano: Yuma law enforcement overwhelmed by illegal immigration: 'Absolute chaos': The Yuma County Sheriff's Office receives dozens of calls each day, some from immigrants (w/VIDEO)
David Marcus: Biden's border grows deadlier by the day: Time for the White House to admit that its policies have failed and are getting people killed
Stephen Dinan: Biden halts plan to pay illegal immigrant families separated at border
~~~
~~Many thanks to Maggie and The Universal Spectator for reprint permission.
Well, sorry, Prezy Poopy Pants, but "This is a big f***ing deal." An alleged POTUS that scoffs at and dismisses "We the People" and their freedom and liberty is a dictator and tyrant in the making. Jordan Boyd: Biden Scoffs At Unvaxxed People Concerned About Freedom: 'What's The Big Deal?' President Joe Biden shrugged off personal freedom as…
Well, sorry, Prezy Poopy Pants, but "This is a big f***ing deal." An alleged POTUS that scoffs at and dismisses "We the People" and their freedom and liberty is a dictator and tyrant in the making. Jordan Boyd: Biden Scoffs At Unvaxxed People Concerned About Freedom: 'What's The Big Deal?' President Joe Biden shrugged off personal freedom as…