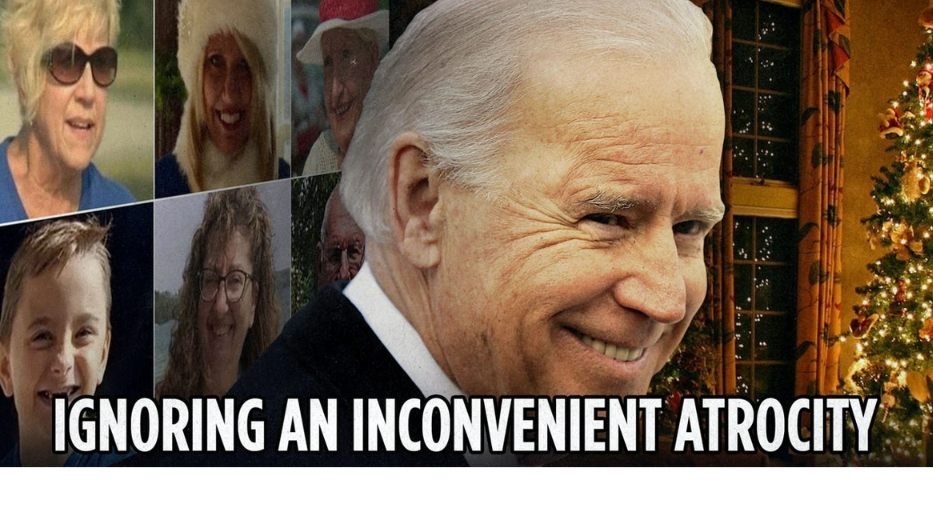 Biden, MSM Ignore the Waukesha Story
By DOUGLAS ANDREWS December 17, 2021 in Politics
The racial elements of the Christmas parade massacre defy leftists' narrative, so they're gamely trying to ignore it.
Until recently, the smallish Wisconsin town of Waukesha was mostly famous for being the hometown of guitar legend Les Paul — that and having its pronunciation butchered by out-of-towners. But all that changed on Sunday, November 21, when a racist career criminal named Darrell Brooks took advantage of a soft-on-crime legal system, posted a measly $1,000 bail, and made the decision to drive his SUV through a Christmas parade.
"He went pedal to the metal. And he guns it down the street," said Ryan Kohnke, an Iraq War veteran whose 11-year-old niece, Jessalyn, was among the injured. "It was like a war zone. There were bodies everywhere. … People were screaming, looking for their loved ones."
It was a murderous rampage, and the dead ranged in age from eight to 81, from Jackson Sparks to Bill Hospel. What Brooks did is about as sickening as it gets. He murdered six people and injured more than 60, many of them grievously. Waukesha, its people, and its Christmas parade will never be the same.
So we ask: Where's President Joe Biden? Where's the Consoler-in-Chief? Little was made of it in the mainstream media at the time, but Biden spent the Thanksgiving holiday at the $20 million Nantucket estate of private equity billionaire David Rubenstein. As we understand it, the president was briefed on the "tragic situation" in Waukesha, and his press secretary, Jen Psaki, issued this statement via social media the day afterward: "POTUS was briefed last night on the tragic situation in Waukesha and he will receive regular updates. Our team is in close touch with local officials to offer any support and assistance needed. Our hearts are with the families and the entire community."
Since then, we haven't heard much of anything about Waukesha from Biden. Why not?
Yes, a White House entourage led by First Lady Jill Biden and Second Gentleman Doug Emhoff finally traveled to Wisconsin on Wednesday to meet with first responders and family members of the victims — 26 days after the atrocity. But they were joined by Surgeon General Dr. Vivek Murthy, and their visit began in Milwaukee, where they also met with frontline COVID-19 healthcare workers, and they stressed the need for people to get their coronavirus vaccinations, even children as young as five.
But where's the president? Does anyone doubt that if the racial roles in Waukesha had been reversed — that if a white man had plowed into participants at a Black Lives Matter rally — Joe Biden would've been there long ago to denounce that appalling act of white supremacy? Does anyone doubt that he and members of his administration would've made multiple statements about it ever since?
And what about the media? How might it have treated that incident compared to this one? The question answers itself.
Former Wisconsin Congressman Sean Duffy believes it has something to do with Waukesha's demographics. "You have Waukesha — it's a mostly white, mostly Christian, Republican-leaning county," he said Wednesday night. "So they're the wrong race, wrong religion, wrong politics." After all, said Duffy, Darrell Brooks is "anti-white, anti-Jew, anti-Trump."
Duffy continued with a bit of sarcasm: "Trump supporters — those are the racists. It can't be Darrell Brooks Jr. who's a black man who hates white people. So we can't cover the story. … They don't want to be confronted with these facts of good people being mowed down by a really bad man."
Good people, who happen to be white, being mowed down by a really bad man, who happens to be black. Those are the facts of what went down in Waukesha. And that's why Joe Biden and the mainstream media wish it would just go away.
~~~
~~Reprinted with permission. See the original article here and leave some comments! 
By DOUGLAS ANDREWS December 17, 2021 in Politics The racial elements of the Christmas parade massacre defy leftists' narrative, so they're gamely trying to ignore it. Until recently, the smallish Wisconsin town of Waukesha was mostly famous for being the hometown of guitar legend Les Paul — that and having its pronunciation butchered by out-of-towners.…
By DOUGLAS ANDREWS December 17, 2021 in Politics The racial elements of the Christmas parade massacre defy leftists' narrative, so they're gamely trying to ignore it. Until recently, the smallish Wisconsin town of Waukesha was mostly famous for being the hometown of guitar legend Les Paul — that and having its pronunciation butchered by out-of-towners.…