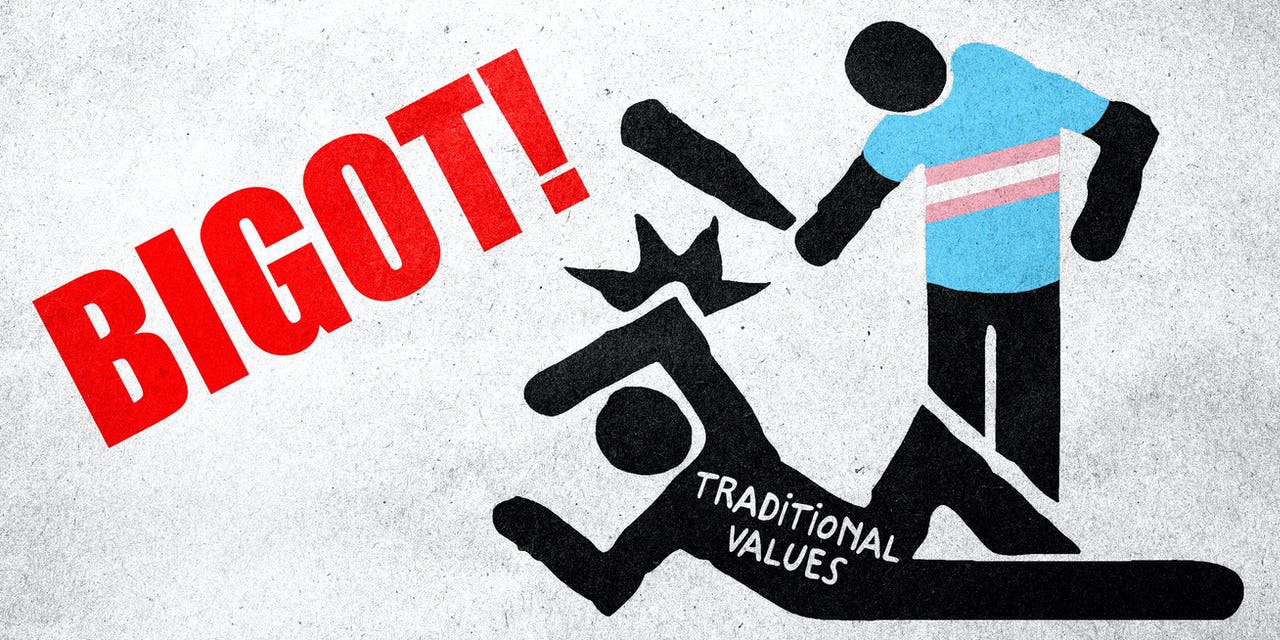 Religious Liberty, Transgender Activists, and Women's Voices
By  EMMY GRIFFIN December 15, 2021 in Rainbow Media
The transgender agenda is being challenged on multiple fronts.
The transgender agenda has been getting attacked on multiple fronts this week. There are three newsworthy items pertaining to this battlefield of the culture war. The most important item on this docket is an Eighth Circuit Court of Appeals hearing arguments from nuns and other Catholic hospitals.
These religious institutions are challenging a Health and Human Services mandate that Biden placed on all hospitals requiring them to preform gender reassignment surgery on a gender dysphoric individual. While the Catholic hospitals and medical facilities were happy to provide care and meet other medical needs of gender dysphoric patients, they rightly believe that the government does not have the right to force them to preform potentially harmful procedures. It is especially wrong if the person in question is a minor. The Catholic hospitals — which believe trying to change genders from the one you were born as is a sin against God — argue that this mandate violates their religious liberty.
This case has been won by these Catholic medical facilities twice in the lower courts, but the Biden administration keeps appealing. This is why it has now reached the Eighth Circuit.
The Biden administration argues that gender dysphoric people have a so-called right not to be "discriminated" against. But does their "right" supersede the constitutionally protected religious rights of doctors, nurses, nuns, and other medical staff? Absolutely not. This seems to be a common belief with the transgender agenda: their feigned "rights" are more important than everyone else's rights.
A swimmer at the University of Pennsylvania has been smashing records and potentially has a shot at being an NCAA champion. The caveat is that he's a biological male swimming on the female team, which is patently unfair. His "rights" have overshadowed the rights of his teammates. Several UPenn women swimmers have spoke out about how this hurts them as female athletes. Abigail Shrier, journalist and author of Irreversible Damage, added her voice to the mix by saying: "To the female athletes at Penn: Your school is telling you to keep your head down and try for second place. You weren't born for second place. Girls in the U.S. will soon give up trying to compete at the highest levels of sports at all. Speak up NOW."
Absolutely amazing.
Lastly, in the United Kingdom, Police Scotland announced that they would record rapes committed by a male according to the gender with which he identifies. This ridiculous and confusing announcement caused consternation and outrage amongst its citizens. J.K. Rowling, author of the Harry Potter books and longstanding critic of the gender dysphoria agenda, contributed again her concise thoughts on this absurdity. Using the words of the iconic book 1984 as her starting point, she says:
War is Peace.
Freedom is Slavery.
Ignorance is Strength.
The Penised Individual Who Raped You Is a Woman.
Naturally, the Left has blasted her six ways from Sunday. This type of blowback is nothing new to Rowling. Her family was even doxxed by leftist activists last week. Her response was along the lines of, You can't scare me. I could wallpaper my house with death threats from others like you. You're small potatoes.
Though Rowling probably disagrees with conservatives on every other issue, on gender dysphoria rights overtaking women's rights, she has been consistent and loud. She gains nothing by sticking up for women and has everything to lose, and yet she has gone to bat again and again for us. She should be commended and admired for being the voice of reason against this wall of hate coming at her. This is true bravery.
All of these battles being fought on the "transgender" front are encouraging to see. Women are starting to realize they are not alone. More and more voices are fighting for our rights and speaking out against the madness of this agenda that wants to erase us.
~~~
~~Reprinted with permission. See the original article here and leave some comments! 
By  EMMY GRIFFIN December 15, 2021 in Rainbow Media The transgender agenda is being challenged on multiple fronts. The transgender agenda has been getting attacked on multiple fronts this week. There are three newsworthy items pertaining to this battlefield of the culture war. The most important item on this docket is an Eighth Circuit Court…
By  EMMY GRIFFIN December 15, 2021 in Rainbow Media The transgender agenda is being challenged on multiple fronts. The transgender agenda has been getting attacked on multiple fronts this week. There are three newsworthy items pertaining to this battlefield of the culture war. The most important item on this docket is an Eighth Circuit Court…