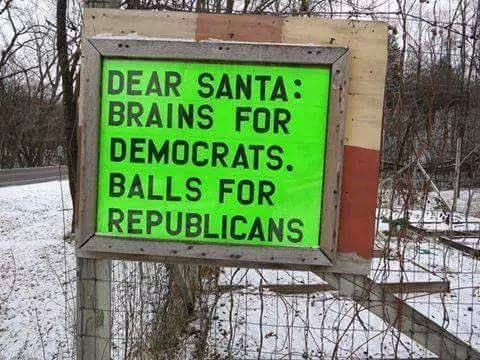 Hump Day: That Smell of Demo-commie Desperation Isn't Just in Joe's Pants…
Posted by Maggie on December 15, 2021 in From the editors
BREAKING:
The Democratic Party internal polling must be HORRENDOUS.
All hands on deck to stop the Red Wave. pic.twitter.com/ef24SdHBha

— Thomas Glass (@thommglass) December 15, 2021
Ace: Senate to "Shelve" Build Back Bolshevik Bill: Democrats Plot Nuking the Filibuster to Take Charge of Voting Laws Throughout Country
So they're shelving the bolshevikization of the economy, but will instead "aggressively" focus on the bolshevikization of elections instead.

I hope — pray, really — that Republicans have forty-one votes to filibuster that nightmare. But who knows what the "reasonable" Republicans might decide to in the service of Collegiality.

And I have to tell you: I think the "rules change" discussed here is a suspension of the filibuster rule for a vote on a federal takeover of state election laws…
DC Night Life for the Vampires:
This morning I saw video clips of last nights DNC fundraiser in DC. Biden was his usual, 'My meds wore off hours ago and I'm up waaaay past my bedtime and I think I pooped my adult diaper, but I'm among friendly enablers' form. Now Nancy Pelosi, well, Nan wobbled up to the microphones and it was evident by her staggering and slurred speech pattern … and the smears of her lipstick from her mouth up to under her nose, that she'd had her fair share, and somebody else's share, of holiday 'spirits' on ice. I wish I could find the video(s) for you, but not seeing them anywhere.
Andrew Mark Miller: Biden to DNC holiday party: 'We're going to win in 2022': House Speaker Nancy Pelosi also spoke at the event and explained how Biden is the 'perfect' president … Sure, Joe. Have some applesauce, man.
UPDATE: I found that Pelosi sloshed-video which I spoke of…
VIDEO: MRCTV: Pelosi: Joe Biden Is 'Just Perfect'; 'Our Country…Could Not Be Better Served'
Twitchy: Competent tough-guy Joe Biden warns his 'Republican friends' that they're 'gonna in for a problem' in 2022
Brandon Gillespie: New York Times columnist implores Biden not to run for reelection: 'Alarmingly incoherent': Columnist Bret Stephens argued that Biden's age and cognitive state needed to be candidly discussed
Breitbart: Poll: 67 Percent of Independent Voters Say Biden Should Not Seek Reelection
Twitchy: WH Christmas parties might be too dangerous to have, but Biden/Harris seem confident the virus doesn't spread at DNC fundraisers
PELOSI rejects calls to ban lawmakers and spouses from trading stocks, reports @HouseInSession

— Erik Wasson (@elwasson) December 15, 2021
REPORTER: "Should members of congress and their spouses be banned from trading individual stocks while serving in congress?"

PELOSI: "No…We are a free market economy. They should be able to participate in that." pic.twitter.com/2SNqSCwFEU

— Townhall.com (@townhallcom) December 15, 2021
You don't get rich in Congress unless you're accepting bribes, kickbacks, or insider stock tips.

— Eric Matheny 🎙 (@EricMMatheny) December 15, 2021
Twitchy: Joe Manchin to HuffPost journo over the Child Tax Credit and the BBB bill: 'This is bulls*it. You're bulls*it'
Julio Gonzalez: 7 Infrastructure Act Provisions Sure to Keep You Up at Night
Tyler Olson: Pelosi slams 'attitude of lawlessness' in San Francisco, says 'I don't know' where it comes from: House speaker vows crackdown on online sales of stolen goods
This attitude was built through Democrats like @SpeakerPelosi excusing rioting & looting throughout 2020, the demoralization of LE by Dems, and progressive prosecutors releasing criminals. /1 https://t.co/VMWRVKvLNJ

— Stacey – Gen X – The Sleeper Generation (@ScotsFyre) December 15, 2021
The commies in the US Congress:
Timothy Nerozzi: Sen. Blumenthal speaks at Communist award show, touts 'Build Back Better': Democratic senator pitches 'Build Back Better' to Connecticut communists
Natalie Winters: REVEALED: Liz Cheney Accepted 'Statesmanship' Award From Chinese Communist Party Influence Group: It all starts to make sense.
Ethel C. Fenig: Stalin and Biden agree: who gets to count the votes matters more than who gets to vote … Look, Biden still thinks he's in the Senate after— what is it … 120 or 180 years now?
Socialized Media:
Natalie Winters: Zuckerberg-Backed Election Influence Group Founder Served At Chinese State-Funded Center Pushing Beijing Propaganda.
Breitbart: Facebook Admits in Court That 'Fact Checks' Are Just Opinion
Mediaite: Twitter to Penalize Users Who Claim Vaccinated People Can Spread Covid-19
Who else wants Elon Musk to buy Twitter and start labeling all tweets by Democrat politicians as misinformation?

— Shem Horne (@Shem_Infinite) December 15, 2021
Congress Karens "love to hate" success:
Can someone point out exactly how many jobs and "revenue" (the left's highbrow term for the taxes they steal from actual working people) Liz Warren, or most all of the socialist-determined democrats in the US Congress, have created? And government jobs do not count. What the Hell does Warren or the rest of the old hole-in-the-sole shoe career elected class elites in DC know about the working class, business building/running, or even household budgets and paying monthly bills? Those on 'The Hill' commanding over the rest of us and yanking the money from our pockets … with far more ahead if their plans for interloping into our bank accounts and transactions goes through … those people know nothing about the rest of us, and they are rife with envy and jealousy. It is a narcotic to these politicians.
The "rich" don't pay their fair share! It's what we always hear, right?
However, useful idiot and cigar shop plywood totem pole Liz Warren dares reproach one of this century's most driven and successful innovators and businessmen, Elon Musk, who has built several businesses and employs tens of thousands of science/math/technology educated workers. His businesses do pay taxes, as do his employees. Musk has not always been successful. His space program has had losses that compare to its successes. And this has been under the over-regulations and high taxes of a state like California, until they picked up and moved to Texas.
Twitchy: Elon Musk drops a 'savage' fact-check of Elizabeth Warren's bogus claim on his taxes
And if you opened your eyes for 2 seconds, you would realize I will pay more taxes than any American in history this year

— Elon Musk (@elonmusk) December 14, 2021
Don't spend it all at once … oh wait you did already

— Elon Musk (@elonmusk) December 14, 2021
Robert Frank @ CNBC: Elon Musk faces a $15 billion tax bill, which is likely the real reason he's selling stock
This is exactly how we all should talk to elected officials – with derision and ridicule.

They're clowns. Treat them as such every chance you get.

Mock them. Tell them to get fucked. Laugh in their faces.

None of them have earned your respect, but they demand yours. pic.twitter.com/K00nW6ylpS

— Fenix 'Voluntary Quarantine Escapee' Ammunition (@FenixAmmunition) December 15, 2021
ALERT:Something wicked weather this way comes for the center of the country tonight and into tomorrow as a strong, snow-loaded cold front from the west moves into the nation's Midwest to collide with the current mild warm temps. Strong storms and even possible tornadoes can be expected with this front.
I'm not usually the TUS weather gal unless it's something big and bad. And it's not even a week out from the devastating tornado outbreaks in Kentucky and other states. So, yeah, everyone sleep with one eye and ear open tonight. And have a plan and be ready to get you and your family to your (hopefully) safe spot in your home on a very short moment's notice. Please be safe, y'all.
~~~
~~Many thanks to Maggie and The Universal Spectator for reprint permission.
Posted by Maggie on December 15, 2021 in From the editors BREAKING: The Democratic Party internal polling must be HORRENDOUS.All hands on deck to stop the Red Wave. pic.twitter.com/ef24SdHBha — Thomas Glass (@thommglass) December 15, 2021 Ace: Senate to "Shelve" Build Back Bolshevik Bill: Democrats Plot Nuking the Filibuster to Take Charge of Voting Laws Throughout Country So they're shelving the bolshevikization of the…
Posted by Maggie on December 15, 2021 in From the editors BREAKING: The Democratic Party internal polling must be HORRENDOUS.All hands on deck to stop the Red Wave. pic.twitter.com/ef24SdHBha — Thomas Glass (@thommglass) December 15, 2021 Ace: Senate to "Shelve" Build Back Bolshevik Bill: Democrats Plot Nuking the Filibuster to Take Charge of Voting Laws Throughout Country So they're shelving the bolshevikization of the…