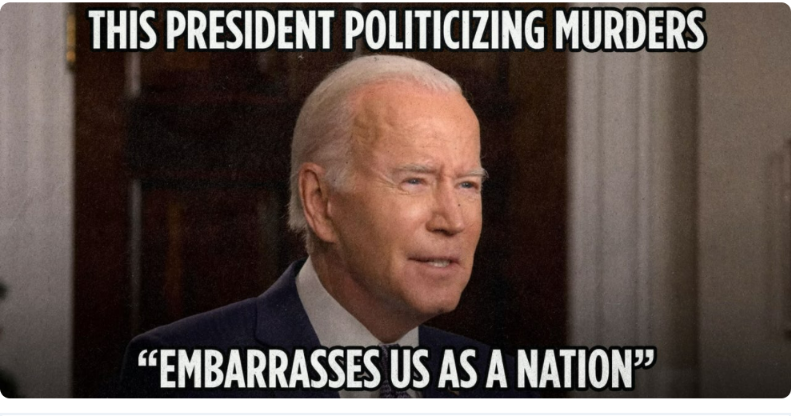 Biden Stands on Sandy Hook Caskets Again
Such was the case yesterday on the ninth anniversary of the murder of 26 people at Sandy Hook Elementary School in Newtown, Connecticut. On December 14, 2012, a sociopath stole his mother's gun and killed her with it before murdering 20 children and six adults and then taking his own life. Such horrific things ought never to happen, but we live in a fallen world inhabited by evil men.
That Democrats routinely use those atrocities to try to punish the rest of us is unconscionable.
In a pre-recorded speech, Joe Biden proclaimed that what our nation truly needs is legislation to change "the culture around gun violence." Why? Because "we owe all of these families more than our prayers — we owe them action."
He harped on a theme of using the word "frustrating" to describe opposition from defenders of Liberty and the Second Amendment. He complained that, in the wake of those murders in 2012, Congress didn't pass another ban on so-called "assault weapons" and expand background checks. "We came close to legislation, but we came up short," he said. "It was so darn frustrating. And it's still frustrating now for you and me and so many others."
"I know our politics is frustrating and can be frustrating and it's particularly frustrating now," he added. "But we can't give up hope. We can't stop."
What's frustrating is that leftists continue to treat the Second Amendment as nothing more than an impediment to their gun-grabbing agenda — an agenda that would cost lives by depriving law-abiding citizens of their God-given right to self-defense.
"There are three commonsense bills to reduce gun violence that the Senate should pass now, right away. Long overdue," Biden declared. "One requires more extensive background checks for gun sales. One is to keep guns out of the hands of more abusers" (i.e., red flag laws). The third is Build Back Better, which he boasts "would make a landmark $5 billion investment in community violence prevention and intervention programs."
Not a single bill Democrats have ever proposed would do a thing to stop what they strategically call "gun violence." Notice that Biden neglected to mention that Sandy Hook Elementary was already a "gun-free zone." That didn't stop the murderer.
Calling it "gun violence" committed by a "gunman" is just the Left's way of subtly convincing you that the problem is guns, and that if we just got rid of firearms or severely restricted access to them, all would be well. What's frustrating is that even conservative media outlets have conceded the language. Violence is perpetrated by people, not tools.
In what should be an indicator that the Left's logic is flawed, the United Kingdom has resorted to knife control because severely limiting access to guns left criminals increasingly using knives.
But forget the example of our British friends. Until the Black Lives Matter surge in crime that began in 2020, American crime rates had fallen dramatically while the rate of gun ownership greatly increased over the last 30 years. More Americans buy guns each year. There are more than 300 million of them in the possession of tens of millions of Americans. Millions of people have and use concealed carry permits. And crime has gone down.
Where is crime still a real problem?
"Every day," Biden said, "particularly in black and brown communities, there's the equivalent of a mass shooting we don't even hear about." Indeed there is, and we've been beating that drum for years. But because those deaths take place in Democrat-run inner cities, largely perpetrated by black and brown gang members against black and brown victims, it's not usually something that's politically expedient for Democrats to point out. Maybe Biden thinks he can convince these murderous gang members to forgo their firearms after failing a background check.
It's no small irony that today is the 230th anniversary of the signing of the Bill of Rights, the second of which guarantees "the right of the people to keep and bear Arms." Patriots must continue to have compassion on the victims of crime and murder while staunchly opposing the tyrannical efforts of those who would deprive us of our rights because criminals do bad things.
~~~
~~Reprinted with permission. See the original article here and leave some comments! 
Such was the case yesterday on the ninth anniversary of the murder of 26 people at Sandy Hook Elementary School in Newtown, Connecticut. On December 14, 2012, a sociopath stole his mother's gun and killed her with it before murdering 20 children and six adults and then taking his own life. Such horrific things ought never to…
Such was the case yesterday on the ninth anniversary of the murder of 26 people at Sandy Hook Elementary School in Newtown, Connecticut. On December 14, 2012, a sociopath stole his mother's gun and killed her with it before murdering 20 children and six adults and then taking his own life. Such horrific things ought never to…