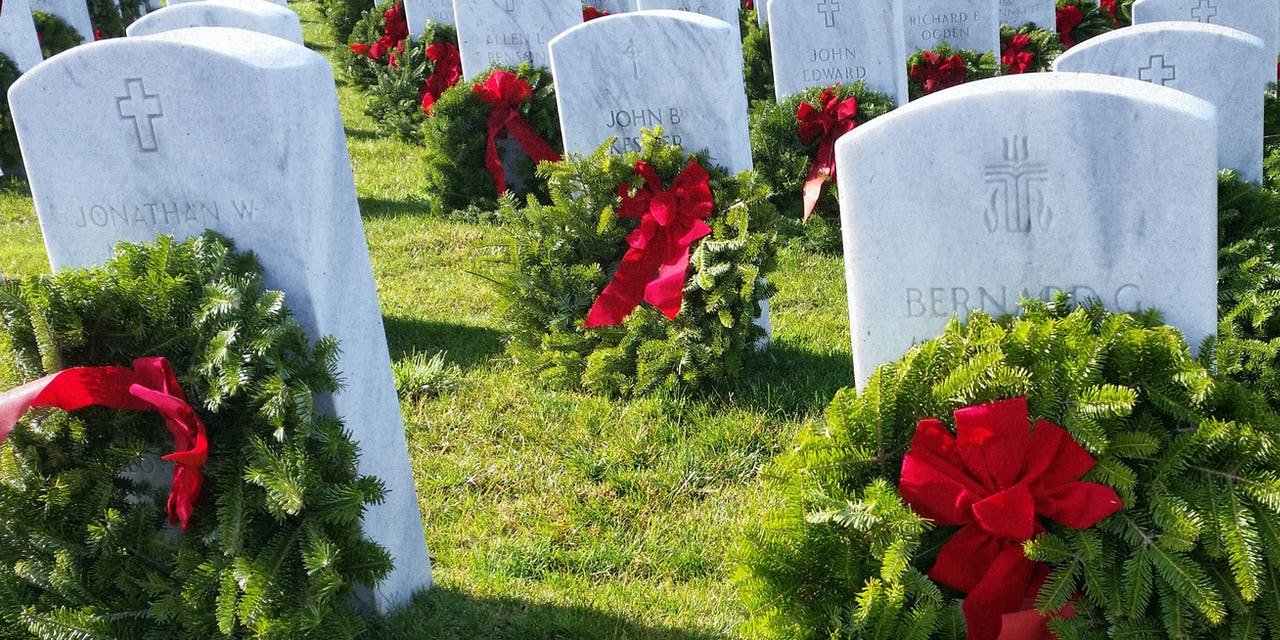 Who Could Oppose Wreaths on Military Graves?
By ROBIN SMITH December 13, 2021 in Military
Anti-religious bigots like Mikey Weinstein, that's who. He's vilifying a time-honored tradition.
According to the narrative of the woke Left, graves of the U.S. Armed Services national cemeteries will be desecrated this week by none other than the nonprofit Wreaths Across America (WAA), whose mission is to "Remember. Honor. Teach."
If you are among the thousands expected to volunteer on December 18 during National Wreaths Across America Day, you'll be the target of comments by Mikey Weinstein, the founder of the Military Religious Freedom Foundation (MRFF). Weinstein declared the placement of the wreaths as "a sectarian religious symbol amounting to desecration." In fact, he explained, "It's almost like a fundamentalist Christian gang sign to put a symbol of the Christian season of Christmas on any grave."
Desecration of a grave is a criminal offense, but the real offense these days is triggering disgruntled groups by showing patriotic unity through decent civic acts.
The actual crime of the WAA is offending a group that doesn't like patriotic respect of the military and would never tolerate any faith other than its own. Meanwhile, Wreaths Across America, a 501(c)(3) that has no affiliation with any religion or religious group, responded to explain that the display of these evergreen garlands at the headstones of servicemen and women are "not decorating graves but honoring American heroes."
The MRFF founder, described as a Jewish agnostic, has a successful record of not just ensuring the absence of proselytizing within the military but also of writing opinions that demonstrate a particularly familiar tone. "Trump Inauguration Looms, Bigots, Racists, And Dominionist Christians Rejoice" and "Of Trump, Transgenders, and Toilet Paper" are headlines of articles Weinstein published in far-left publications. The MRFF also published an article in another rag entitled, "New Doozy of a Trumpy Critical-Race-Theory-Obsessed Group Sets Sights on Polluting the Military."
We shouldn't be surprised by Weinstein's outrageous statements and anti-religious bigotry. We live in a world where the National School Boards Association can send letters to the U.S. attorney general claiming that its members had been victims of "malice, violence and threats" that "could be the equivalent to a form of domestic terrorism and hate crimes." This letter, written to tattle on concerned parents against teaching racism and bullying, offended those who have approved of teaching divisive systemic racism. In 2021, offending someone is a crime. We also live in a world and time where social justice smash-and-grab shoplifting is practically a protected act, the release of violent or repeat criminals bail- and bond-free is standard, and allowing protesters to loot and burn down entire city blocks and neighborhoods goes without prosecution.
Though the offended allege it a crime, thousands will bravely volunteer this weekend to participate in a time-honored demonstration of respect and honor by visiting the graves of American servicemen and women buried in America's national cemeteries. As we put in place each "wreath in honor of or in memory of an American hero," as the WAA website remarks, we will appreciate the freedoms that uniquely exist in America. And we'll stand against the power-hungry intolerants, believing themselves to be wildly diverse and woke, who aim to destroy those freedoms.
If you serve as a Wreaths Across America volunteer, thanks for showing your devotion to Liberty over the tyranny to silence and criminalize patriotism.
~~~
~~Reprinted with permission. See the original article here and leave some comments! 
By ROBIN SMITH December 13, 2021 in Military Anti-religious bigots like Mikey Weinstein, that's who. He's vilifying a time-honored tradition. According to the narrative of the woke Left, graves of the U.S. Armed Services national cemeteries will be desecrated this week by none other than the nonprofit Wreaths Across America (WAA), whose mission is to…
By ROBIN SMITH December 13, 2021 in Military Anti-religious bigots like Mikey Weinstein, that's who. He's vilifying a time-honored tradition. According to the narrative of the woke Left, graves of the U.S. Armed Services national cemeteries will be desecrated this week by none other than the nonprofit Wreaths Across America (WAA), whose mission is to…