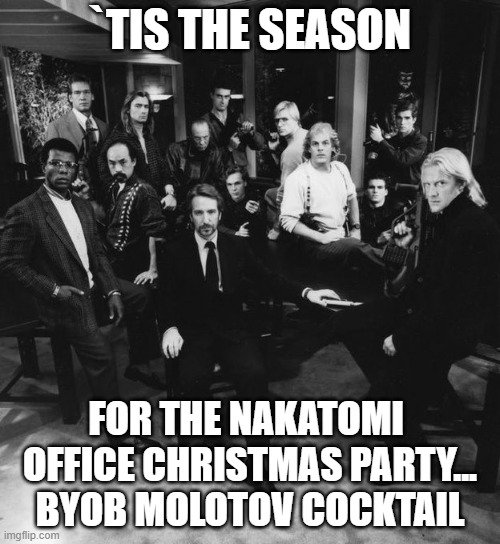 Monday Newsfeed: WTH is "Green Monday"??!!??
Posted by Maggie on December 13, 2021 in From the editors
Party-on!
I woke this morning and checked my email (something I almost rarely do) and found several store ad emails promoting "Green Monday" savings. I'm like, "Wuuuut?" I mean, I know there's "Black Friday" (which a lot of businesses this year actually began at least a week before the Friday after Thanksgiving), closely followed by "Cyber Monday" on the Monday following Thanksgiving weekend (which a lot of companies began at least a week before the actual post-turkey day Monday). But "Green Monday" is a totally new one for me. Totally. And I've nearly gotten sucked in, but nahhh. I'm done. The Grandkids and our youngest daughter are completed (well, still waiting for the "My Pillows" to arrive) and the older/married daughters and their hubbies are done (edible gifts this year … NOT cookies, BTW). Haven't yet gotten anything for my hubby, except his annual box of Italian candy he always asks for. My Mom is done, and we're trying to decide which gift card to get my Dad and Stepmom. Christmas K.I.S.S.
And I finally rolled, cut, and baked the last batch of cookies yesterday. I now just need to do the 'royal icing' thing (which I've never done before) and then paint/decorate them with the food coloring paints that came with the kit. Oh! And one of the Sons-in-law came by and dragged the Christmas tree box up from the basement. Hubby and youngest daughter put it together yesterday afternoon. Lights and decorations to follow, and they too are stored in the basement. Heh!
A Very COVID Christmas to Youuuuuu:
The struggle is real, folks. The holidays are rough for everyone this year. You can just almost hear the bear yelling "WHERE'S YOUR MASK? WEAR A MASK!!"
The Daily Zuby:
The word 'safety' is frequently abused by people who want to abuse you.

— ZUBY: (@ZubyMusic) December 13, 2021
"Those who would give up essential Liberty, to purchase a little temporary Safety, deserve neither Liberty nor Safety" – Ben Franklin
A society that burdens children to make adults feel safe is one in decline that is narcissistic to the point it cares nothing for its future. It seems this is about 1/2 the country. The other 1/2 wants no part of it. https://t.co/aytZxccEF7

— Stacey – Gen X – The Sleeper Generation (@ScotsFyre) December 13, 2021
These people have no idea what real fear & struggle is like. I doubt many in US today would have the backbone to live through a Great Depression & a world war. But given our slithering economy now & China/Russia's bullseyes on Taiwan/Ukraine we might just be finding out soon.

— Maggie (@drillanwr) December 13, 2021
They're allowed to call you a "plague rat" and demand that your unalienable rights are stripped away, but don't you dare call them Nazis.

— Jordan Schachtel @ dossier.substack.com (@JordanSchachtel) December 13, 2021
Twitchy: David 'Fascist' Frum TORCHED for laying out his COVID plan to treat unvaccinated Americans as second-class citizens in VILE thread
Not gonna waste precious lifetime moments on this elitist imperialistic rant from a person who really couldn't give 2 craps about 'the unwashed masses', but anyone know if he ended the thread with a "Sieg Heil!"?? https://t.co/4TL23INvbm

— Maggie (@drillanwr) December 13, 2021
Adam Sabes: Fauci: Americans may 'just have to deal with' more COVID-19 vaccine booster shots: Fauci was responding to a question asking if Americans should expect yearly booster shots
Steve Karp, M.D.: The Medical Profession Implodes
What changed overnight and across the board, was an anti-science attitude across all specialties to everything related to COVID. A viral infection is not something requiring government management, rather, its encounter is part of a physician's daily medical practice. The government has seemingly accomplished what medical insurers, medical boards, and hospitals tried, but had not yet succeeded at: complete mind control of physicians. And with that, the last vestige of respect I had for my profession died…
Twitchy: 'Corrupt monster': Dr. Anthony Fauci resorts to trying to shame and scare parents into vaccinating their 5-year-olds against COVID19
Dr. Fauci tries to terrify parents of covid in an interview today. Despicable. Kids aren't in danger from covid. They are far more likely to die of the seasonal flu, murder, drowning or traffic accidents than covid. pic.twitter.com/IeEHue7Y4J

— Clay Travis (@ClayTravis) December 12, 2021
Dr. Fauci ignores perspective and context. COVID poses no more threat to children than does seasonal influenza. That's not to trivialize the effect these illnesses can have on children with vulnerable immune systems or organs–but those children can be protected. https://t.co/sXUwwLwx2C

— Nan Hayworth, M.D. (@NanHayworth) December 13, 2021
100 deaths out of 2 million? That's 0.005%, or 1 in 20,000. He basically confirmed kids don't need it… who does he think this convincing??

— Matt (@mwp401) December 12, 2021
Don't worry about children that have died because of crime in the cities. The suicide deaths. The nearly 400 thousand that went missing in 2020. The deaths from drug overdoses. Forget about the pornography & racism being taught in schools. Just worry about this virus! Got it!

— Dotty Lane (@Dotty1960) December 13, 2021
Kyle Morris: Psaki: It's OK to let children eat lunch in the cold 'to keep kids safe': Psaki claimed the 'vast majority of parents appreciate' measures schools are taking to combat COVID-19 … Sure, Jen. Sure they do.
VIDEO: Schools are still keeping kids out of the classroom – with little notice to parents: Caitlyn Reynolds tells 'The Ingraham Angle' her son had a 3.7 GPA, but now tests two grade levels behind due to virtual learning
From AoSHQ ONT last night and link to the story…
J.B. Shurk: The Great Reset Crowd's Overreach Will Come Back to Bite Them
So-called "democracies" around the world have proven during these last two years of COVID-1984 just how authoritarian their leaders really are. They censor, compel, threaten, intimidate, and dole out physical and emotional punishments in as arbitrary and terrifying a manner as any mad king. Then the thuggish little tyrants playing Mussolini while raging against fascism run to the video cameras and boast of the joys of "democracy" and the threats of authoritarianism emanating from Russia and China…
"If the creators of 'Black Mirror' remade the movie 'Groundhog Day'"…
https://www.youtube.com/watch?v=bVMG8VygRTk
The "greater good" is what they say it is…
Slow Boats from China and Bidenflation:
America is turning into the Weimar Republic with financial magazines advising people to spend their paychecks as soon as they get paid. Hyperinflation is coming.

— Ian Miles Cheong @ stillgray.substack.com (@stillgray) December 12, 2021
Lindsay Kornick: Bloomberg article mocked for suggesting Americans spend their paycheck immediately to cope with inflation: New report from the Department of Labor show the biggest increase in inflation in 39 years. … We really don't have the best and the brightest working in the media and the government these days.
Twitchy: Bloomberg @Business challenges Paul Krugman for the hottest take on inflation this weekend
Twitchy: Yet another poll indicates widespread disapproval of President Biden's economic policies
BREAKING: More than two in three (69%) Americans disapprove of Pres. Biden's handling of inflation, while 57% disapproves of his handling of the economic recovery, according to a new @ABC News/Ipsos poll. https://t.co/8BaO3UoT8i

— ABC News (@ABC) December 12, 2021
Sister Toldjah: Chuck Todd Delivers Hall of Shame-Worthy Reason for Joe Biden's Low Approval Ratings
Stephen Kruiser: The Morning Briefing: Someone Should Tell the MSM That Trump Is No Longer President
And… 71% of Independents disapprove of Biden's handling of inflation.

And… 36% overall approve of Biden's handling of crime.

Looking at a 60-70 seat-flip in the House and the Senate back in GOP hands if these numbers continue, which they likely will given who POTUS is. https://t.co/UCgrrhqM87

— Joe Concha (@JoeConchaTV) December 12, 2021
Let's hope so.
Robert Spencer: Leftist 'Journalists' Float the Idea That Criticizing Joe Biden Is a Danger to Democracy
Liz Peek: Will huge spending Build Back Biden? Not a chance: The Beatles were right: money can't buy you love
Alexandria Burris, Indianapolis Star: How the supply chain is affecting what you can and cannot buy at grocery stores
VIDEO: Supply chain issues remain a threat to profitability, retail analyst says … "Profit" is not a dirty word, a business/company/industry needing profit in order to function and grow employment as well as production. Well, it is a very dirty word to the left who wants everything in our free market society inhaled and nationalized and run by a centralized government. Yes, it was indeed done in the USSR and China … and Cuba, North Korea and Venezuela … and the shortages and famine were the results, comrades.
MORE:
Breitbart: Exclusive — Rep. Lee Zeldin: 'Good Chance' Joe Biden Avoided Army-Navy Game Due to Fear of 'Let's Go, Brandon Chant'
Miranda Devine: Ron DeSantis fights back against Biden illegal immigrant flights
Robert Spencer: Good News! Illegal Migrants Are Allowed to Fly Without ID
David Solway: The Necessity of Walls, Barriers, and Borders
Paul Best: NYC Mayor Bill de Blasio claims city is 'much safer' now than when he took office despite more murders: There were 37% more murders in 2020 than in 2013, when de Blasio became mayor
Audrey Conklin: Letting noncitizens vote 'suffocates liberty' by making governments larger, Andrew McCarthy says: The New York City council voted in favor of a measure allowing some 800,000 noncitizen residents the right to vote
VIDEO: Steve Hilton: Today's Democrats are guilty of what they lecture everyone else about: 'The Next Revolution' host slams the administration's policies for 'creating humanitarian disasters' around the world.
NYPost Ed Board: Don't buy the pseudo-scientific hype about tornadoes and climate change
BONUS:
Posted by Maggie on December 13, 2021 in From the editors Party-on! I woke this morning and checked my email (something I almost rarely do) and found several store ad emails promoting "Green Monday" savings. I'm like, "Wuuuut?" I mean, I know there's "Black Friday" (which a lot of businesses this year actually began at least a week before the Friday after…
Posted by Maggie on December 13, 2021 in From the editors Party-on! I woke this morning and checked my email (something I almost rarely do) and found several store ad emails promoting "Green Monday" savings. I'm like, "Wuuuut?" I mean, I know there's "Black Friday" (which a lot of businesses this year actually began at least a week before the Friday after…