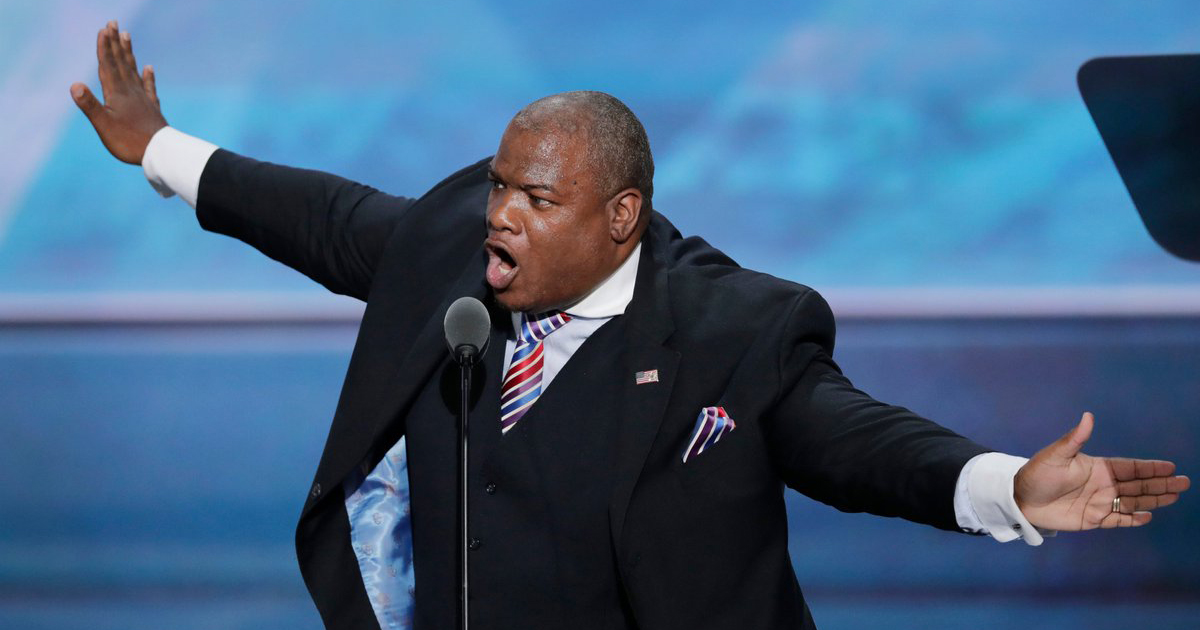 Christian Nationalist MAGA Pastor Mark Burns Declares 'We're Here to Take Over!'
Mark Burns, an unabashed Christian nationalist MAGA pastor who is running for Congress in South Carolina, spoke at the ReAwaken America conference in Dallas, Texas last week, where he once again declared that any law that contradicts the Bible must be overturned and proclaimed that now is the time for right-wing Christians to "take over" the country.
The ReAwaken America event was organized and hosted by conspiracy theorist Clay Clark, who has been bringing various election, COVID-19, and QAnon conspiracy theorists together in churches around the country throughout 2021. The Dallas event featured a cavalcade of right-wing activists and conspiracy theorists, including Mike Lindell, Michael Flynn, and Eric Trump.
"Are we ready to declare war on every demonic spirit?" Burns asked. "Are we ready to take over? Somebody shout, 'Take it back, take it back.' Shout, 'Take it back!' We're here to declare war on Satan. How many here know that this is a God nation, this is a Jesus nation? And liberals are trying to take God out of everything we hold dear. Are you gonna let them do it, Texas? I said are you gonna let them take God—somebody say, 'Never! Shout, 'Never!' This nation was founded on Judeo-Christian principles. This nation was founded on the fact that Jesus is the messiah."
"Let me go ahead and piss off the mainstream media," Burns continued. "Any law that is a law right now that's contrary to the word of God should be outlawed and abolished in this nation. Do you believe that Jesus should be at the center of American politics in the United States of America?"
"We're here to take over," Burns later declared. "We're here to take over, God help me. We're here to take over. We're here to take over!"
Burns was a proponent of the movement to keep former President Donald Trump in power. He has made numerous calls for war, including on the eve of the Capitol insurrection when he riled up Trump loyalists at a Stop the Steal rally by telling them, "We're ready to do war!"
Mark Burns, an unabashed Christian nationalist MAGA pastor who is running for Congress in South Carolina, spoke at the ReAwaken America conference in Dallas, Texas last week, where he once again declared that any law that contradicts the Bible must be overturned and proclaimed that now is the time for right-wing Christians to "take over"…
Mark Burns, an unabashed Christian nationalist MAGA pastor who is running for Congress in South Carolina, spoke at the ReAwaken America conference in Dallas, Texas last week, where he once again declared that any law that contradicts the Bible must be overturned and proclaimed that now is the time for right-wing Christians to "take over"…