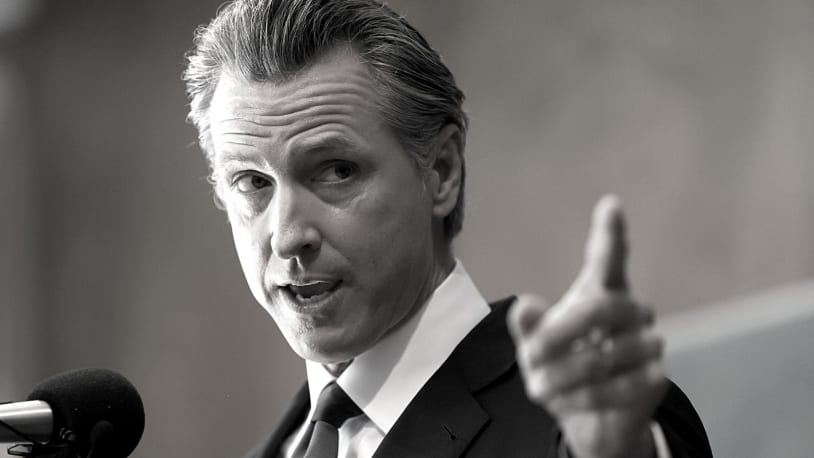 California shouldn't use Texas' abortion law as a guide
It wasn't hard to see this coming: California Gov. Gavin Newsom on Saturday threatened to use Texas' unusual abortion law as a model for new gun restrictions in his own state.
"SCOTUS is letting private citizens in Texas sue to stop abortion?! If that's the precedent then we'll let Californians sue those who put ghost guns and assault weapons on our streets," Newsom, a Democrat, tweeted after the Supreme Court's decision on Friday to let the law remain in effect while abortion providers bring court challenges. "If TX can ban abortion and endanger lives, CA can ban deadly weapons of war and save lives."
Newsom's anger should be understandable, even if you're against abortion. The Texas law's enforcement mechanism — which encourages random private citizens to sue abortion providers in civil courts — is novel, alarming, and unjust. If the law is ultimately allowed to stand, it's likely that blue states will continue to be tempted to match red states with similar laws aimed at lefty hobbyhorses.
That would be disastrous, for several reasons.
Ideally, civil courts exist to fairly arbitrate and resolve disputes between citizens — usually a case in which one or both litigants has suffered some kind of injury or loss. The Texas law does something different: It uses those courts to create a new class of conflict, one in which a plaintiff is allowed to sue even if they have no relationship whatsoever to the persons either providing or receiving care. (Indeed, the first Texas lawsuit was brought by a former lawyer from Arkansas,  more or less because he could.) 
The law invites Americans to get up in each other's business. So, presumably, would Newsom's anti-gun law, as well as any other similar laws that both Republican- and Democratic-led states might pass. That's probably unwise at any point in history. At this particular moment, with partisans on both sides so bitterly pitted against each other and with democracy itself seemingly in the balance, such laws would throw kindling on the fire. Instead of trying to resolve our political differences through normal processes and debate — a frustrating slog that often can produce results we hate — Americans would be unleashed to simply sue each other over their political differences, to try to dominate the disagreeable and deplorable into bankruptcy and ruin. Who wants to live in a country like that?
But the proliferation of Texas-style laws wouldn't just pit citizen against citizen: They would probably also serve as a crippling blow to the already shaky legitimacy of the courts. That legitimacy relies, in part, on the courts being seen as fair and reasonably neutral. It's why judges sometimes recuse themselves in cases where they're seen to have a conflict of interest, and why Supreme Court justices have argued so vociferously and unconvincingly in recent months that their job isn't political. (It is, and few people believe otherwise, but for now the fiction must be preserved.)
The Texas law mocks the ideal of impartiality by putting a thumb on the scale for pro-life litigants — among other provisions, it allows plaintiffs to recover attorney's fees if they win their lawsuits, but not the abortion providers who would be defending those suits. "These provisions are considerable departures from the norm in Texas courts and in most courts across the Nation," Justice Sonia Sotomayor wrote in her dissent from the court's Friday ruling. If such procedural trickery leads Americans to believe they can't get a fair deal in the courts, the judicial system will take a nasty hit — and it will be entirely deserved. 
Even if the courts somehow manage to survive such a process, it's not clear the country could. America has 50 states, each with a different set of laws that reflect the differing values, priorities, and powers of their voters and leaders: Just ask, say, any Philadelphian who has crossed the Delaware River to New Jersey to avoid dealing with Pennsylvania's weird liquor laws. Those differences can be harmless, if inconvenient. They're mostly accommodated. As Newsom's rhetoric suggests, Texas-style laws could well harden the political divisions between red states and blue states, with radical differences in legal regimes and understandings of civil rights feeding the anger between the two. We've seen how that can work out.
The Texas abortion law is terrible all on its own. Now imagine that kind of law, about all kinds of issues, being passed in states across the country. 
I continue to suspect and hope that the law's provisions are so outrageous — for reasons that have nothing to do with abortion — that even a Supreme Court composed mostly of pro-life conservatives will strike it down. The future of abortion rights won't be resolved in Texas. And even if they agree with the ends, justices must understand that the means are too destructive. That would still be the case in the service of an ostensibly good cause like reducing gun violence.
Despite the anger that Newsom and so many pro-choice people feel right now, it's not a model that Democrats should want to replicate — especially as a form of revenge.
It wasn't hard to see this coming: California Gov. Gavin Newsom on Saturday threatened to use Texas' unusual abortion law as a model for new gun restrictions in his own state. "SCOTUS is letting private citizens in Texas sue to stop abortion?! If that's the precedent then we'll let Californians sue those who put ghost…
It wasn't hard to see this coming: California Gov. Gavin Newsom on Saturday threatened to use Texas' unusual abortion law as a model for new gun restrictions in his own state. "SCOTUS is letting private citizens in Texas sue to stop abortion?! If that's the precedent then we'll let Californians sue those who put ghost…