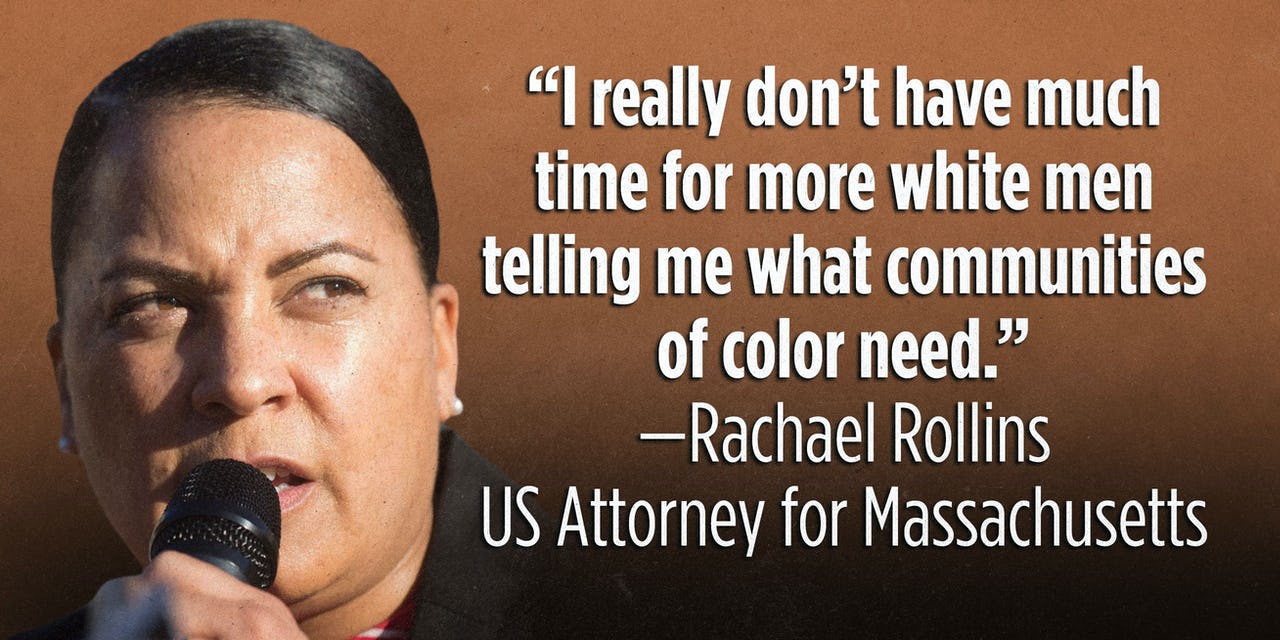 Biden Appoints a Racist U.S. Attorney
By DOUGLAS ANDREWS in Rule of Law
Rachael Rollins is the latest in a series of soft-on-crime Soros-picked prosecutors bent on ruining our system of criminal justice.
Joe Biden has made some awful mistakes while in office, but this one is right up there.
If former Suffolk County prosecutor Rachael Rollins isn't a straight-up racist, then she's having a hard time demonstrating otherwise. And if you think it's a good thing that she's no longer in a position as consequential as the prosecutor of the county that includes Boston, think again. Thanks to Joe Biden, she's your brand-new U.S. attorney for the state of Massachusetts.
How did this happen? Ask Kamala Harris. Last Wednesday, not a single one of the 50 Republican senators voted to confirm Rollins, so the vice president came in and broke a 50-50 tie. Normally, a president is given a degree of deference where his judicial appointees are concerned, but it's clear that this one was different. As Boston's WBUR reports:
The vote came Wednesday despite vocal opposition from Senate Minority Leader Mitch McConnell, who urged his colleagues to deny Rollins' nomination because of progressive policies she implemented as a district attorney. One of the hallmarks of her tenure in the role was not prosecuting some low-level crimes, in order to involve less people in the criminal justice system and divert resources to focus on serious crimes.

"This soft on crime advocacy should have earned the nominee a pink slip. Instead President Biden is giving her a promotion. I would urge all senators to vote no," McConnell said. "Law abiding Americans don't want prosecutors who refuse to prosecute. They don't want city jails equipped with revolving doors and they need leaders who will defend the rule of law."
Unfortunately, it doesn't seem that the Republicans made nearly enough of a ruckus. Rollins is yet another one of those hard-left Soros prosecutors — like Kim Foxx in Chicago, Kim Gardner in St. Louis, Larry Krasner in Philadelphia, Chesa Boudin in San Francisco, and George Gascón in Los Angeles — who've used campaign funding from anti-American socialist billionaire George Soros to win election as district attorneys and thereby pursue their "social justice" political activism with the power of law behind them. The Daily Signal reports that Soros has spent more than $17 million on campaigns such as these. And if anarchy is the desired result, he's getting his money's worth.
It's called "reimagining prosecution," and its proponents mean to reverse-engineer our criminal justice system. How does it work? As district attorney, Rollins issued a 65-page policy memo in which she said: "We start with a presumption that, in most cases, these charges don't need to be prosecuted. Dismissal, diversion, treatment, and services are much more often the appropriate outcomes."
What kinds of cases is Rollins talking about? Try trespassing, shoplifting, disorderly conduct, receiving stolen property, minor motor vehicle offenses, breaking and entering a vacant property for the purpose of sleeping or seeking refuge, threats excluding domestic violence, minor possession of alcohol, drug possession, and resisting arrest in cases when the resistance is the only charge — this according to The Heritage Foundation.
As for the racism we mentioned, Rollins has a history of using skin color to bolster her arguments. Here's how Rollins once scolded the U.S. attorney for the Eastern District of California during a panel discussion in which he had the temerity to suggest that prosecutors ought to, well, enforce the law: "I will say, as one of less than 1% of actual people with melanin that are in this role … I really don't have much time for more white men telling me what communities of color need."
Want more? Here's how she dismissed the violence of last year's Black Lives Matter riots: "It is completely ironic to have to say to you, 'Please don't be violent. Please keep your voice down. Please be silent and comply with all of the police's requirements,' when in fact it's those very people that murder us with impunity."
Then there was this little episode.
It's not an over-reaction to suggest that we don't want prosecutors at any level who are this obsessed with race. And, actually, the "us" she uses here is rather ironic, too, because Rollins herself is mixed race — she's half black and half white. But it's clearly more politically expedient for her to identify as all black.
Elections have consequences, and that's certainly true of a Senate that's no longer controlled by Republicans. When you lose two Georgia Senate seats, you end up with a racist, Kristen Clarke, to lead the Department of Justice's Civil Rights Division, and you end up with a racist, Rachael Rollins, to enforce federal law across the state of Massachusetts.
~~~
~~Reprinted with permission. See the original article here and leave some comments! 
By DOUGLAS ANDREWS in Rule of Law Rachael Rollins is the latest in a series of soft-on-crime Soros-picked prosecutors bent on ruining our system of criminal justice. Joe Biden has made some awful mistakes while in office, but this one is right up there. If former Suffolk County prosecutor Rachael Rollins isn't a straight-up racist, then she's…
By DOUGLAS ANDREWS in Rule of Law Rachael Rollins is the latest in a series of soft-on-crime Soros-picked prosecutors bent on ruining our system of criminal justice. Joe Biden has made some awful mistakes while in office, but this one is right up there. If former Suffolk County prosecutor Rachael Rollins isn't a straight-up racist, then she's…