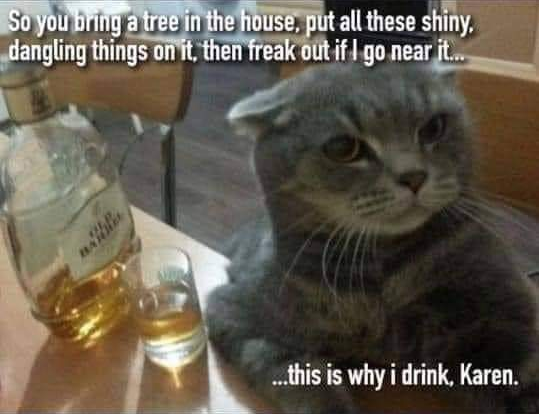 Weekend Reads: Holiday "Spirits" on Ice, Please
One of the biggest taxes is one that is not even called a tax — inflation. When the government spends money that it creates, it is transferring part of the value of your money to themselves.

— Thomas Sowell (@ThomasSowell) December 10, 2021
Sen. John Thune: 'Build Back Better' is Democrats' down payment on socialism: Congress is about to decide how far the long arm of the federal government will reach into your everyday life
Glenn H. Reynolds: The 'cabal' that bragged of foisting Joe Biden on us must answer for his failed presidency
A.J. Kaufman: Biden's Curious Call with Ukraine's Zelensky: White House officials rejected news that President Joe Biden will pressure Ukraine to cede territory to Russian-backed separatists in order to deter President Vladimir Putin from pushing forward with a large-scale invasion. … Umm, so … like … calling Zelensky/Ukraine– to pressure– isn't an "impeachable offense" now? Also, a reminder that Biden was VP when Obama allowed Russia to invade and annex Crimea, and then Biden's son Hunter got really busy taking jobs he wasn't experienced in and making massive amounts of money in that region.
Zachary Halaschak: Democratic spending bill would add $3 trillion to deficits if provisions made permanent, CBO says
Ace's take: CBO Report: Once You Take Out the Budget Gimmicks Democrats Used to Deceive the Voters and Joe Manchin, The #BuildBackBrandon Bill Would Add Three Trillion to the Deficit
The ten-year "Build Back Bolshevik" bill contains a lot of obvious gimmicks which pretend to reduce its cost — just to deceive voters and to deceive Joe Manchin and Kristin Sinema.

The most obvious deception is that spending plan which originally were slated to go on for the full ten years contemplated by the bill suddenly end, for no reason, after one year or three years in the "slimmed down" bill.

This is obvious bullsh*t: everyone understands the leftists behind this catastrophe intend this spending to go on for ten years, and will extend the spending the first opportunity they have.

The claim that spending ends after one or three years is a, what's the word? Not gimmick; that sounds clever and even playful.

It's a lie. It's just a lie.

Democrats are pretending they brought the cost of the Build Back Bolshevik plan down from a $3.5 trillion to $1.7 trillion (what a steal!), but it's all a lie…
Read the whole thing. At this point, are we really "shocked and awed", not just at the Vaseline-smeary-blurry math/accounting, but at the unaccountable demo-commie lies and deception?
Look at what inflation was at Jan 21 … Biden has more than QUADRUPLED it in 11 months.

But hey, no more mean tweets, right? Shew! https://t.co/YULPk6HgaE

— 🎄The FOO🎅🏻 (@PolitiBunny) December 10, 2021
Alana Goodman: Biden Megadonor Scores $500 Million Federal Loan for Solar Company: Politically connected First Solar also secured $3 billion in loan guarantees from Obama administration
James Carafano: Whether Putin Attacks Ukraine or Not, He's Already Won
A.J. Rice: Clark Griswold: Long Live the King of White, Male, Christmas Patriarchy: Hollywood doesn't make happy, cheerful Christmas movies anymore because it sees nothing to celebrate—not the holiday, not the culture, certainly not the family.
Abraham H. Miller: Chaos and the Threat to Democracy: Among politics' strangest alliances are those between the elite and the mob…
Ned Ryun: The Praetorian Guard of the Administrative State: The FBI and Justice Department should cease to exist in their current forms, if they should even exist at all.
Tiana Lowe: Math isn't racist. Our garbage public school system is
Twitchy: 'Absolute legend'! Bob Dole's farewell letter contains a hilarious piece of parting political commentary
From Bob Dole's farewell letter: "I'm a bit curious to learn if I am correct in thinking that Heaven will look a lot like Kansas.

…And to see, like others who have gone before me, if I will still be able to vote in Chicago."

Absolute legend 😂 pic.twitter.com/U1IvAABZ9v

— Abigail Marone 🇺🇸 (@abigailmarone) December 10, 2021
BONUS (LANGUAGE WARNING):
WOW! George Carlin was natural immunity prescient. Somebody play this for Fauci…
Space and Tech:
Kashmira Gander: How and Where To See Ultrafast Comet Leonard at Its Closest Point to Earth This Weekend
DM: Elon Musk's SpaceX gets green light from the FCC for orbital launch of Starship early next year – but it will still need to pass FAA environmental review before the rocket can leave the ground … This is one reason why he wants to colonize the moon and make lunar launch bases there. This BS would not get in the way.
Robert Zimmerman: Orbex begins construction of launch platform
VIDEO: NASA launches new spacecraft to look at most extreme objects in the cosmos
Joshua Hawkins: The Moon is visiting Jupiter this month and you only have one chance to see it
Robert Zimmerman: NASA upgrades software for monitoring potentially dangerous asteroids
Caroline Delbert: NASA Is Soliciting Plans for an Impossibly Small Lunar Nuclear Reactor
Christopher Crockett: Understanding just how big solar flares can get: Recasting the iconic Carrington Event as just one of many superstorms in Earth's past, scientists reveal the potential for even more massive, and potentially destructive, eruptions from the Sun.
USAToday: Space photos: Stunning images you have to see
Luke Gentile: China uses abandoned NASA design to develop 6,000-mph hypersonic nuclear missile engine: Report
Marik von Rennenkampff: Set to make history on UFOs, Congress revives the '1 percent' doctrine
Alex Aronson: These 10 Internet Theories About Space and Extraterrestrials Will Blow Your Mind
Futurism: Elon Musk Says That Immortality Tech Would Be Very Dangerous: "It is important for us to die because most of the time people don't change their mind, they just die."
Chris Morgan: 20 facts you might not know about 'Alien'
BONUS:
Halle Kiefer (4/29/2019): Watch Alien: The Play Staged by New Jersey High School and Feel Your Chest Burst With Pride
I took this video on my smartphone using digital zoom. It was the best I could do in short notice as I was just a general attendee sitting towards the back. I'm fairly certain the school did do a professional recording. Once they release it please buy a copy to support the high school and it's theater program. Thank you.
——————————
Alien The Play Full Show North Bergen NJ High School 4K including introduction and thank you from Sigourney Weaver
The Expanse – Season 6 (final season) trailer:
Started streaming today (12/10/21) on Amazon Prime, one new episode a week.
Only 6 episodes in this final season…
One of the biggest taxes is one that is not even called a tax — inflation. When the government spends money that it creates, it is transferring part of the value of your money to themselves. — Thomas Sowell (@ThomasSowell) December 10, 2021 Sen. John Thune: 'Build Back Better' is Democrats' down payment on socialism: Congress is…
One of the biggest taxes is one that is not even called a tax — inflation. When the government spends money that it creates, it is transferring part of the value of your money to themselves. — Thomas Sowell (@ThomasSowell) December 10, 2021 Sen. John Thune: 'Build Back Better' is Democrats' down payment on socialism: Congress is…