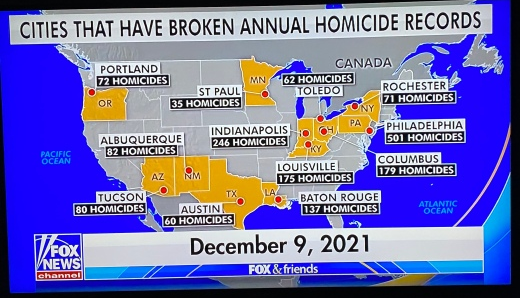 Thursday Newsfeed: It's A Criming Shame
Posted by Maggie on December 9, 2021 in From the editors
It is not just the big city homicide rates. You, and I, are seeing it at the local level in our hometown news feeds. Homicide. Robbery. Break-ins. Drug abuse. And even while driving on the roads … Are you seeing and dealing with what I'm seeing and dealing with while driving? There is a huge increase in drivers not following the laws and rules of the road. And so, accidents are also increasing in the local news. The disintegration of respect for law and order is a major epidemic in this nation, and it is a crumbling of our very foundation that will bring down everything else.
The "experts" keep pointing to the China virus as being at the core of this crime wave. But the issue began long before the pandemic. Just go back five years when Donald Trump won the 2016 election and look up the rioting that erupted over that. From there insanity and criminal anarchy in our cities, much at the support, encouragement and behest of democrat officials on the local/state and federal levels, and their leftist MSM that portray the violence, destruction and murders at these riots as "mostly peaceful". And don't forget, the same democrat officials and the media gave these street theater thugs a pass for their massive crowding together in the streets during the height of COVID protocol of locking down and 'safe distancing', claiming the demonstrations of 'social justice' were well-worth the risk of spreading pandemic infection.
VIDEO: Homicide numbers soaring across U.S. cities
VIDEO: Violent crime strikes American cities at alarming rate
Jesse O'Neill: A dozen US cities set annual murder records with three weeks left in 2021
According to police data, 12 big cities with Democrats at the helm already have chalked up record annual murder counts, with three weeks still to go in the year…

Five of those cities topped notorious benchmarks that were set in 2020, the article said. All of them were led by Democratic mayors, as are the vast majority of US cities.

Nationally, homicides rose by about 30% in 2020 compared to the previous year, according to FBI data. It was the largest one-year jump since the bureau began keeping records. Guns were used in more than three-quarters of the murders, statistics showed…

The US city with the most homicides was Chicago, the nation's third largest. Chicago's 753 murders so far to date this year were still well behind its 1970 record of 954 killings, according to ABC…
Bill Hutchinson: 'It's just crazy': 12 major cities hit all-time homicide records: "It's worse than a war zone around here lately," police official said.
Robert Boyce, retired chief of detectives for the New York Police Department and an ABC News contributor, said that while there is no single reason for the jump in slayings, one national crime statistic stands out to him.

"Nobody's getting arrested anymore," Boyce said. "People are getting picked up for gun possession and they're just let out over and over again."

The FBI crime data shows that the number of arrests nationwide plummeted 24% in 2020, from the more than 10 million arrests made in 2019. The number of 2020 arrests — 7.63 million — is the lowest in 25 years, according to the data. FBI crime data is not yet available for 2021.

Christopher Herrmann, an assistant professor in the Department of Law & Police Science at John Jay College of Criminal Justice in New York City, said the decrease in arrests could be attributed to the large number of police officers who retired or resigned in 2020 and 2021.

A workforce survey released in June by the Police Executive Research Forum found the retirement rate in police departments nationwide jumped 45% over 2020 and 2021. And another 18% of officers resigned, the survey found, a development which coincided with nationwide social justice protests and calls to defund law enforcement agencies following the death of George Floyd at the hands of Minneapolis police officers.

On average, the survey found that law enforcement agencies are currently filling only 93% of the authorized number of positions available and Herrmann said many departments have been hampered in hiring because of an inability to get large classes into police academies due to the COVID-19 pandemic.

"I think, unfortunately, police departments are just losing a lot of their best and experienced officers and then because of the economic crisis, because of COVID, are having difficulties in hiring or just delays in hirings," Herrmann said.

Herrmann said he suspects that a confluence of other factors has also contributed to the spike in lethal violence over the last two years. He said the COVID-19 pandemic not only prompted a shutdown of courts and reduction in jail population to slow the spread of the virus but also derailed after-school programs and violence disruption programs.

"I wish there was one good solid reason that I could give you for the increases, but the reality is there is none," Herrmann, a former crime analyst supervisor for the New York City Police Department, told ABC News…
The reason remains that local mayors/DAs/prosecutors/judges and even state governors are the ones setting the overtly lenient criminal policies that are anything but 'tough on crime'. One only need look to NYC's no-bail catch and release policy for a huge portion of their crime wave. And police are beyond frustrated. Their moral is at a record low as they are 'damned if they do – damned if they don't' do their job. They are not wrong to feel their cities' leadership does not have their backs anymore. Between the false premise of the George Floyd case that fueled elected officials leading the heinous cheers for "defund the police" and "abolish the police" and the latest mandating of COVID vaccines, or get fired, the nation's police rank and file have had enough. Hence the retirements and resignations. But never doubt that this too, like everything else bad that's going on in our nation right now, is by diabolical design.
Joe Schoffstall: Soros bankrolls dark money hub for activists pushing to dismantle police, grants show: Progressive activist hub contains materials on abolishing, defunding police
Joe Schoffstall (8/5/21): Soros bankrolls group pushing to 'dismantle,' replace Minneapolis Police Department: The billionaire's Open Society Policy Center gave $500,000 to Vote Yes 4 Minneapolis
It is blindingly clear the federal government, run by the demo-commie party and activist leadership in federal law enforcement and the courts, have no intention of upholding even our immigration and border laws. And these are not just poor 'families' crossing into the U.S. in desperation for better lives. No, the drug and human trafficking has increased at alarming rates over the last eleven months, with no end in sight…
Ashley Soriano: Remote US-Mexico border area sees 136% spike in illegal immigration encounters: 'Not worth your life': Border crossers encounter rough terrain with little water, dozens of miles away from civilization
Rank and file border patrol officers and local law enforcement on the border are also beyond frustrated and their lives are being put in even higher danger.
MORE:
NYPost: Fox Christmas tree arson suspect released without bail … The arson caused over half a million dollars in damage, not just to the tree and surrounding decorations but to the square where it was positioned and smoke damage to the first floor of the network's building. Now, imagine that amount of money for a home that had been torched. Thankfully it was just a display and not that. But who knows with this guy now that he's pissed and back out on the streets? Oh, his dad and family know. They say he's crazy. Well, I'd wager we will be seeing him in the news again.
Twitchy: 'New York is a failed state': Take a guess where Fox News Christmas tree arson suspect Craig Tamanaha is right now
DC: 'Attack On Christianity': Tucker Carlson Says Burning Of Fox News Christmas Tree Is A 'Hate Crime'
J.J. Sefton @ AoSHQ chimes in on the crime wave and the officials' deliberate un-seriousness (read in full):
TuCa's right, of course. It is a "hate crime," but I detest that term because it is yet another example of how the left manipulates and twists language as a means to control society. Crime is crime, regardless of the motive. To make some motives "more equal than others" is part and parcel of divide and conquer, IMHO. The deviant in question is a nut, so whether or not he understands his actions other than to have some sort of orgasmic delight in torching a Christmas tree is debatable. The motivation behind a crime is crucial to understand why it was committed, but should never be categorized as the crime itself. That's getting into the weeds a bit but considering the continued imprisonment of innocent Americans in the Garland Archipelago on the pretext of "insurrection," the issue has deadly serious implications.

A psycho torching a Christmas tree was not the real crime, especially given the mental state of the deviant in question. No, the real crime was the State, in this case the real deviants and psychos in charge of New York City and New York State letting him off scot free. It makes the notion of a slap on the wrist look like a date with Old Sparky in comparison. Just the other day, a student was brutally murdered on the Columbia University campus. Absolutely tragic yet bitterly ironic given the times we live in.
Nick Emmons: 'I'm unnerved by it': Attorney calls for change after he says he was attacked while driving through Boston: "They have got to put police officers out there on the street 24 hours a day. That has just got to happen. They have got to make it a driveable street." … Duh!
Stephen Kruiser: The Morning Briefing: Commie Democrat Psychopaths Are In Crime Denial
Louis Casiano: Los Angeles DA George Gascon blasted over 'tone deaf' press conference amid spiking crime: 'An embarrassment': The top prosecutor has taken heat since taking office last year over his rollback of tough-on-crime measures
Kevin Downey, Jr: Chicago Mayor Blames Stores, Not Woke Nonsense, for Boom in Robberies
Joshua Q. Nelson: Sister of Philadelphia murder victim hits back at liberal DA's 'insane' denial of crime crisis: DA Larry Krasner claims city does not have 'crisis of crime' despite 521 murders reported in 2021
Andrew Mark Miller: Philadelphia's former Democratic mayor slams Soros-funded DA for refusing to call murder surge a 'crisis': Larry Krasner was accused in the op-ed of 'white wokeness'
Crimes that Rachael Rollins—Biden nominee to be US Attorney in Massachusetts—doesn't want to prosecute:

1. Trespass
2. Shoplifting
3. Larceny
4. Disorderly Conduct
5. Receiving Stolen Property
6. Driving with a Suspended License
7. B&E into a Vacant Property w/o Property Damage pic.twitter.com/4Jdv7wHbuU

— Senator Ted Cruz (@SenTedCruz) December 8, 2021
Twitchy: Black Lives Matter issues statement, says they could never believe police over a black man like Jussie Smollett
WFB: NEVER FORGET: All the Libs Who Fell for the Jussie Smollett Hate Crime Hoax: Democrats, celebs, and journalists jumped to condemn fabricated attack
Athena Thorne: The Left's Next Coup has Already Begun. "One of Big Left's favorite tactics, when taking over an institution (or country), is to grab the steering wheel. When they have the presidency, they rule by executive command. When they have the court, they rule by judicial decree. When they want to decide how a state votes, they concentrate on getting their operatives into a state-wide position of power."

Megan Fox: Feminism Has Made Western Women Stupid and Dangerous to Themselves and Others. "The local women of Ecuador recognize what feminists do not. Men are flawed. Danger is everywhere. It's better to be with a group than on your own. Don't let a shaman get you naked. These are basic truths that Western women should know, but they don't because the left has made it a sin to understand the true nature of what it means to be a woman."

Yours Truly: Soros-Backed DA Wants Jacqueline Avant's Killer to Serve Less Time. "What to do as the chief prosecutor when your city is in shock and outrage over the shooting murder of 81-year-old philanthropist Jacqueline Avant in her own home? If you're Los Angeles District Attorney George Gascon, you leap immediately into action with a fundraising email 'asking for money to push through a bill removing extra prison time for using a gun during a crime.'"
Twitchy: What's happening with Biden's approval among Hispanics could send the Dems deeper into panic mode
Democrats will respond to this by doubling down on a policy that is not actually popular AT ALL among Hispanic voters: Promotion of illegal immigration. There is a reason people in historically Dem-voting TX border towns are shifting to the GOP in droves. https://t.co/L7CFZWi36m

— Christina Pushaw 🐊 (@ChristinaPushaw) December 8, 2021
EVERYTHING we are all angry and concerned over right now, from the economy to supply chain troubles to crime in the cities and the illegal alien mess on the nation's border … the nation's Hispanic population is outraged over too. Biden said he'd "unite" us all. Well, with everything he has done in these last near eleven months he definitely has. But it's not the way he imagined it would be, no joke.
Michael Walsh: It's Bad Out There and Getting Worse: ". . . So what are you going to do about it?"
~~~
~~Many thanks to Maggie and The Universal Spectator for reprint permission.
Posted by Maggie on December 9, 2021 in From the editors It is not just the big city homicide rates. You, and I, are seeing it at the local level in our hometown news feeds. Homicide. Robbery. Break-ins. Drug abuse. And even while driving on the roads … Are you seeing and dealing with what I'm seeing and dealing with while…
Posted by Maggie on December 9, 2021 in From the editors It is not just the big city homicide rates. You, and I, are seeing it at the local level in our hometown news feeds. Homicide. Robbery. Break-ins. Drug abuse. And even while driving on the roads … Are you seeing and dealing with what I'm seeing and dealing with while…