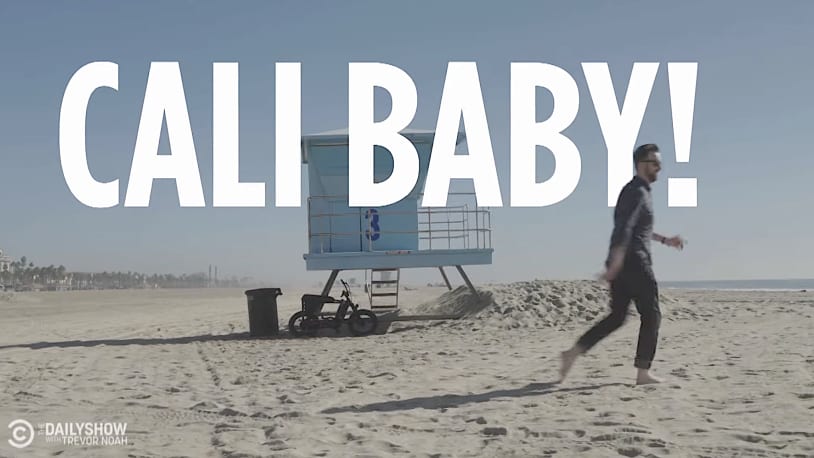 The Daily Show's Jordan Klepper chases down the 'wellness' anti-vaxxers of blue Southern California
"The discussion around vaccines and mandates tends to pit red state versus blue, but I had heard there was vaccine hesitancy and misinformation in the elitist of the elite blue corners of the U.S.," Jordan Klepper narrated on Wednesday's Daily Show. "So I headed to a protest in sunny Southern California."
In Venice Beach and Santa Monica, the people resisting vaccines were not the MAGA folks and Q-Anon conspiracists Klepper normally interviews. They get their vaccine misinformation in yoga studios and "wellness" forums, Klepper said. And it "turns out ignoring the advice of the medical experts and sacrificing the health of the community at large can be actually be quite profitable for the wellness business. "
Instead of ivermectin and hydroxychloroquine, these blue-state anti-vaxxers — many of whom insist they are not anti-vaxxers — are putting their faith in anti-COVID meditations and breathing techniques. "Okay, maybe on the coffee enema, definite hard no on the COVID vaccine?" he clarified with one bearded man in a captain's hat. He did find one openly vaccinated local, but he was from New York.
In September, Klepper released a more traditional dispatch from Johnson County, North Carolina, where he marched "with anti-mask protesters to what has become America's new Thunderdome: school board meetings."
And he traveled to Des Moines, Iowa, in October for his "first Trump rally since Jan. 6, 2021, a day no one will ever forget — unless you're a Republican member of Congress." In the belly of the MAGA beast, nobody was wearing a mask, and nobody thought Donald Trump lost.
"The discussion around vaccines and mandates tends to pit red state versus blue, but I had heard there was vaccine hesitancy and misinformation in the elitist of the elite blue corners of the U.S.," Jordan Klepper narrated on Wednesday's Daily Show. "So I headed to a protest in sunny Southern California." In Venice Beach and…
"The discussion around vaccines and mandates tends to pit red state versus blue, but I had heard there was vaccine hesitancy and misinformation in the elitist of the elite blue corners of the U.S.," Jordan Klepper narrated on Wednesday's Daily Show. "So I headed to a protest in sunny Southern California." In Venice Beach and…