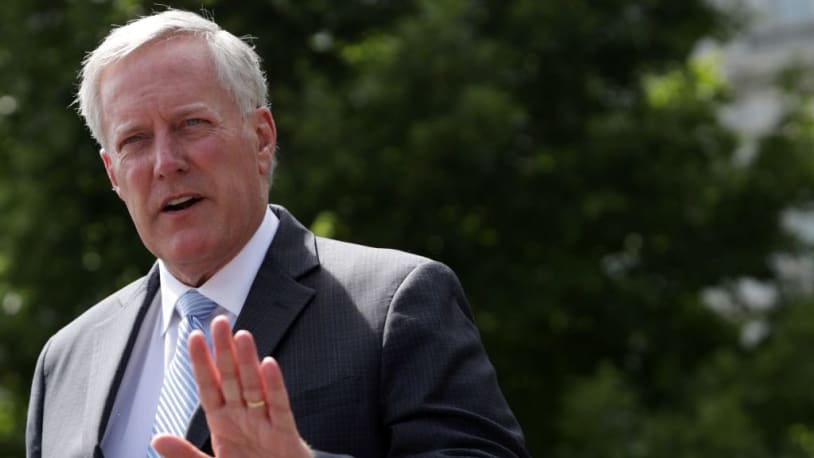 In attempt to block subpoenas, Mark Meadows sues House Jan. 6 committee
Former White House chief of staff Mark Meadows has filed a lawsuit against House Speaker Nancy Pelosi (D-Calif.) and members of the House select committee investigating the Jan. 6 Capitol riot.
Meadows served as former President Donald Trump's final chief of staff, and the committee has requested documents and testimony from him. Meadows, who briefly did cooperate with the lawmakers, is now asking a court to invalidate two subpoenas issued by the committee, calling them "overly broad" and "unduly burdensome." He has argued that matters he would be asked to discuss are covered by executive privilege; President Biden has waived those privilege claims.
The committee determined that since Meadows will no longer cooperate, it will move forward with contempt proceedings against him. The panel's chair, Rep. Bennie Thompson (D-Miss.), sent a letter to Meadows' attorney on Tuesday night, saying there is "no legitimate basis" for him to brush off the committee's requests. Thompson also mentioned that in Meadows' new book, he writes about the events of Jan. 6, but is "denying a congressional committee the opportunity to ask him about the attack on our Capitol. [That] marks an historic and aggressive defiance of Congress."
Former White House chief of staff Mark Meadows has filed a lawsuit against House Speaker Nancy Pelosi (D-Calif.) and members of the House select committee investigating the Jan. 6 Capitol riot. Meadows served as former President Donald Trump's final chief of staff, and the committee has requested documents and testimony from him. Meadows, who briefly…
Former White House chief of staff Mark Meadows has filed a lawsuit against House Speaker Nancy Pelosi (D-Calif.) and members of the House select committee investigating the Jan. 6 Capitol riot. Meadows served as former President Donald Trump's final chief of staff, and the committee has requested documents and testimony from him. Meadows, who briefly…