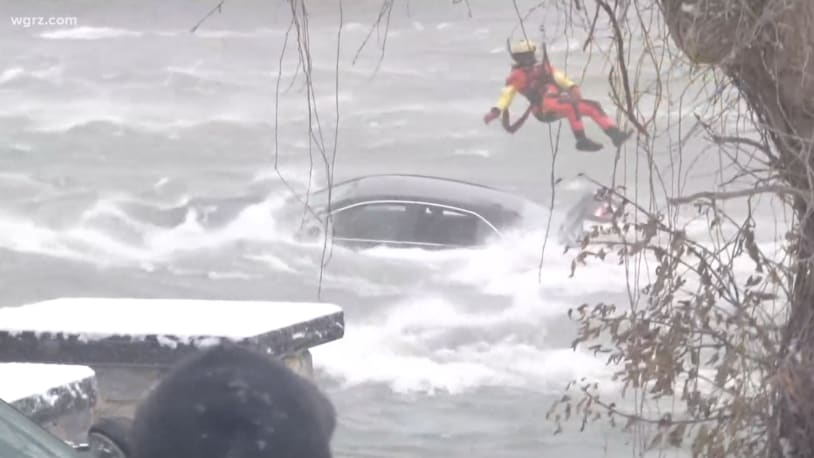 Dramatic Coast Guard helicopter rescue from car submerged just above Niagara Falls recovers dead driver
Police in Niagara Falls were alerted to a black sedan floating down the Niagara River toward American Falls late Wednesday morning, and after New York State Park Police determined they couldn't safely send a diver or boats to rescue any occupants of the car, the U.S. Coast Guard was called in. The car at this point was lodged against some rocks about 50 yards from the edge of American Falls. "We've never had a vehicle in the water this close to the brink," State Parks Police Capt. Chris Rola told reporters.
A U.S. Coast Guard Great Lakes rescue crew flew over in a helicopter from Detroit at about 12:30, and aviation survival technician Derrian Duryea was lowered down to the car on a rope after the copter arrived a little before 2 p.m., WGRZ reports. Duryea was able to pull the car's sole occupant, a local woman in her 60s, from the car, but she was pronounced dead after he got her to a waiting ambulence on shore.
The somber ending to the rescue mission "did not diminish the daring actions of the diver, who braved strong winds and swift-moving currents to reach the vehicle and recover the victim's body," The Buffalo News reports. Rola called the attempted rescue "incredible," noting the "inherent danger" in such efforts. He said the woman was dead before the Coast Guard reached her.
The Erie County Medical Examiner's Office has the body and will try to determine the cause of death, while police try to piece together how the car ended up floating toward Niagara Falls. Authorities have not yet publicly identified the woman.
Police in Niagara Falls were alerted to a black sedan floating down the Niagara River toward American Falls late Wednesday morning, and after New York State Park Police determined they couldn't safely send a diver or boats to rescue any occupants of the car, the U.S. Coast Guard was called in. The car at this…
Police in Niagara Falls were alerted to a black sedan floating down the Niagara River toward American Falls late Wednesday morning, and after New York State Park Police determined they couldn't safely send a diver or boats to rescue any occupants of the car, the U.S. Coast Guard was called in. The car at this…