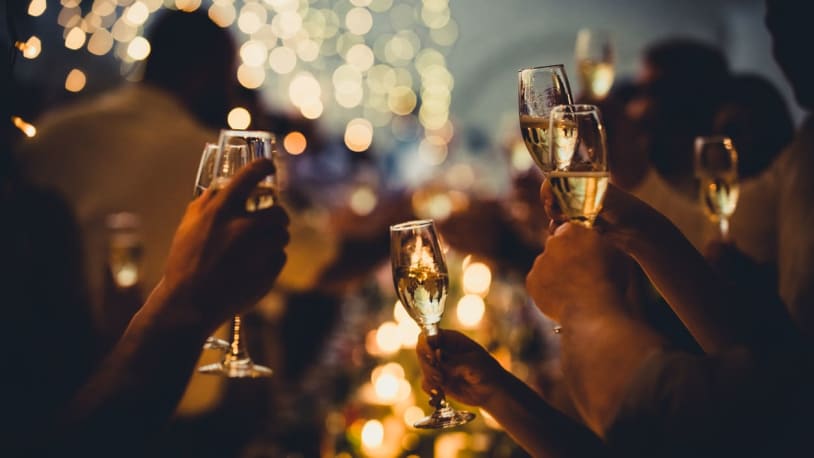 Bride finds creative way to ensure sick groom can still be part of reception
After postponing their wedding twice because of the coronavirus, Christine and Gannon Karmire got creative when a severe bout of food poisoning threatened to derail the big day once again.
Gannon woke up on the morning of their November wedding feeling ill. He went to the hospital, where he was treated for food poisoning. Christine canceled the ceremony, but decided to hold the reception since it had been paid for. One of the venue owners suggested they make a "Stick Gannon," which involved taking a rolling steamer, adding pool cues for arms, putting an iPad at the top displaying a picture of Gannon, and dressing it up in a suit.
"It was meant to lighten the mood and encourage people to enjoy both the company gathered and the already prepared dinner," Christine told Today. It worked — while the guests were sad Gannon wasn't there, they danced and took photos with his stick version. Before the night was over, Gannon was released from the hospital, and made a surprise appearance at his reception. He said the guests began chanting his name, and it was "a great feeling seeing the love and support everyone has for us."
After postponing their wedding twice because of the coronavirus, Christine and Gannon Karmire got creative when a severe bout of food poisoning threatened to derail the big day once again. Gannon woke up on the morning of their November wedding feeling ill. He went to the hospital, where he was treated for food poisoning. Christine canceled…
After postponing their wedding twice because of the coronavirus, Christine and Gannon Karmire got creative when a severe bout of food poisoning threatened to derail the big day once again. Gannon woke up on the morning of their November wedding feeling ill. He went to the hospital, where he was treated for food poisoning. Christine canceled…