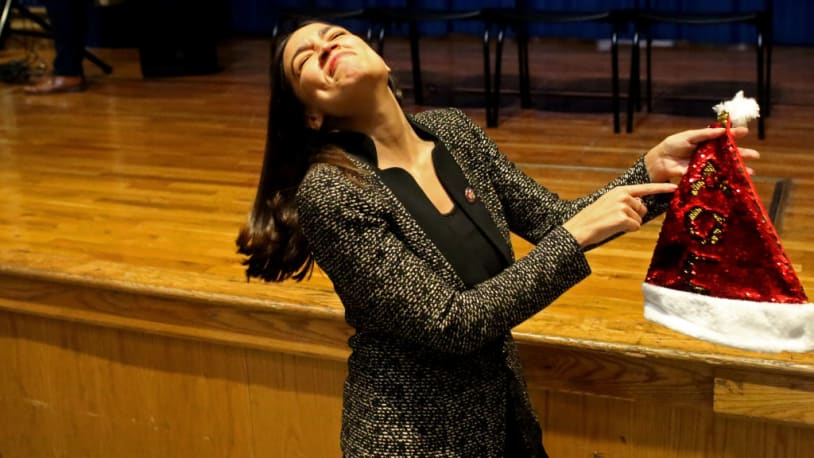 Alexandria Ocasio-Cortez suggests Lauren Boebert, other gun-family-portrait Republicans are warring on Christmas
Peace on Earth and good will to all
Rep. Lauren Boebert (R-Colo.) posted a photo Tuesday night of her family (sans husband) posing with long guns in front of a Christmas tree. The photo, she said, was a show of support for Rep. Thomas Massie (R-Ky.) amid criticism of the Christmas photo he posted of himself and his family posing with various flavors of military-style semiautomatic (or perhaps fully automatic) rifles.
Some of the negative reaction to Massie's photo was about timing, coming four days after a student with a gun murdered four people and wounded seven others in Michigan. Others accused Massie of sacrilege, noting that Jesus, whose birth is celebrated on Christmas, was not a fan of violence or weapons. (Some people tied the two criticism together.) Rep. Alexandria Ocasio-Cortez (D-N.Y.) veered toward the latter Wednesday, turning the GOP "war on Christmas" trope on its head.
Tell me again where Christ said "use the commemoration of my birth to flex violent weapons for personal political gain"?lol @ all the years Republicans spent on cultural hysteria of society "erasing Christmas and it's meaning" when they're doing that fine all on their own https://t.co/TOKE1SmY4C

— Alexandria Ocasio-Cortez (@AOC) December 8, 2021
Following up on her point about Republicans "erasing Christmas and its meaning" just fine on their own, Ocasio-Cortez tweeted: "When you pose in front of a Christmas Tree and can name all those guns but can't name the gifts of the Wise Men." Boebert evidently took the tweets personally, writing back that "AOC uses her position as a congresswoman to attack my boys with their Christmas presents" (but not mentioning gold, frankincense, and myrrh).
Interestingly, the very conservative Catholic League sided with Ocasio-Cortez. "Boebert is not doing Republicans any favor by supporting Massie in this offensive display," Catholic League president Bill Donohue said in a statement. "Christmas is about Jesus, not gun-toting family members. That this needs to be explained suggests that Massie and Boebert are either clueless or just plain insulting. Either way, they are a disgrace." 
Maybe Ocasio-Cortez and the Catholic League being on the same side of a religious issue is a Christmas miracle, or perhaps it's just a manifestation of the true meaning of Christmas.
Peace on Earth and good will to all Rep. Lauren Boebert (R-Colo.) posted a photo Tuesday night of her family (sans husband) posing with long guns in front of a Christmas tree. The photo, she said, was a show of support for Rep. Thomas Massie (R-Ky.) amid criticism of the Christmas photo he posted of himself and his family…
Peace on Earth and good will to all Rep. Lauren Boebert (R-Colo.) posted a photo Tuesday night of her family (sans husband) posing with long guns in front of a Christmas tree. The photo, she said, was a show of support for Rep. Thomas Massie (R-Ky.) amid criticism of the Christmas photo he posted of himself and his family…