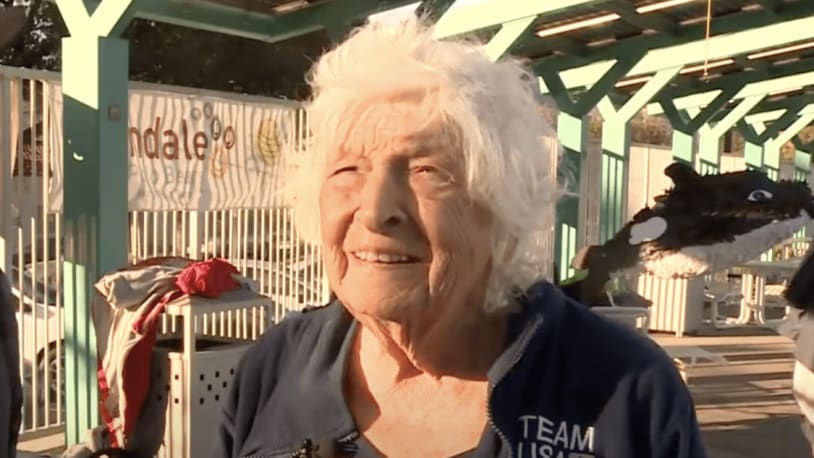 100-year-old Maurine 'Mighty Mo' Kornfeld keeps breaking swimming records
There's no stopping Maurine "Mighty Mo" Kornfeld.
A retired social worker, she got serious about swimming in her early 60s, becoming part of U.S. Masters Swimming. In the 40 years since, she has won 14 world championships, set 28 records, and been inducted into the International Swimming Hall of Fame. At 100, Kornfeld is one of the oldest registered masters swimmers in the United States, and competing in the 100-to-104 age bracket this summer, earned six world records in the freestyle and backstroke.
Kornfeld lives in Hollywood, California, and enjoys swimming at several different pools in the area. "She's just amazing," friend Susan Gold told the Los Angeles Times. "She's really thriving, really living. It feels like she's aging backwards." To celebrate Kornfeld's 100th birthday at the end of November, her pals threw her an aquatic birthday party by the pool, complete with a whale-shaped piñata and matching swim caps for everyone. Surrounded by friends, the smell of chlorine in the air, Kornfeld was moved by the tribute, saying, "I have everything I need."
There's no stopping Maurine "Mighty Mo" Kornfeld. A retired social worker, she got serious about swimming in her early 60s, becoming part of U.S. Masters Swimming. In the 40 years since, she has won 14 world championships, set 28 records, and been inducted into the International Swimming Hall of Fame. At 100, Kornfeld is one…
There's no stopping Maurine "Mighty Mo" Kornfeld. A retired social worker, she got serious about swimming in her early 60s, becoming part of U.S. Masters Swimming. In the 40 years since, she has won 14 world championships, set 28 records, and been inducted into the International Swimming Hall of Fame. At 100, Kornfeld is one…