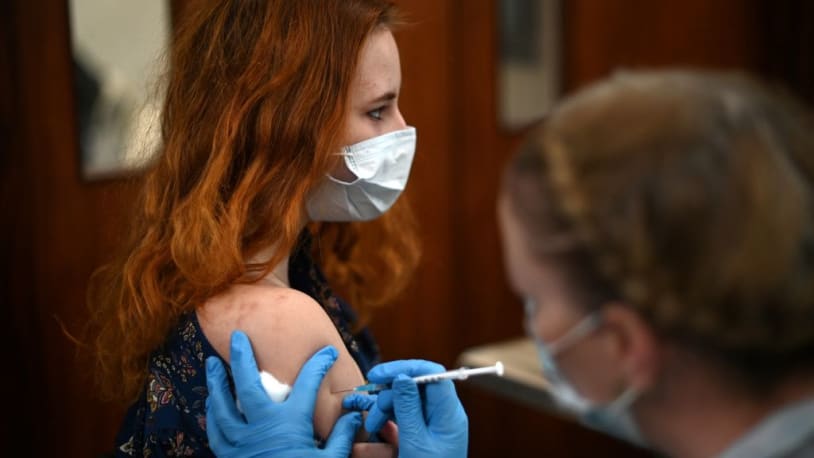 Pfizer says its vaccine booster provides protection against the Omicron variant
Early data suggests three doses of Pfizer and BioNTech's COVID-19 vaccine provides protection against the new Omicron variant, the companies say. 
Pfizer and BioNTech announced Wednesday that a third dose of its COVID-19 vaccine offers a similar amount of protection against the new Omicron variant as two doses of the vaccine does against the original strain of the coronavirus, NBC News reports. The companies also said, however, that preliminary studies indicate two doses "may not be sufficient to protect against infection with the Omicron variant," and a third dose provides "more robust" protection. 
"Although two doses of the vaccine may still offer protection against severe disease caused by the Omicron strain, it's clear from these preliminary data that protection is improved with a third dose of our vaccine," Pfizer CEO Albert Bourla said. "Ensuring as many people as possible are fully vaccinated with the first two dose series and a booster remains the best course of action to prevent the spread of COVID-19." 
BioNTech CEO Ugur Sahin added that "our preliminary, first dataset indicate that a third dose could still offer a sufficient level of protection from disease of any severity caused by the Omicron variant." 
The news comes less than two weeks after the World Health Organization designated the new Omicron variant a variant of concern. Asked on the Today show whether this new data suggests a two-shot Pfizer regime is "effectively useless" against Omicron, Bourla stressed that there still is "tremendous value" in receiving two doses "compared to if you only have one or if you don't have any." 
Bourla added, "It might not be enough on itself, but we are waiting to see. So you may need to go to get the third booster faster, and that's something that the health authorities should consider very carefully and make their recommendations." 
Early data suggests three doses of Pfizer and BioNTech's COVID-19 vaccine provides protection against the new Omicron variant, the companies say.  Pfizer and BioNTech announced Wednesday that a third dose of its COVID-19 vaccine offers a similar amount of protection against the new Omicron variant as two doses of the vaccine does against the original strain of…
Early data suggests three doses of Pfizer and BioNTech's COVID-19 vaccine provides protection against the new Omicron variant, the companies say.  Pfizer and BioNTech announced Wednesday that a third dose of its COVID-19 vaccine offers a similar amount of protection against the new Omicron variant as two doses of the vaccine does against the original strain of…