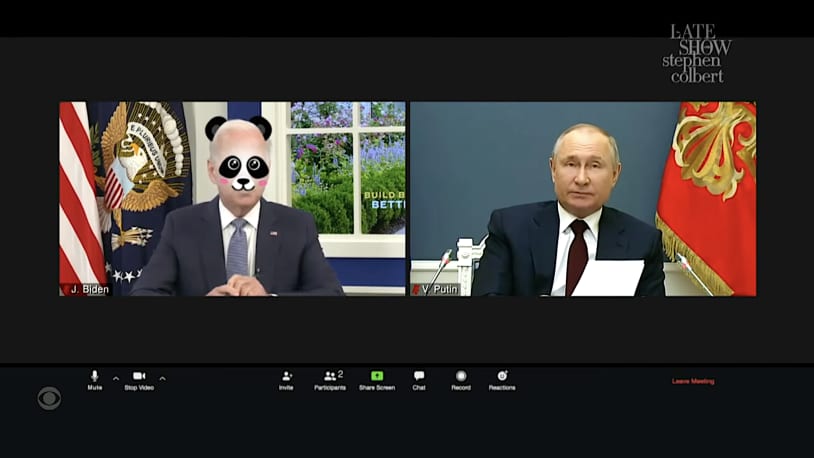 Late night hosts have fun imagining Biden and Putin's Zoom fails on their high-stakes Ukraine chat
"President Biden held a video meeting with Vladimir Putin to warn him not to invade Ukraine," Trevor Noah said on Tuesday's Daily Show. "And a video chat is a tough way for both of these guys to do diplomacy, I mean especially because even when he's in person, Biden talks like he's got a bad connection." He acted that out, joking that Putin could just reset the White House servers to improve connectivity.
The Late Show wrapped some classic Zoom fails into its re-enactment of the Biden-Putin chat.
Hey, "the world may be standing at the precipice of war between two nuclear-armed powers," so a de-escalatory chat about Ukraine between Putin and Biden "makes sense," Stephen Colbert deadpanned on The Late Show. "The only way to resolve a delicate situation that requires crystal-clear communication is two old men on a Zoom."
"Now, if you're worried these rising tensions with Russia will lead to World War III with Russia, don't be ridiculous," Colbert said. "It's gonna be World War II with China. We got a preview yesterday" with the diplomatic boycott of the Winter Olympics in Beijing. And if that's not enough "gloom and doom," he said, a giant black box in Australia will soon record humanity's self-inflicted demise to climate catastrophe.
"Speaking of catastrophes," Rep. Devin Nunes (R-Calif.) is quitting Congress to be CEO of former President Donald Trump's social media company, despite any relevant experience — except "milking things with leathery skin," Colbert said. "Now usually when when the former president appoints someone who is grossly incompetent to an important position, he has a good reason: they're related to him. That means the only reason Nunes got this gig is because Jared, Don Jr., and Eric all turned it down."
The Biden-Putin call lasted two hours, "and like most two-hour meetings over Zoom, Putin was like, 'This could have been email,'" Jimmy Fallon joked at The Tonight Show. "On the bright side, it was the first time Putin could see Biden on camera when Biden actually knew he was on camera."
Meanwhile, "China's moon rover spotted a mysterious cube-shaped object on the moon's surface, and everyone on the internet is trying to figure out what it is," Fallon said. "If there's anyone who knows the truth, it's random people on the internet — yeah, the same internet that couldn't figure out the color of a dress."
"President Biden held a video meeting with Vladimir Putin to warn him not to invade Ukraine," Trevor Noah said on Tuesday's Daily Show. "And a video chat is a tough way for both of these guys to do diplomacy, I mean especially because even when he's in person, Biden talks like he's got a bad…
"President Biden held a video meeting with Vladimir Putin to warn him not to invade Ukraine," Trevor Noah said on Tuesday's Daily Show. "And a video chat is a tough way for both of these guys to do diplomacy, I mean especially because even when he's in person, Biden talks like he's got a bad…