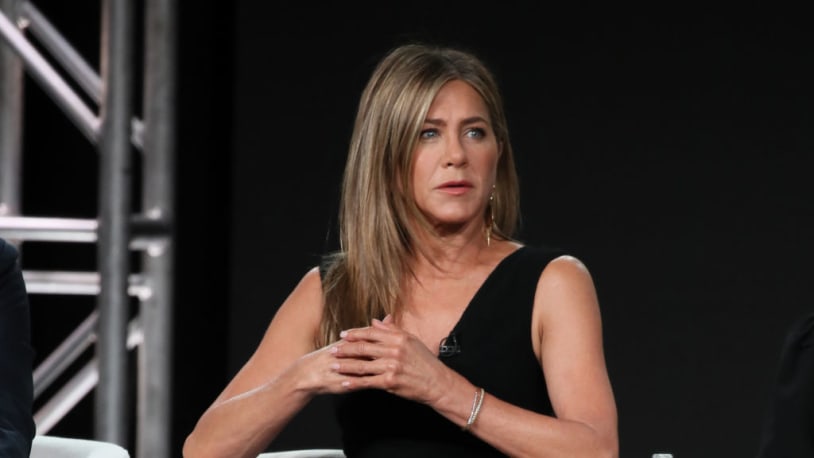 Jennifer Aniston says she's been 'bullied' for being in favor of COVID-19 vaccines
'I don't understand the disconnect'
Jennifer Aniston called out anti-vaxxers in a new interview, questioning the "disconnect" leading those in favor of COVID-19 vaccines to be "bullied." 
The Friends star while speaking to The Hollywood Reporter noted that she's only "been to five restaurants" since the COVID-19 pandemic began, exclusively visiting ones where patrons are required to be vaccinated. This led her to speak out on the pushback she's received for being in favor of vaccination. 
"You know, someone literally called me a 'liberal Vax-hole' the other day," Aniston said. "I don't understand the disconnect right now, being bullied for wanting people not to be sick? I mean, that's what we're talking about." 
Aniston previously slammed "anti-vaxxers" who "don't listen to the facts" in an interview with InStyle, in which she also revealed that she's "lost a few people in my weekly routine" who refused to get vaccinated or wouldn't disclose their vaccine status.
"I feel it's your moral and professional obligation to inform, since we're not all podded up and being tested every single day," she told InStyle. "It's tricky because everyone is entitled to their own opinion — but a lot of opinions don't feel based in anything except fear or propaganda." 
After receiving some pushback for those comments, Aniston wrote on Instagram that "we have to care about more than just ourselves." Speaking to The Hollywood Reporter, the actress, who filmed the second season of Apple's The Morning Show during the pandemic, said that she hasn't left California since January 2020, and "there are, like, five houses I've been to" since then. But she said that "I do think we're getting closer" to the end of the pandemic, adding that she's "excited to get on a plane again — and terrified as well." 
'I don't understand the disconnect' Jennifer Aniston called out anti-vaxxers in a new interview, questioning the "disconnect" leading those in favor of COVID-19 vaccines to be "bullied."  The Friends star while speaking to The Hollywood Reporter noted that she's only "been to five restaurants" since the COVID-19 pandemic began, exclusively visiting ones where patrons are required to…
'I don't understand the disconnect' Jennifer Aniston called out anti-vaxxers in a new interview, questioning the "disconnect" leading those in favor of COVID-19 vaccines to be "bullied."  The Friends star while speaking to The Hollywood Reporter noted that she's only "been to five restaurants" since the COVID-19 pandemic began, exclusively visiting ones where patrons are required to…