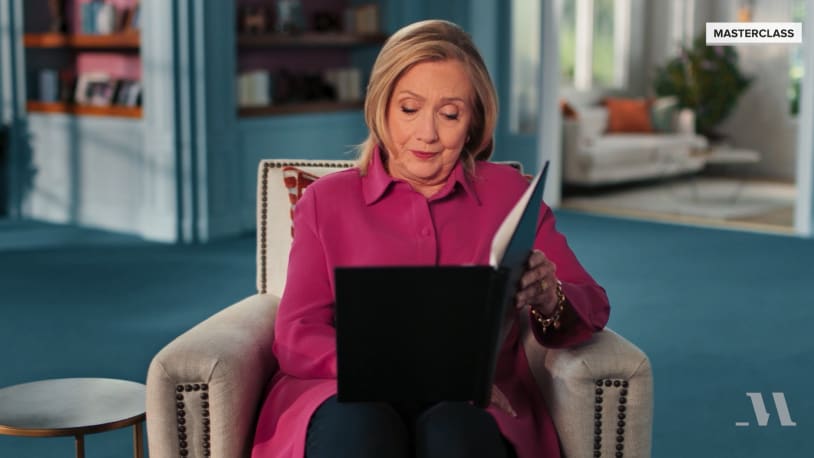 Hillary Clinton chokes up reading from her prepared 2016 victory speech
More than five years after election night 2016, former Secretary of State Hillary Clinton is revisiting the victory speech she "hoped to" deliver. 
Clinton read parts of her prepared 2016 victory speech in a MasterClass lesson revealed in a preview of this week's Sunday TODAY with Willie Geist. "I've never shared this with anybody," she says. "I've never read it out loud."
The speech opens, "My fellow Americans: Today, you sent a message to the whole world. Our values endure, our democracy stands strong, and our motto remains E pluribus unum: out of many, one." 
Clinton would have gone on to say that Americans during the 2016 campaign were "challenged to choose between two very different visions for America" and that voters in the end reached for "unity" and "decency." Clinton then would have celebrated the historic nature of the election of the first female president. 
"In America, every boy and every girl can grow up to be whatever they dream, even president of the United States," she reads. "This is a victory for all Americans, men and women, boys and girls, because as our country has proven once again, when there are no ceilings, the sky's the limit." 
At one point during the reading, Clinton choked up as she spoke about her late mother, wishing she could have told her about the election outcome. "I dream of going up to her and sitting down next to her, taking her in my arms, and saying, 'Look at me. Listen to me. You will survive,'" Clinton says. The speech would have concluded with Clinton telling Americans that "we will make America even greater than it has ever been." 
Clinton said that by sharing the speech she never got to deliver, she was facing "one of my most public defeats head-on." The former Democratic candidate has previously said she didn't prepare a concession speech for election night "because I really thought I was going to win." 
More than five years after election night 2016, former Secretary of State Hillary Clinton is revisiting the victory speech she "hoped to" deliver.  Clinton read parts of her prepared 2016 victory speech in a MasterClass lesson revealed in a preview of this week's Sunday TODAY with Willie Geist. "I've never shared this with anybody," she says. "I've never read it…
More than five years after election night 2016, former Secretary of State Hillary Clinton is revisiting the victory speech she "hoped to" deliver.  Clinton read parts of her prepared 2016 victory speech in a MasterClass lesson revealed in a preview of this week's Sunday TODAY with Willie Geist. "I've never shared this with anybody," she says. "I've never read it…