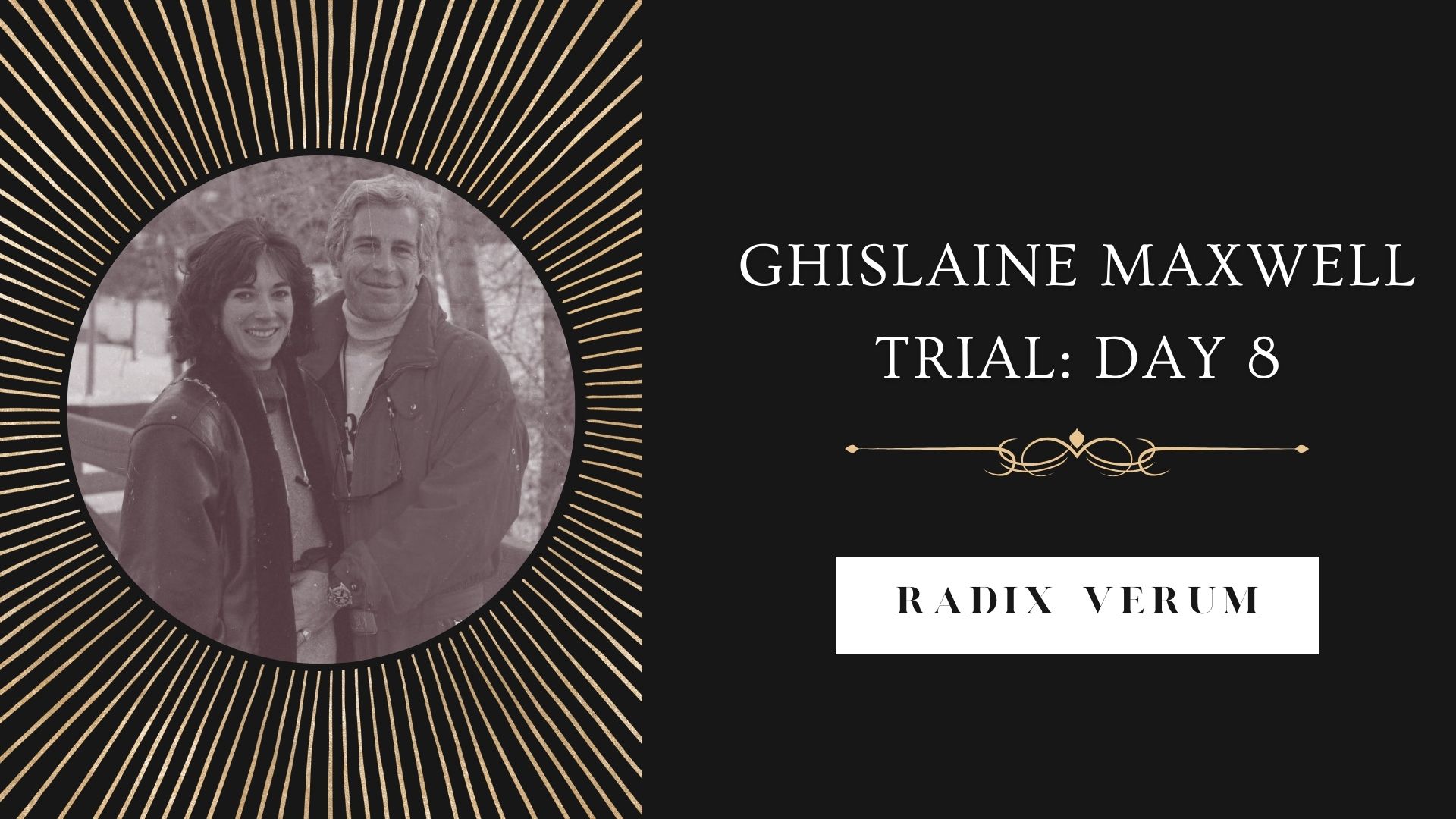 Ghislaine Maxwell Trial: Day 8
December 8, 2021 — Today begins the eighth day in the US vs Ghislaine Maxwell trial. We have been providing daily coverage of the case. If you are not familiar with the case to date, please read our prior reporting to get a grounding on all the happenings. Maxwell has pleaded not guilty to eight charges including child sex trafficking and other charges. U.S. District Judge Alison Nathan declined to allow the trial to be livestreamed and also denied a call-in line for members of public, despite this being a well- established practice. The government has prevented most of the trial exhibits from being released to be public.
Today's Proceedings
Today's proceedings began with the next witness to testify, a woman named Janine Gill-Velez who worked for Mar-A-Lago in Palm Beach, Florida.
Judge Nathan: We still have to wait for our juror who has substantial train issues. I'll step down off the bench.
Clerk: All rise!
Thread will continue. Or really, start, when juror arrives.

— Inner City Press (@innercitypress) December 8, 2021
The government seems to be wrapping this trial up much quicker than they initially estimated, and we have not been given any justification for this.
OK – Juror has arrived, 45 minutes late.
All rise!
Next witness: Janine Gill-Velez of Florida Property Management (that is, Mar-a-Lago).

Assistant US Attorney: How long have you worked at Mar-A-Lago?
Gill-Velez: 15 years.
AUSA: So this is exhibit 823-r, redacted [for the public]. It's a personal action notice, the hiring of Sky Roberts in April 2000.

[That is what the US wanted to establish, the hiring of Sky Roberts. So now, cross-exam]
Maxwell's lawyer Bobbi Sternheim: But you have no personal knowledge of the hiring, correct?
Gill: Correct.
Sternheim: No further questions.
Judge Nathan: Next witness, "Shawn."

Judge Nathan: This witness will testify only as Shawn, to protect anonymity of previous witness [Carolyn]. No exact likeness in drawing.
Witness: I'm S-H-A-W-N. That sealed exhibit has my full name.
AUSA: How old are you?
Shawn: 38. Some college. I'm a salesman.

AUSA: What was the first name of your girlfriend?
Shawn: Carolyn. She was 14, I was 17. We dated four or five years. She worked at Arby's, and she worked for Jeffrey Epstein.
AUSA: How did she meet Epstein?
Shawn: Through Virginia Roberts.

AUSA: What's the difference between Palm Beach & West Palm Beach?
Shawn: Money —
Maxwell's lawyer: Objection!
Judge Nathan: Sustained.
AUSA Maurene Comey: Did you go to Palm Beach much?
Shawn: No. I didn't have enough money to buy anything in the gas station there.

AUSA: How long did Carolyn stay in Jeffrey's house?
Shawn: An hour. Or an hour and five minutes.
AUSA: How were the session set up?
Shawn: They would call my phone: Sarah and a lady with a foreign accent. One was English and one almost French.

AUSA Comey: Did Carolyn mention anyone else?
Shawn: Maxwell. She couldn't pronounce the first name.
AUSA: Did she get a gift?
Shawn: From FedEx. Lingerie and a movie. From New York.
AUSA: Did you go to Epstein's with anyone else?
Shawn: Melissa and Amanda Laslow.

AUSA: How old was Amanda when you saw her go to Epstein's house?
Shawn: 15.
Maxwell's lawyer: Objection!

AUSA: How old was Melissa when she went to Epstein's house?
Shawn: 16. She came out with hundred dollar bills.
AUSA: Were you arrested in Louisiana?
Shawn: Yes, possession of meth. And felon in possession of a firearm. Now I'm a salesman.

Now cross examination by Maxwell's lawyer Jeff Pagliuca
Pag: Shawn, you went to Epstein's house in 2002, correct?
Shawn: Yes.
Pagliuca: And it was Sarah who called you and gave you her name, right?
Shawn: Correct.

Pagliuca: You met the government, for example in July 2022, and said the accent was French.
Shawn: It was foreign.

Next witness: Nicole Hesse, worked at Epstein's and Maxwell's Palm Beach home in 2003.
AUSA Moe: What was your job?
Mrs. Hesse: Take care of the home. I was hired by Ghislaine Maxwell.
Here's the podcast. Jury finally back & US introduced exhibits – under seal. Inner City Press will keep live tweeting – while trying to cover a criminal proceeding in EDNY court in Brooklyn which has a call-in line, denied in #MaxwellTrial https://t.co/JJibbmpghu

— Inner City Press (@innercitypress) December 8, 2021
I will include the photos at the end of the article.
AUSA: In this sealed exhibit, do you see that Carolyn called Epstein's house?
A: I do.
AUSA: Now that we're looking at this [sealed] Government Exhibit, it says "Carolyn," right?
A: Right.

Next witness is Epstein's second pilot, Mister Rogers.
AUSA: Who did you work for until 2019?
Rogers: Jeffrey Epstein. As a pilot, since 1999. I was hired in Columbus, Ohio.

Rogers: We mostly flew between his houses. From 1991 he had a smaller plane, then a Gulfstream. Then a Cesna 421 followed by the Boeing 727…
AUSA: On the Gulfstream, what divider was there?
Rogers: A door, always closed.

Rogers: I kept a log book. Including passenger names.
AUSA: We offer the log book – as a sealed exhibit.

NOTE: Rogers' log book, as shown on the screen, has the entire column of passenger named redacted or blacked out.
Press question: Is there really a reasonable expectation of privacy for flying on the private jet of a pedophile?

AUSA: How did you find out the names of the passengers?
Rogers: Sometimes we'd be told.
AUSA: Would you always know?
Rogers: No.

Rogers: We were flying to Traverse City, Michigan.
Judge Nathan: We'll take our lunch break now.
FINALLY, jury back in their chairs.
AUSA: Mr. Rogers, please turn in your binder to GX 12. Without saying the name out loud, is that the name of a passenger on Mr. Epstein's plane?
Rogers: Yes.

— Inner City Press (@innercitypress) December 8, 2021
It should be noted that in this journalist's humble opinion, Rogers is a "co-conspirator" who enabled Epstein and Maxwell and did nothing to help the victims.
#Maximum Maxwell Day 8, 9 am livestream Foley Square, after witness Carolyn pushed back at Pagliuca & US said will rest case this week https://t.co/aZVTfdhzB4

— Inner City Press (@innercitypress) December 8, 2021
AUSA: Let's look back at sealed exhibit 662, at page 44. Flight number 916… Who drove passengers to the plane in Palm Beach?
Rogers: Juan Alessi.

AUSA: And this flight?
Rogers: From Palm Beach to New Jersey. Jane was on the flight. By first name. AUSA: Are there others on the flight?
Rogers: Yes.
AUSA: Let's move to another flight. [Who else was on not disclosed, nor asked on direct]

AUSA: Flight 818.
Rogers: Van Nuys CA to Santa Fe NM, only Jeffrey on the flight.

AUSA: How many times do you remember Virginia Roberts flying on Jeffrey Epstein's planes?
Rogers: Thirty two (32) times.

AUSA: This flight to St. Thomas – were Jeffrey Epstein, Ghislaine Maxwell and Virginia Roberts passengers??
Rogers: Yes.
AUSA: And was there one other person on the flight?
Rogers: Yes.
AUSA: Let's move to another flight [The additional passenger UNdisclosed]

AUSA: And this flight?
Rogers: From Spain to Tangier, Morocco. [Epstein and Maxwell on the flight]

Now cross examination of pilot David Rogers.
Maxwell's lawyer: Sometimes the cockpit door would be open and you could see the passengers, right?
Rogers: Correct.
Maxwell's lawyer: And you did that sometimes, yes?
Rogers: Yes.

Maxwell's lawyer: You never found in the cabin any sex toys or used condoms, right?
Rogers: No I did not.

Maxwell's lawyer: Isn't it common to own private planes through companies, one company per plane to limit liability, right?
Rogers: Yes.
Judge Nathan: Let's take our mid afternoon break. [What is being accomplished by this cross examination?] Thread will continue.

They're back, with Maxwell's lawyer Everdell still flaying around on cross examination.
Everdell: Mr. Rogers, you know the real name of Jane, don't you?
Judge Nathan: Without saying it.
Rogers: Yes.

Everdell: But Epstein had an assistant with the same first name as Jane's real first name, didn't he?
Rogers: Yes. [Note: This is another way of outing or doxing]

Everdell: And Eva Dubin was on this flight, and her husband is a hedge fund manager who was an Epstein client?
Rogers: I don't know.

Everdell: So these trips to Columbus, Ohio, that's where Leslie Wexner lives, right, the owner of The Limited?
Rogers: Yes.
Everdell: And Mr. Wexner is a billionaire, Jeffrey Epstein's client?
Rogers: Yes.

Everdell: And you never saw Annie Farmer in your planes, or your logs?
Rogers: I did not.
Everdell (after a time) I though it was later than it is.
Judge Nathan: It just feels that way.

Maxwell's lawyer Everdell: Now Mr. Visoski —
Judge Nathan: It's Mr. Rogers.
Everdell: [Uncomfortable laugh]

Now at the end, more on scheduling.
Judge Nathan: I would prefer to not do the charging conference Friday (in 9 days) in case you don't have a case going that day… Given the expedition of the Government's case, maybe we can use Friday for charging.

Judge Nathan: I'm comfortable letting the defense begin its case on Thursday (in 8 days). The result may be that the jury has (this) Friday off as well.
[Things are moving FAST…]
MSN has published an article about Ghislaine Maxwell, referring to her as Epstein's "accomplice" rather than the main operator, which is simply incorrect.
You can download Court Documents filed in this case here, via Court Listener.
Prosecutors will rest their case against Maxwell tomorrow — or Friday latest.

Now, Maxwell's lawyers are scrambling.

"The government has shaved a considerable amount of this case off in the last day," says Everdell.

"We're trying to hustle witnesses; it's not that easy."

— Molly Crane-Newman (@molcranenewman) December 8, 2021
This is truly sickening and a gross miscarriage of justice in this case.
Interesting thread to read, related to the case.
#CourtCaseCast PM: In #GhislaineMaxwell Trial, Epstein's Pilot Rogers Puts Ghislaine, Virginia &Another On Plane After Plane, Ending Approaches- Inner City Press story: https://t.co/pTbGJfRnXX @SubstackInc with midday livestream link here https://t.co/RLP7PCDvdG

— Inner City Press (@innercitypress) December 8, 2021
Here are the photos that were entered as exhibits:
https://www.scribd.com/document/545629303/US-vs-Maxwell-Photo-Exhibits
Epstein pilot logs presented in Ghislaine Maxwell case almost completely redactedhttps://t.co/4yzsR7ocTy pic.twitter.com/ev1vaV8DDJ

— Amy Meyer (@AmyMeyer24) December 8, 2021
The Prosecution Is Fumbling Its Case Against Ghislaine Maxwell – Vanity Fair https://t.co/fYfRgJkjHX

— Leesa (@leesarhoden) December 8, 2021
Gee, what a surprise that the same government that repeatedly covered up for Epstein, even making him an informant, isn't that interested in going after his boss.
Found the Temple of Democracy pic.twitter.com/Gf447NJXt5

— Echo Chamber (@echo_chamberz) January 7, 2021
That is the temple from Epstein's Little Saint James Island.
Thus concludes today's proceedings in the trial for day 8. We will continue to cover the rest of the trial, which might only be another day or so, depending on the government. It should be obvious that this entire thing is one massive cover-up to protect the global elite who all would be implicated in the Epstein ring.
Check back tomorrow for more updates. Stay frosty, stay angry friends!
December 8, 2021 — Today begins the eighth day in the US vs Ghislaine Maxwell trial. We have been providing daily coverage of the case. If you are not familiar with the case to date, please read our prior reporting to get a grounding on all the happenings. Maxwell has pleaded not guilty to eight…
December 8, 2021 — Today begins the eighth day in the US vs Ghislaine Maxwell trial. We have been providing daily coverage of the case. If you are not familiar with the case to date, please read our prior reporting to get a grounding on all the happenings. Maxwell has pleaded not guilty to eight…