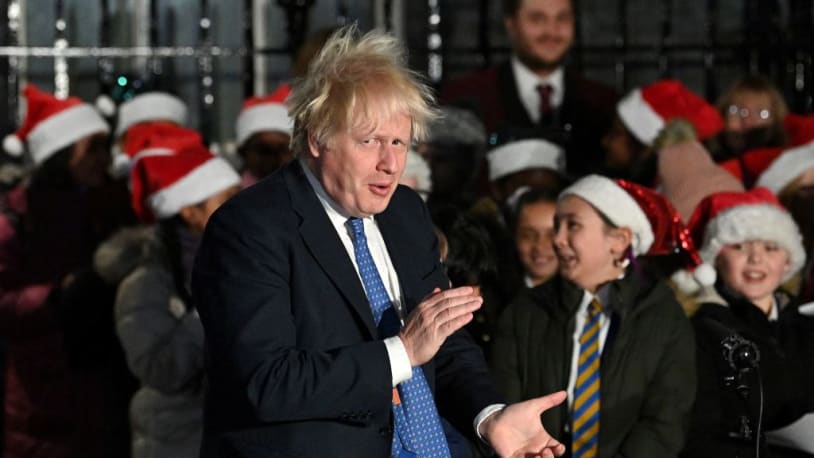 Britain's government is teetering over an alleged 2020 Christmas party at No. 10 Downing Street
British Prime Minister Boris Johnson and his Cabinet ministers have denied that No. 10 Downing Street broke the government's own COVID-19 rules last Christmas ever since The Daily Mirror reported last week that "40 to 50" members of Johnson's staff crowded together for celebrations at least twice last winter, including a Nov. 27 party for a departing aide and an unofficial Christmas party on Dec. 18. On Dec. 16, Johnson's government had banned most indoor gatherings of two or more people, and police raided and fined such gatherings all last winter.
The government's denials, maintained even as other news organizations backed up the Mirror's reporting, became increasingly untenable after iTV released leaked video Tuesday of Johnson's senior staff joking about a Christmas party on Dec. 22, during what appears to be a mock press briefing. 
In the video, Johnson adviser Ed Oldfield asks press secretary Allegra Stratton about reports of a party on Dec. 18, to which she replies, "I went home." Other aides joke about how "it wasn't a party, it was cheese and wine," and Stratton laughs and says, "This fictional party was a business meeting and it was not socially distanced." 
"It is expected Boris Johnson will face tough questions about the party — and the video — from Labour leader Sir Keir Starmer" when he faces Parliament, BBC News reports. "To lie and to laugh about those lies is shameful," Starmer said in a statement, and Johnson should "come clean and apologize." BBC political editor Laura Kuenssberg reports there's also "backbench fury" in Johnson's own Conservative Party.
More recent leaked video also went viral on Tuesday, of House of Commons leader Jacob Rees-Mogg joking about the alleged illicit party at a gathering Monday night. "This party is not going to be investigated by the police in a year's time," he said, adding that the crowd is "very carefully socially distanced … two inches away from each other." 
So "what are the likely consequences of this deep embarrassment for No. 10?" the BBC's Kuenssberg asks. "First off and most importantly, many members of the public — most poignantly those who lost relatives to COVID — will feel intensely hacked off." Johnson is facing demands for mass firings and "a groveling apology," she adds, and "even with an enormous majority and unrivaled political celebrity, Boris Johnson's Downing Street might be a lonely place to be this Christmas."
British Prime Minister Boris Johnson and his Cabinet ministers have denied that No. 10 Downing Street broke the government's own COVID-19 rules last Christmas ever since The Daily Mirror reported last week that "40 to 50" members of Johnson's staff crowded together for celebrations at least twice last winter, including a Nov. 27 party for…
British Prime Minister Boris Johnson and his Cabinet ministers have denied that No. 10 Downing Street broke the government's own COVID-19 rules last Christmas ever since The Daily Mirror reported last week that "40 to 50" members of Johnson's staff crowded together for celebrations at least twice last winter, including a Nov. 27 party for…