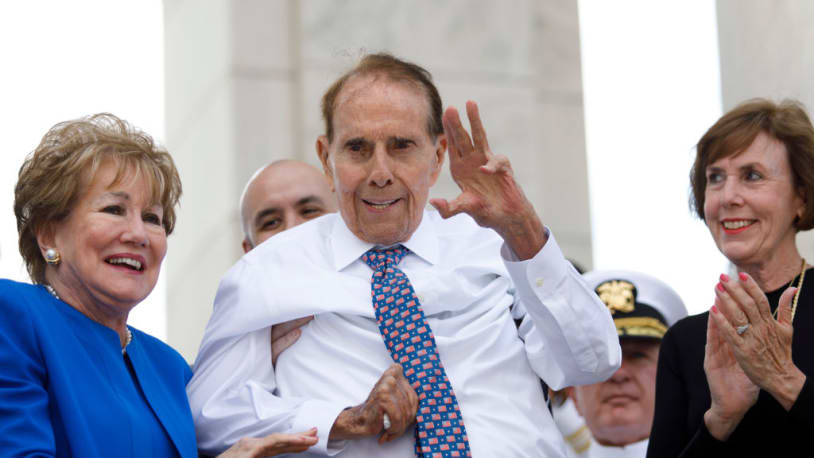 Bob Dole's hometown mourns not only his death, but his 'one of a kind' political style
Former U.S. senator and WWII veteran Bob Dole (R-Kansas) passed away at the age of 98 on Sunday, and many in his home town of Russell, Kansas are mourning not only the storied lawmaker but his bipartisan, compromise-focused style of politics, as well, The New York Times reports.
"The fighting we've got going on now, I know he was so against that," said Lance Waymaster, a farmer outside of Russell.
"Bob was one of a kind — unfortunately," added Daron Woelk, who owns a jewelry store on Russell's Main Street. "I think we'd all be better off if there were more men like him."
Dole was a Republican through and through, and "fought fiercely for conservative policies," writes the Times. But he also made "celebrated compromises" with Democrats, including the expansion of the food stamp program and the passage of the Americas With Disabilities Act.
Dole  Russell frequently until recently (due to his declining health), and seemed to have, at some point, crossed paths with everyone, writes the Times, whether it was over a meal or during a stop by the VFW post.
"Bob was not your run-of-the-mill politician ever; Bob was a statesman," explained Dole's nephew, Larry Nelson. "He would not fit in this group of people on the Hill now."
Former U.S. senator and WWII veteran Bob Dole (R-Kansas) passed away at the age of 98 on Sunday, and many in his home town of Russell, Kansas are mourning not only the storied lawmaker but his bipartisan, compromise-focused style of politics, as well, The New York Times reports. "The fighting we've got going on now,…
Former U.S. senator and WWII veteran Bob Dole (R-Kansas) passed away at the age of 98 on Sunday, and many in his home town of Russell, Kansas are mourning not only the storied lawmaker but his bipartisan, compromise-focused style of politics, as well, The New York Times reports. "The fighting we've got going on now,…