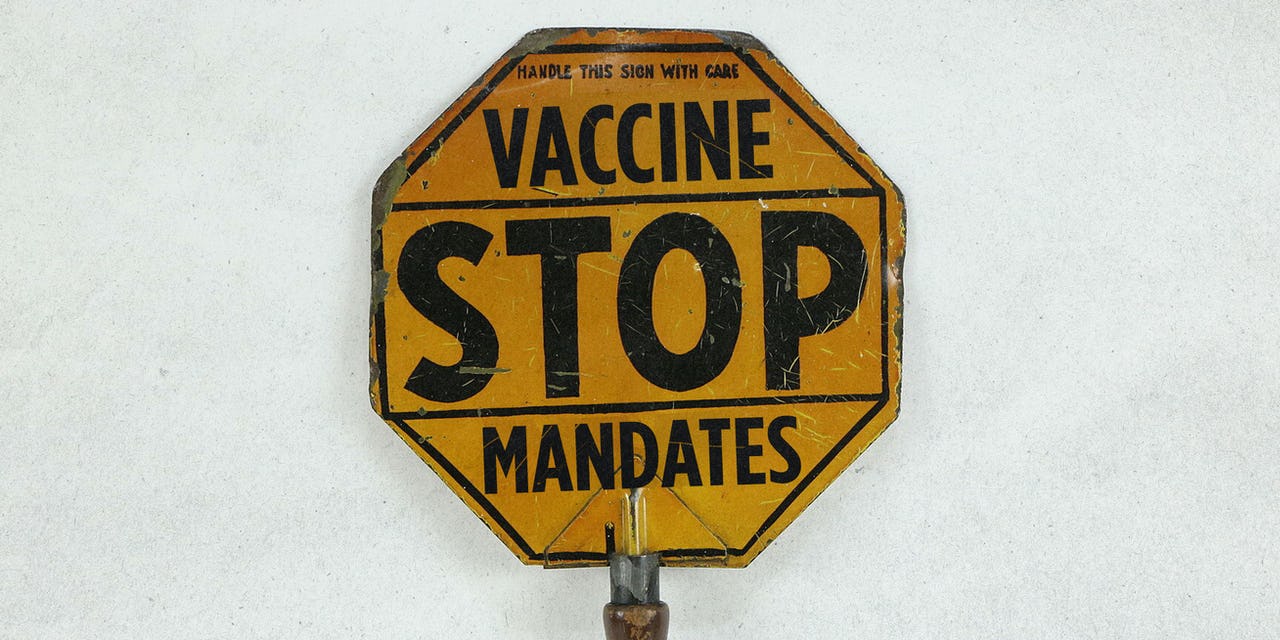 Another Federal Judge Stymies Biden's Vax Mandate
By THOMAS GALLATIN December 8, 2021
This time a district judge issues a nationwide injunction granting relief to federal contractors.
Federal District Judge R. Stan Baker issued a nationwide injunction against Joe Biden's COVID vaccine mandate for federal contractors on Tuesday. In issuing his order, the Donald Trump-appointed judge observed that Biden was using the Procurement Act in such a manner that logically would in effect "give the President the right to impose virtually any kind of requirement on businesses that wish to contract with the Government (and, thereby, on those businesses' employees) so long as he determines it could lead to a healthier and thus more efficient workforce or it could reduce absenteeism."
Therefore, Baker contended, Biden's vaccine mandate was an overreach of his executive power. "The Court acknowledges the tragic toll that the COVID-19 pandemic has wrought throughout the nation and the globe," Baker observed. "However, even in times of crisis this Court must preserve the rule of law and ensure that all branches of government act within the bounds of their constitutionally granted authorities."
Baker is now the second judge to issue an injunction against Biden's vaccine mandate and specifically regarding its application on federal contractors. This particular lawsuit was brought by seven states — Alabama, Georgia, Idaho, Kansas, South Carolina, Utah, and West Virginia. Unlike the previous injunction from a federal judge in Kentucky that was limited to the three states that brought the case, Baker's injunction is applicable nationwide.
Unfortunately, it's not all good news for defenders of constitutional limits on government. A three-judge panel of the Eleventh Circuit Court of Appeals issued a ruling upholding Biden's vaccine mandate for healthcare workers involved with Medicare and Medicaid. The divided panel contended that the Fifth Circuit Court's ruling against Biden's mandate for healthcare workers should not have been nationwide, but instead applicable only to those states that brought the case.
In her dissenting opinion, Judge Barbara Lagoa, a Trump appointee, criticized Biden's dubious evocation of emergency powers to justify his mandate. "The mandate was announced two months before it was issued by CMS, and the mandate itself does not take effect until one month after the issuance date," she wrote. "Moreover, vaccines have been available to healthcare workers for nearly a year before the issuance of the mandate, and the Delta variant has been spreading in the United States for months, yet CMS took no action. Additionally, in the explanation of the mandate, CMS itself concedes that it could have acted earlier — almost a year earlier — but chose not to. … And what's more, CMS has previously issued five interim final rules "to help contain the spread of [COVID-19]" since its onset — none of which included a vaccine mandate. … These facts alone cast significant doubt on the agency's claim of an increased urgency justifying abandoning the notice and comment requirement."
One thing is almost certain at this point: With appellate courts divided, Biden's mandate is ultimately bound for the Supreme Court.
~~~
~~Reprinted with permission. See the original article here and leave some comments! 
By THOMAS GALLATIN December 8, 2021 This time a district judge issues a nationwide injunction granting relief to federal contractors. Federal District Judge R. Stan Baker issued a nationwide injunction against Joe Biden's COVID vaccine mandate for federal contractors on Tuesday. In issuing his order, the Donald Trump-appointed judge observed that Biden was using the Procurement Act…
By THOMAS GALLATIN December 8, 2021 This time a district judge issues a nationwide injunction granting relief to federal contractors. Federal District Judge R. Stan Baker issued a nationwide injunction against Joe Biden's COVID vaccine mandate for federal contractors on Tuesday. In issuing his order, the Donald Trump-appointed judge observed that Biden was using the Procurement Act…