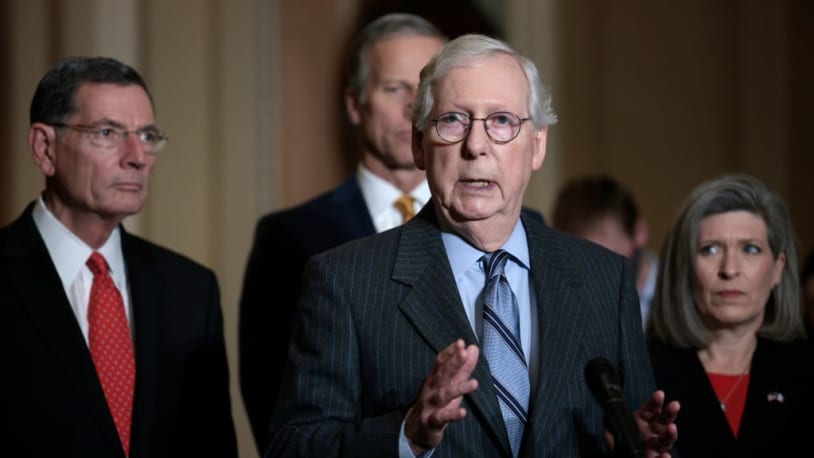 After Senate leaders reach a deal, House passes 1st stage of plan to raise debt ceiling
After a deal was reached in the Senate, the House on Tuesday night passed a measure that is the first step in preventing a federal default on more than $29 trillion in debt.
Senate Majority Leader Chuck Schumer (D-N.Y.) and Senate Minority Leader Mitch McConnell (R-Ky.) have agreed to a one-time deal allowing the Senate to increase the federal borrowing limit with a simple majority. McConnell says he is "confident" at least 10 Republicans will vote in favor of the process. The vote could take place on Thursday, Politico reports. If it passes, the House and Senate would then need to hold separate votes in order to actually increase the debt limit.
Earlier this month, Treasury Secretary Janet Yellen told Congress that the federal government could run out of money to pay its bills by Dec. 15. McConnell told reporters on Tuesday that he believes the plan "is in the best interest of the country by avoiding default. I also think it's in the best interest of Republicans." The measure also includes billions of dollars to cover looming Medicare cuts to hospitals and medical providers.
After a deal was reached in the Senate, the House on Tuesday night passed a measure that is the first step in preventing a federal default on more than $29 trillion in debt. Senate Majority Leader Chuck Schumer (D-N.Y.) and Senate Minority Leader Mitch McConnell (R-Ky.) have agreed to a one-time deal allowing the Senate…
After a deal was reached in the Senate, the House on Tuesday night passed a measure that is the first step in preventing a federal default on more than $29 trillion in debt. Senate Majority Leader Chuck Schumer (D-N.Y.) and Senate Minority Leader Mitch McConnell (R-Ky.) have agreed to a one-time deal allowing the Senate…