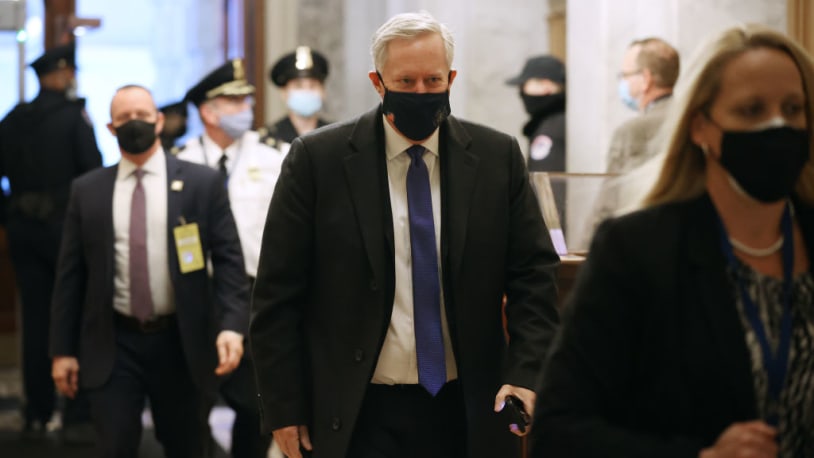 Jan. 6 panel threatens Meadows with contempt charges should he shirk deposition appearance
The House select committee investigating the Jan. 6 Captiol riot warned former White House Chief of Staff Mark Meadows it is prepared to recommend criminal contempt charges against him should he not appear for his scheduled deposition on Wednesday, Insider reports.
Earlier Tuesday, Meadows abrupty ceased cooperation with the committee because it has "no intention of respecting boundaries" related to former President Donald Trump's claims of executive privilege regarding the insurrection, Meadows' lawyer said. The ex-official's appearance before the committee has therefore become "untenable," per the lawyer.
However, should Meadows truly decide not to appear for the deposition — which "will go forward as planned" — the panel "will be left no choice but to advance contempt proceedings and recommend that the body in which Mr. Meadows once served refer him for criminal prosecution," reads a statement from panel Chairman Bennie G. Thompson (D-Miss.) and Vice Chair Liz Cheney (R-Wyo.).
BREAKING: The 1/6 Select Committee warns Mark Meadows that if he does not appear for his scheduled deposition tomorrow they will move to hold him in criminal contempt of Congress. pic.twitter.com/mLOCep8fc2

— Ryan Nobles (@ryanobles) December 7, 2021
Just last week Thompson announced Meadows had been "engaging with the select committee through his attorney." "He has produced records to the committee and will soon appear for an initial deposition," the chairman added.
Meadows is the third Trump ally that the committee "has advanced or is prepared to advance contempt proceedings against," notes Insider. Last month, the Justice Department indicted Trump ally Steve Bannon on contempt charges following a referral from Congress; and last week, the panel recommended criminal contempt charges against Jeffrey Clark, a former Trump DOJ official.
The House select committee investigating the Jan. 6 Captiol riot warned former White House Chief of Staff Mark Meadows it is prepared to recommend criminal contempt charges against him should he not appear for his scheduled deposition on Wednesday, Insider reports. Earlier Tuesday, Meadows abrupty ceased cooperation with the committee because it has "no intention…
The House select committee investigating the Jan. 6 Captiol riot warned former White House Chief of Staff Mark Meadows it is prepared to recommend criminal contempt charges against him should he not appear for his scheduled deposition on Wednesday, Insider reports. Earlier Tuesday, Meadows abrupty ceased cooperation with the committee because it has "no intention…