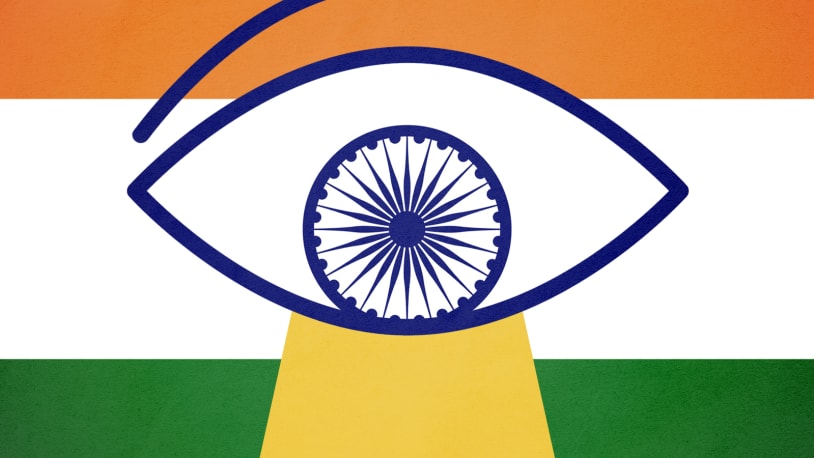 India's proud tradition of celebrating multiculturalism is facing a crisis
In Saeed Akhtar Mirza's 1995 film Naseem (streaming on Mubi), an ailing old man regales his granddaughter with anecdotes of his youth, a time when India's Hindus and Muslims rejoiced in one another's festivities and fought in solidarity against British colonial rule. The grandfather's narrative of religious harmony and national integration is juxtaposed with the tensions leading up to the Babri Mosque demolition in Ayodhya, Uttar Pradesh, by Hindu extremists on December 6, 1992 — a tragic event now widely considered to be a turning point in the rise of Hindu nationalism.
The film's fraught backdrop, as witnessed by 15-year-old Naseem (Mayuri Kango), offers a stark contrast to the pre-independence past described by her grandfather as India's secular fabric begins to slowly erode. But what sadly makes Naseem as relevant today as it was upon its release — if not more so — is that contemporary India continues to mirror the tumultuous nation depicted in the film. In fact, now more than ever, India is consumed by hate towards the "other," marking a shift away from the more pluralistic values historically espoused in its films, poetry, music, and even (to the ire of the conservative ruling party) its TV ads.
Naseem ultimately ends with the death of the grandfather coinciding with the demolition of the Babri Mosque, symbolically marking the fall of India's pluralistic bastion. Actor and Urdu-language poet Kaifi Azmi, whose grandfather character is the embodiment of secularism in the film, was pained by the grinding down of his country's secularism in real life, too. His lament found expression in the poem "Doosra Banwas" ("The Second Exile"), which imagines the Hindu deity Rama visiting his birthplace, Ayodhya, on the day of demolition and becoming despondent upon witnessing the carnage and politics played out in his name. Rama subsequently decides to go into exile again. 
Fortunately for Azmi, when he recited the poem at an event in the late 1990s, the sociopolitical climate of India was a bit more tolerant than it is now. If such an act of "blasphemy" were to be attempted today, in all probability the socialist poet would have to languish in jail alongside many other artists and activists, on account of "hurting religious sentiments."
Ever since the right-wing forces rose to power in the previous decade, a wave of religious intolerance has been sweeping over India, rendering artists and their work extremely vulnerable to attack. Stand-up comic Munawar Faruqui found himself at the receiving end of such bigoted absurdity at the beginning of the new year when he was arrested on Jan. 1 in the central Indian city of Indore for allegedly making objectionable jokes about Hindu deities, following a complaint by the son of a politician who belonged to the ruling right-wing party, BJP. Faruqui was eventually released on bail after more than a month in prison.
That witch-hunt mentality might also explain the outcry by many educated Indians over an advertisement for the jewelry brand Tanishq. The 45-second ad depicts a baby shower for a Hindu wife by her Muslim in-laws, but right-wingers criticized the clip for promoting love jihad, a term used by radical Hindu groups to accuse Muslim men of converting Hindu women by marriage. Similarly, consumer goods company Dabur recently withdrew an advertisement for a skin-bleaching cream that showed a same-sex couple celebrating Karwa Chauth — a Hindu festival where married women observe fast from sunrise to moonrise for the safety and longevity of their husbands — hours after the home minister of India's second-largest state, Narottam Mishra, warned of legal action against the firm. 
Meanwhile, the clothing company Fabindia came under fire for running a Diwali-themed advertisement for a clothing collection named "Jashn-e-Riwaaz," an Urdu phrase meaning "celebration of tradition." Advertising a collection by that name in connection with the Hindu festival of Diwali drew accusations of "unnecessarily uplifting secularism and Muslim ideologies" from critics who "claimed it hurt their religious sentiments," The New Indian Express recounts. BJP leader Tejasvi Surya further slammed Fabindia for its "deliberate attempt of Abrahamanization of Hindu festivals and depicting models without traditional Hindu attire." The message was loud and clear: The secular rhetoric of a pluralistic society needs to give way to the hegemony of Hindutva ideology. Further, any individual, entity, or even brand acting as proponents of a composite culture must be prepared to face clampdown. 
But such close-mindedness flies in the face of a long history of progressivism that can easily be located in India's art; arguably, even the narrative commercials censored by the government are an extension of this tradition. Ironically, it is the northern Indian state of Uttar Pradesh, which had a long history of religious syncretism before the Babri mayhem, that has been at the forefront of the deepening religious divide in the country. Yet long before the spread of fundamentalism in the state, Uttar Pradesh was emblematic of the "Ganga-Jamuni Tehzeeb," a poetic phrase comparing the Hindu-Muslim camaraderie to the holy confluence of India's major rivers, the Ganga and Yamuna. The late musician Ustad Bismillah Khan and his predecessors — who hailed from the city of Varanasi in Uttar Pradesh — stand as easy examples of this inclusive culture, since their Muslim identities never prevented them from performing at temples and Hindu festivals.
India's tradition of multiculturalism can be further witnessed in Niharika Popli's documentary Rasan Piya (2015), about the life of renowned Hindustani (Indian) classical musician Ustad Abdul Rashid Khan. Belonging to a lineage of artists who performed in provinces of diverse faiths, he was appointed as a court singer to the Hindu king of Gwalior in the state of Madhya Pradesh. An exemplar of polytheism and yet a devout Muslim, Rashid Khan was also a devotee of the Hindu god Lord Krishna, and would fast on Janmashtami (the birth anniversary of Krishna) every year. 
It is evident that for centuries, then, the heterogeneous culture of India was capable of embracing the ethos of the Sanskrit phrase "Vasudhaiva Kutumbakam," meaning "the world is one family." However, any traces of "unity in diversity" that persist today stand threatened by the hijackers of culture and religion who are hellbent on ignoring the nation's age-old multicultural narrative, otherwise so evident and celebrated in its art.
In Saeed Akhtar Mirza's 1995 film Naseem (streaming on Mubi), an ailing old man regales his granddaughter with anecdotes of his youth, a time when India's Hindus and Muslims rejoiced in one another's festivities and fought in solidarity against British colonial rule. The grandfather's narrative of religious harmony and national integration is juxtaposed with the tensions leading up…
In Saeed Akhtar Mirza's 1995 film Naseem (streaming on Mubi), an ailing old man regales his granddaughter with anecdotes of his youth, a time when India's Hindus and Muslims rejoiced in one another's festivities and fought in solidarity against British colonial rule. The grandfather's narrative of religious harmony and national integration is juxtaposed with the tensions leading up…