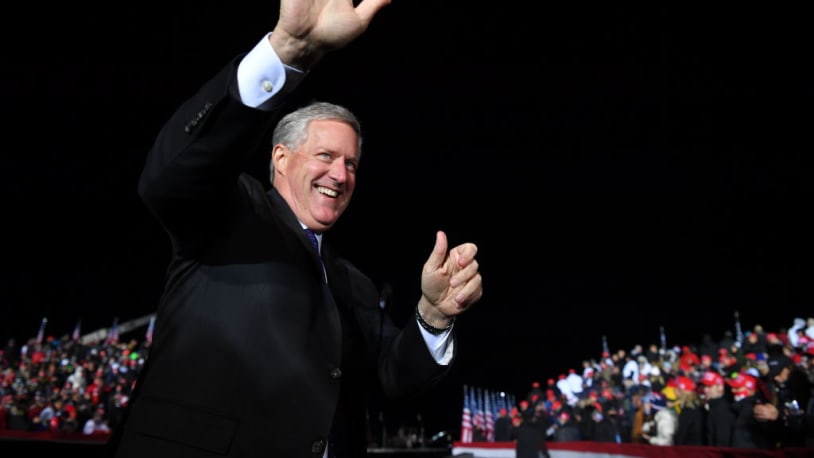 Ex-Trump Chief of Staff Mark Meadows no longer cooperating with Jan. 6 committee
Former White House Chief of Staff Mark Meadows has halted his cooperation with the House select committee investigating the events of Jan. 6, CNN reports, an abrupt about-face from an earlier, recent decision to hand over thousands of documents and appear for an interview before the panel.
Through his lawyer, Meadows suggested his decision to be due to the fact that the committe "planned to ask him about matters he considers off-limits because of executive privilege," writes Politico.
"We agreed to provide thousands of pages of responsive documents and Mr. Meadows was willing to appear voluntarily, not under compulsion of the Select Committee's subpoena to him, for a deposition to answer questions about non-privileged matters," read a letter from Meadows' attorney, who said the committee has now made such an appearance "untenable." The committee never publicly agreed to those terms as outlined by Meadows' lawyer, and insisted the ex-Trump official was appearing under subpoena and thus open to questioning, per Politico.
"In short, we now have every indication from the information supplied to us last Friday … that the Select Committee has no intention of respecting boundaries concerning executive privilege," the lawyer added. 
During a Tuesday television appearance, Meadows also suggested his reversal had something to do with the committee having "issued a subpoena to a third party carrier trying to get information" — specifically, his phone records, Politico reports.
Trump's former chief of staff Mark Meadows explains why he has stopped cooperating with the Jan. 6 committee after they "issued a subpoena to a third party carrier trying to get information" about the events leading up to the insurrection. pic.twitter.com/8pdzbaFVNt

— The Republican Accountability Project (@AccountableGOP) December 7, 2021
The panel must now decide whether to hold Meadows in contempt of Congress and pursue charges against him. His lawyer "indicated that Meadows would still consider submitting written answers to the committee's questions," according to Politico.
Former White House Chief of Staff Mark Meadows has halted his cooperation with the House select committee investigating the events of Jan. 6, CNN reports, an abrupt about-face from an earlier, recent decision to hand over thousands of documents and appear for an interview before the panel. Through his lawyer, Meadows suggested his decision to…
Former White House Chief of Staff Mark Meadows has halted his cooperation with the House select committee investigating the events of Jan. 6, CNN reports, an abrupt about-face from an earlier, recent decision to hand over thousands of documents and appear for an interview before the panel. Through his lawyer, Meadows suggested his decision to…