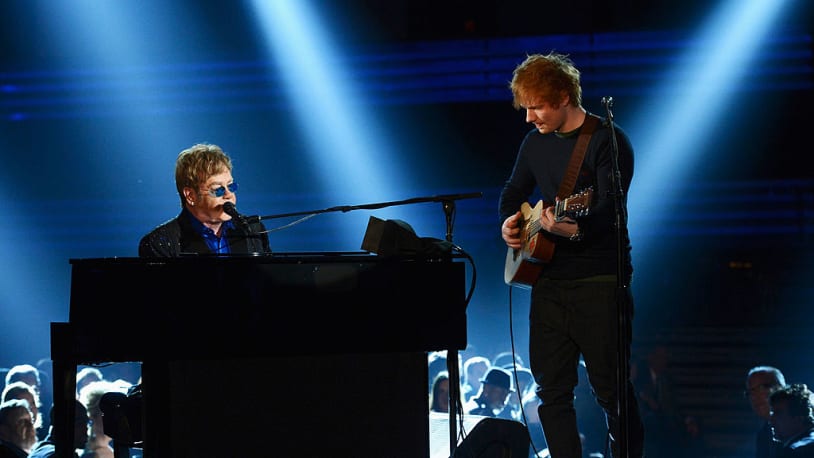 Ed Sheeran says he 'almost killed' Elton John shooting a music video
It almost wasn't a very merry Christmas for Ed Sheeran.
The "Shape of You" singer revealed in an interview on Apple Music that when he shot a recent Christmas music video with Elton John, he almost accidentally "killed him with a bell."
The two singers released their music video "Merry Christmas" last week, and Sheeran noted there was a moment during shooting when he kicked a present that "had a big metal bell on top of it." The bell "flew past [John's] head and would have cracked him in the head," Sheeran revealed. Footage of this apparently exists, and Sheeran said he just showed it to John. 
"The horror that went through my body when it was flying through the air," Sheeran recalled.
The "Merry Christmas" video dropped on Dec. 3, and Sheeran explained it was John who called him and suggested they collaborate on a Christmas song. Sheeran said he hadn't imagined himself making a song for the holidays but decided to jump at this opportunity, noting "I've always wanted to work with him, and this made the most sense." The song includes lyrics like "I know there's been pain this year, but it's time to let it go" — and based on Sheeran's anecdote, it sounds like that nearly became all too real. Thankfully, John is still standing. 
It almost wasn't a very merry Christmas for Ed Sheeran. The "Shape of You" singer revealed in an interview on Apple Music that when he shot a recent Christmas music video with Elton John, he almost accidentally "killed him with a bell." The two singers released their music video "Merry Christmas" last week, and Sheeran…
It almost wasn't a very merry Christmas for Ed Sheeran. The "Shape of You" singer revealed in an interview on Apple Music that when he shot a recent Christmas music video with Elton John, he almost accidentally "killed him with a bell." The two singers released their music video "Merry Christmas" last week, and Sheeran…