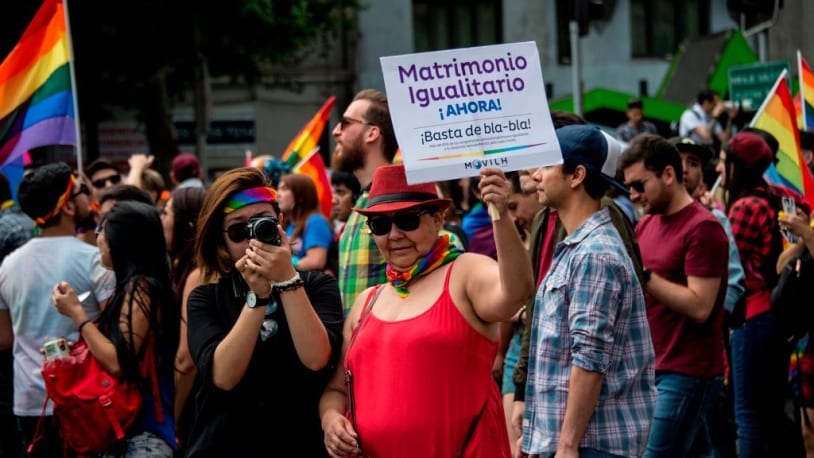 Chilean lawmakers overwhelmingly approve same-sex marriage in landmark vote
Chile on Tuesday set itself up to become the 31st nation to legalize same-sex marriage after lawmakers in the Senate and Lower House approved such a measure, paving the way for it to become law, Bloomberg reports.
The provision will presumably be signed into effect at the "final stretch" of the country's current presidential race, "in which the leading candidates are bitterly at odds on a vast array of issues, including same-sex marriage," writes The New York Times.
The bill, passed by overwhelming majorities in both chambers, is a "significant step" toward consolidating same-sex marriage as the norm in Latin America, writes the Times. Current President Sebastián Piñera had long opposed gay marriage, but shocked Chileans and activists in June when he came out in support.
"Today is a historic day, our country has approved same-sex marriage, one more step forward in terms of justice, in terms of equality, recognizing that love is love," Minister of Social Development Karla Rubilar said following the vote.
Up until now, Chile "has only allowed civil unions between gay couples which provide some legal benefits," notes Bloomberg. Pinera, who is not able to run for re-relection, is expected to sign the bill into law soon.
Chile on Tuesday set itself up to become the 31st nation to legalize same-sex marriage after lawmakers in the Senate and Lower House approved such a measure, paving the way for it to become law, Bloomberg reports. The provision will presumably be signed into effect at the "final stretch" of the country's current presidential race, "in…
Chile on Tuesday set itself up to become the 31st nation to legalize same-sex marriage after lawmakers in the Senate and Lower House approved such a measure, paving the way for it to become law, Bloomberg reports. The provision will presumably be signed into effect at the "final stretch" of the country's current presidential race, "in…