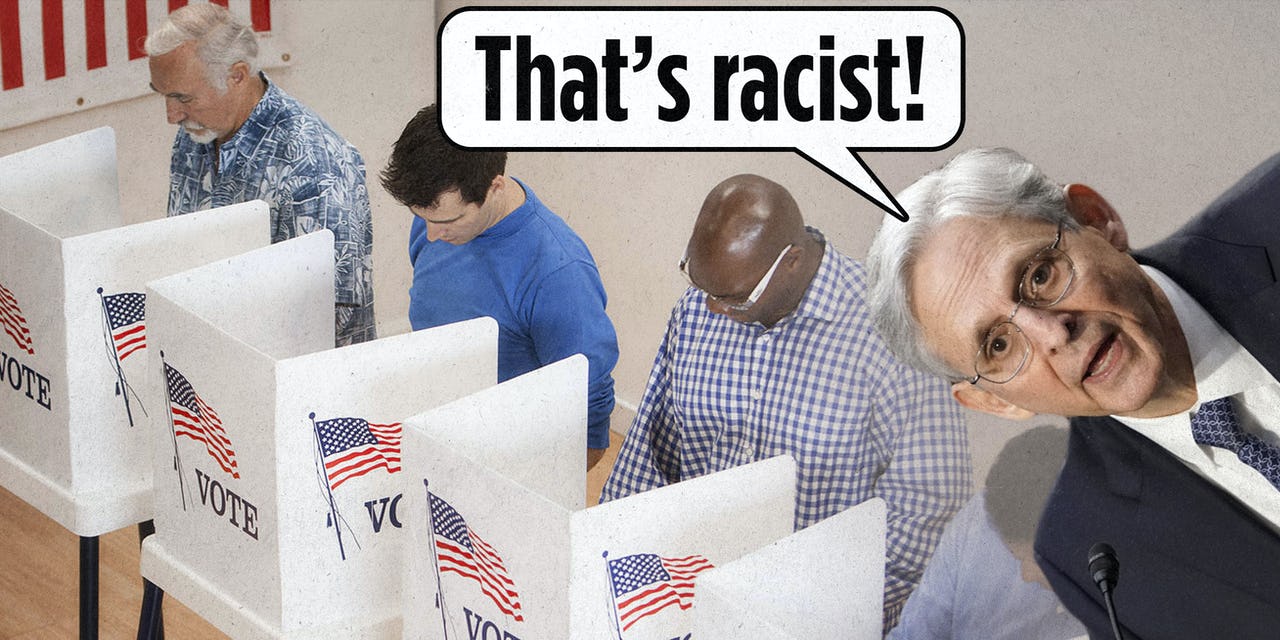 Biden's Social Justice Department Sues Texas … Again
By THOMAS GALLATIN December 7, 2021
Lone Star State redistricting is "racist," explain the race-hustlers on Team Biden.
Joe Biden's Department of Justice, or rather Department of Social Justice, filed a lawsuit against Texas on Monday claiming that the state's planned redistricting map violates the Voting Rights Act. As Attorney General Merrick Garland explained, "The complaint we filed today alleges that Texas has violated section two by creating redistricting plans that deny or abridge the rights of Latino and Black voters to vote on account of their race, color, or membership in a language minority group."
This is now the second lawsuit Biden's DOJ has raised against Texas over its election laws. Earlier this year, the DOJ sued the Lone Star State over its election integrity law, asserting completely without merit that the law is "racist." This second lawsuit levels that same vacuous "racism" charge.
The suit alleges that "soon after the release of 2020 Census data, the Texas Legislature enacted redistricting plans for the Texas Congressional delegation and the Texas House through an extraordinarily rapid and opaque legislative process." Associate Attorney General Vanita Gupta further argued: "These redistricting plans will diminish the opportunities for Latino and Black voters in Texas to elect their preferred representatives. And that is prohibited by federal law."
Texas Attorney General Ken Paxton responded to the suit by stating: "The Department of Justice's absurd lawsuit against our state is the Biden administration's latest ploy to control Texas voters. I am confident that our legislature's redistricting decisions will be proven lawful, and this preposterous attempt to sway democracy will fail."
This latest move by Biden's DOJ only serves to cement the reality that it is beholden to the Democrats' political concerns rather than the impartial enforcement of the law. And it's a concerted effort. "The Biden administration has said it would challenge Republican-backed changes to state voting procedures across the U.S." reports The Wall Street Journal. "The Justice Department in June sued the state of Georgia, alleging its new voting law aims to restrict the rights of Black voters, among other moves."
Texas is high on the Biden administration's target list due to the fact that it picked up two congressional seats following the 2020 Census, even as deep-blue California lost a seat. The last thing Democrats want is for a red state to increase its Republican footprint on Capitol Hill. Hence they've contrived a frivolous lawsuit to dubiously paint this as a fight against racism, turning back the clock as if this were America circa 1963.
~~~
~~Reprinted with permission. See the original article here and leave some comments! 
By THOMAS GALLATIN December 7, 2021 Lone Star State redistricting is "racist," explain the race-hustlers on Team Biden. Joe Biden's Department of Justice, or rather Department of Social Justice, filed a lawsuit against Texas on Monday claiming that the state's planned redistricting map violates the Voting Rights Act. As Attorney General Merrick Garland explained, "The…
By THOMAS GALLATIN December 7, 2021 Lone Star State redistricting is "racist," explain the race-hustlers on Team Biden. Joe Biden's Department of Justice, or rather Department of Social Justice, filed a lawsuit against Texas on Monday claiming that the state's planned redistricting map violates the Voting Rights Act. As Attorney General Merrick Garland explained, "The…