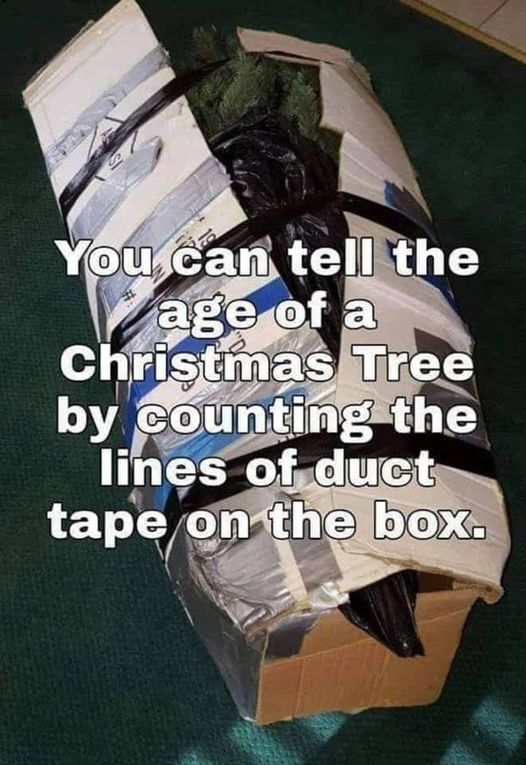 Weekend Reads: "This isn't one of those trees where all the needles falls off, is it?"
Posted by Maggie on December 4, 2021 in From the editors
I'm really trying to get into the Holiday mood, but just can't get the gumption to drag that overused (and needs replacing) fake tree box up the basement steps to do everything that's involved in re-arranging the living room, replacing the everyday clutter with Christmas decorations clutter, and hoisting the tree that'll have at least one strand of lights, if not two, going dark before the actual Christmas weekend. **sighhhhh**
Well, one good thing this Christmas 2021. I wasn't too sure last Christmas that I would be here this Christmas … but God (and my team of surgeons He empowered with knowledge, skill and experience) said "Merry Christmas". So, that old fake tree won't look so crappy after all. But those lights had better just, you know, do their job. **grrrr**
Wrappings and Bows:
NRO: Biden Hasn't Fixed The Port Crisis — Ships Are Just Being Counted Differently
Julia Musto: Supply chain issues impacting pharmacies: What to know: FDA says there are about 111 drugs on backorder
Joshua Q. Nelson: Georgia furniture store owner frustrated with supply chain crisis, sends message to 'Uncle Joe' Biden: Small business owners face labor shortages, supply backlogs amid holiday shopping season … And I am hearing local small business owners reporting suppliers are not only raising prices but doing so on almost a daily basis. THIS is exactly how the GND leftist government plan obliterates small/private-owned businesses … and then take over and 'nationalize' ALL big companies and corporations, including foreign companies on our soil. Go back and look at what Chavez did in Venezuela.
COVID Pins and Needles:
Oh, yeah, "follow the science", uh-huh. History will eventually look back on how not only governments handled this China pandemic but how the tech/media industries actively and vigorously impeded valid scientific information by labeling it "misinformation" and censoring it from the people…
Stacey Lennox: Twitter Censors American Heart Association Article on mRNA Vaccines and Cardiac Health
Drew Holden and Aaron Sibarium: The Omicron Factor the Media Won't Tell You About: Vaccine hesitancy, not supply
A friend on Facebook remarks: "Then next time Europe destroys itself, we stay home."
I agree.
Julian Conradson: On The Heels of Austria and Germany Locking Down The Unvaccinated, EU Leader Calls For Throwing Out Nuremberg Code In Favor of Forced Vaccinating All Dissenters
Looking at Reuter's, who would have known that German citizens would be so against their government lining them up and forcing them to participate in medical experiments……hmmmmm…it's almost like there is some cultural memory that makes them not trust it!?!

— Codified Likeness Utility (@parkerrm39) December 4, 2021
Joe Hoft: EXCLUSIVE… Lawrence Sellin: Evidence Indicates COVID-19 is a Designed Bioweapon with a Toxic Structure that MAY BE REPLICATED IN VACCINES … Um, what I said yesterday.
Twitchy: 'All theater. 100% of it': President Biden — who is sick — is reportedly out for dinner without a mask
John F-ing Kerry's and the demo-commies' 'Broke Back' Love Affair With The World's Bad Guys Continues:
Right now, John Kerry is lobbying against a bill to ban imports derived by slave labor from China.

All because John Kerry wants to import solar panels made by slave labor.

— Tom Cotton (@TomCottonAR) December 2, 2021
A.J. Kaufman: John Kerry Remains Committed to Enabling Evil
Meanwhile…
Chase Williams , Hillary Vaughn: Pelosi snaps after question about China: House Speaker Nancy Pelosi (D-Calif.) did not appear to appreciate a question about China. (w/VIDEO)
Twitchy: 'Glitch or drunk? YOU decide.' You can see the MOMENT Nancy Pelosi's brain just STOPS in real-time during press conference (watch)
TWJ: Revealed: Top Senate Democrats Received Major Donations from Lobbyist for Controversial Russian Pipeline
The Diplomat: China's Subnational Influence at Work in the New York State Legislature: The New York State Legislature has developed a special relationship with Beijing.
Everything Is "RACIST!":
Food is Now 'White Supremacy'…
Rick Moran: Don't Look Now, but Food Charity and Farmers Markets Are Part of 'White Supremacy Culture' Too
Yeah, good luck with this crap…
They raised $90 million and one of their founders bought a $1.4 million home. pic.twitter.com/UtNeXMRbej

— John – Defund the CIA and FBI – Cardillo (@johncardillo) December 4, 2021
Oh, sure … Oprah, Spike Lee, LeBron James and most of the NBA/NFL, and the Beyoncé-JayZ, Kanye West, and etc. corporations not reached for comment.
Ty Haqqi: Top 20 Biggest Black Owned Companies in the US
Jessica Chasmar: Black Lives Matter calls for month-long boycott of 'white companies': 'White-supremacist-capitalism uses policing to protect profits and steal Black life,' BLM says
Timothy Nerozzi: BLM corporate donors silent on group's call to boycott 'white companies': 'We're dreaming of a #Blackxmas,' Black Lives Matter Global Network Foundation tweeted … On a side-note, if BLM-complicit corporations/companies are bothered by and affected by this just wait until their China overlords turn on them.
Race and 'pronoun'-targeting in overpriced academically-diminished higher education…
TCF: White and Asian male applicants largely shunned from investment program at Washington and Lee University
CR: VIDEO: Columbia University encourages students to report each other for 'misgendering,' refusing to use fringe pronouns
Fake Race-Baiting Crime is Not a New Thing:
Incredible anecdote: the Weather Underground once plotted to commit an assassination while wearing blackface in order to inspire a black-led revolution. pic.twitter.com/27PlBRtG33

— Christopher F. Rufo ⚔️ (@realchrisrufo) December 3, 2021
This really is the perfect metaphor for modern white leftists.

— Christopher F. Rufo ⚔️ (@realchrisrufo) December 3, 2021
Meanwhile, the trial and tribulations of poor-poor "Juicy" Smollett…
Tucker Carlson: It's not surprising Jussie Smollett pushed his hoax as far as he could: This was the worst hoax ever perpetrated
Maureen Callahan: Jussie Smollett should face justice for hurting race relations in America — and undercutting the real victims
Politickles:
Seriously rethinking this guy. His early anti-Trump stance and now this. I can see his change of mind regarding Pres. Trump after seeing all the positive growth and successes. However, hitching yourself to Kasich is a stain that cannot be washed off…
Jason Hart: Kasich Republican J.D. Vance: The Worst Option in Ohio's Senate Race
Once AGAIN, the left flips its friggin lid over a republican doing something well-within his job right(s) to do…
A.J. Kaufman: DeSantis Derangement Syndrome Starts to Rear Its Ugly Head
Twitchy: Nikki Fried to sit down with Joy Reid and discuss the DeSantis 'military force that only answers to him'
Joseph A. Wulfsohn: DEM EATS DEM: Liberal comic blasts far-left pundit as media panics over DeSantis proposal – Sarah Silverman slams Joy Reid as media panics about DeSantis' proposed civilian military force in Florida. The MSNBC host called DeSantis' proposal 'fascisty bananas' despite NY, CA having similar forces … Except that half the states, including blue states, already have (done) what the Florida Governor is now considering, and will more likely than not do…
DeSantis introduced a plan to re-establish what's called the Florida State Guard that can quickly aid the response to hurricanes and other emergencies. Several other states across the country including New York and California have similar civilian forces.
On The Lighter Side:
I've been binge-watching (again … I've lost count over the years) The Waltons and Little House. I often wonder about the cast members' relationships in depicting the families in these long-running successful TV dramas. The child actors literally grew up inside these fictional families. It's interesting to look up cast members and see what they did after their series was ended, but their images were locked into the characters they played. Always surprising to hear the actors' own issues, personally and on-set…
Stephanie Nolasco: 'Little House on the Prairie' star Karen Grassle gets candid on sobriety, making peace with Michael Landon: Actress details her friendship with Michael Landon, battle with alcoholism in new memoir
You hear stories about people coming out of a coma and speaking a different language that they never learned or spoke before. Why not in the famous voice you created for a rascally rabbit…
Stephanie Nolasco: Mel Blanc's son Noel recalls the moment Looney Tunes star responded as Bugs Bunny from a coma: 'I was stunned': Mel Blanc's only child, Noel Blanc, is teaming up with Julien's Auctions for an auction kicking off on Friday
Space:
Matt Devitt WINK Weather @ Facebook:
December 2 at 6:59 PM ·
WOW! Incredible shot of the SpaceX launch tonight looking towards Cape Canaveral, Florida! 🚀

Credit: Michael Cain, Coldlife Photography
VIDEO: Last Chance to See This Bright New Comet Before It's Gone Forever
Margo Milanowski: Here's how to see Leonard's Comet, the brightest comet all year
Amanda Kooser: China moon rover to investigate cube-shaped 'mystery house' object
Justin Bachman: SpaceX Wins More NASA Flights as Boeing Starliner Stumbles
John Loeffler: ISS just had to swerve out of the way of space junk left over from 1994
Stephen Green: ANOTHER Tech Delay? It's Time to Kill the SLS Before It Kills NASA
Glenn Reynolds: America is behind in the new space race China is determined to win
~~~
~~Many thanks to Maggie and The Universal Spectator for reprint permission.
Posted by Maggie on December 4, 2021 in From the editors I'm really trying to get into the Holiday mood, but just can't get the gumption to drag that overused (and needs replacing) fake tree box up the basement steps to do everything that's involved in re-arranging the living room, replacing the everyday clutter with Christmas decorations clutter, and hoisting the…
Posted by Maggie on December 4, 2021 in From the editors I'm really trying to get into the Holiday mood, but just can't get the gumption to drag that overused (and needs replacing) fake tree box up the basement steps to do everything that's involved in re-arranging the living room, replacing the everyday clutter with Christmas decorations clutter, and hoisting the…