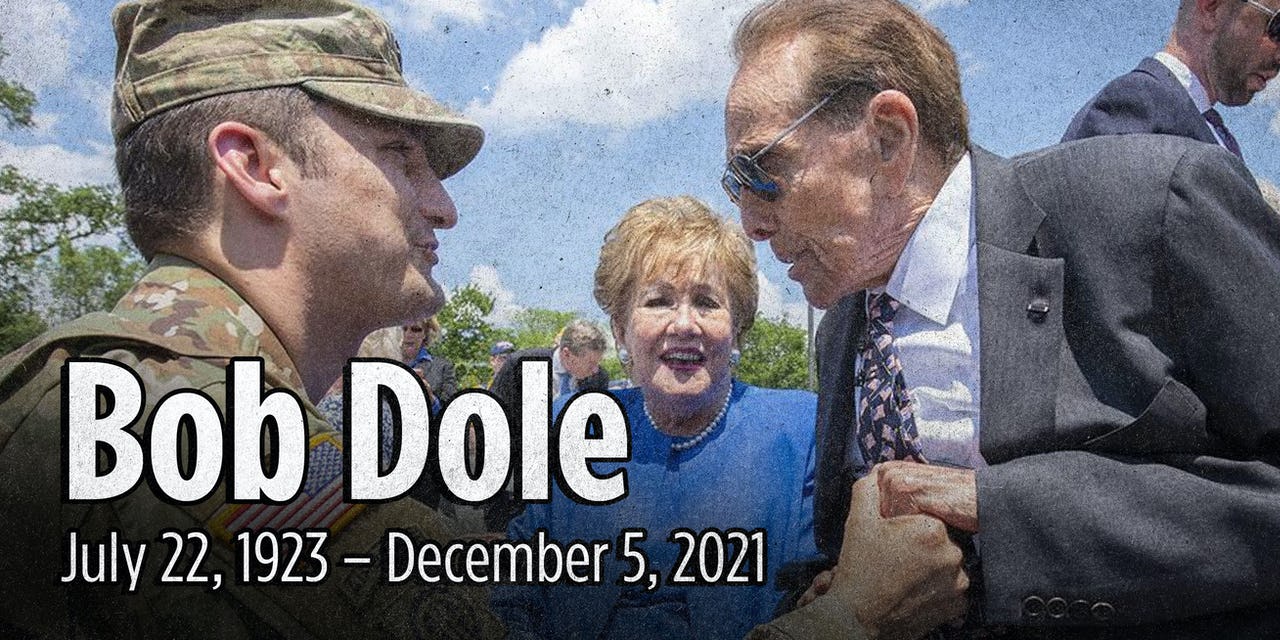 Farewell to WWII Veteran Bob Dole
By  MARK ALEXANDER December 6, 2021
Biden and company have denigrated the distinguished service and sacrifice of all heroic Veterans.
On the eve of the 80th anniversary of the Pearl Harbor attack, we are acutely aware of the rapidly declining number of World War II Veterans — those Greatest Generation eyewitnesses to the horrific rise of tyranny in Europe and Asia, and the high cost of defeating those tyrants.
Today, I offer a final note on the passing of a second prominent Ronald Reagan contemporary this year, European Theater Army Veteran Bob Dole. In February, we bid farewell to Reagan's formidable secretary of state, George Shultz, a Pacific Theater Marine.
Dole, a great college basketball, track, and football athlete, left the University of Kansas to serve his country, earning his position with the formidable 10th Mountain Division. In 1945, as a young lieutenant, when his unit was attempting to take a German fortification in the Apennine Mountains of Italy, he suffered a near-fatal spinal wound from an artillery round as he attempted to rescue his injured radioman — which had almost taken his right arm.
Historian Lee Sandlin wrote that when other members of his 10th Mountain unit reached Dole and saw the extent of his injuries, they could only "give him the largest dose of morphine they dared and write an 'M' for 'morphine' on his forehead in his own blood, so that nobody else who found him would give him a second, fatal dose."
Initially, Dole was paralyzed from the neck down and, upon hospitalization, not expected to survive. His yearlong recovery was miraculous, and while recovering most of his motor skills, he ultimately lost the use of his right arm. When meeting Dole, he would always greet you with his left hand while griping a pen in his right hand to help control that arm. For the same reason he saluted with his left arm.
While I had met then-Senate Majority Leader Dole at political functions during the Reagan era, I first met him on a more personal level in 1996, the same year we launched The Patriot Post. At that time, a company I was affiliated with provided technical communication security for his presidential campaign. Senator Dole, who was in his second term as Senate majority leader, was the same age as another WWII Veteran, my own father, so my interactions with him seemed, in that sense, familiar.
Frankly, after watching a younger and far more charismatic Bill Clinton eviscerate another heroic WWII Veteran, George H.W. Bush in 1992, whom Dole had challenged in the 1988 Republican presidential primary, I was incredibly disheartened that the entrenched establishment GOP was running yet another aging congressional politician. At that time, I concluded that Dole was the party's sacrificial lamb, the GOP being unable to muster up a more dynamic candidate to challenge Clinton despite the fact that the election of that corrupt scoundrel had prompted the historic 1994 Republican midterm congressional waves in both the House and Senate.
Still riding President Reagan's historic economic boom, Clinton defeated Dole with a 379-159 Electoral College landslide, though only capturing a 49.2% plurality of the vote over Dole's 40.7%, with third-party spoiler Ross Perot taking 8.4%. And that was the end of Dole's political years.
A Kansas native through and through, Dole never lost touch with his home-state roots and, post 1996, his dedication and devotion to his fellow Veterans of all ages.
Another Kansan, and the most distinguished member of Donald Trump's administration, former CIA director and Secretary of State Mike Pompeo, said of his fellow Army Veteran and friend: "Bob vowed not to rest until there was a proper memorial on the Washington Mall honoring the Americans who served in World War II. Construction began in September 2001, and it was dedicated in 2004. While I was in Congress, we adjusted my schedule so that I could spend as much time there with him as I could. Veterans from every war adored and admired him — and he them. They would grab his left hand and thank him for his service, and he'd tell them: "I've still got more service to give, and so do you."
Pompeo stewarded Trump's outstanding foreign policy with China, Russia, and our Middle Eastern enemies, but perilously for all Americans, Joe Biden and his domestic DC enemies of Liberty, none of whom served our nation in uniform, have eviscerated those national security policies.
In doing so, Biden and company have denigrated the distinguished service and sacrifice of all Veterans and their families, particularly those who never returned from warfronts or, like Dole, whose war-service injuries resulted in lifelong physical limitations.
Farewell, Senator, and thank you for your military service and devotion to American Veterans. God bless your family.
Semper Vigilans Fortis Paratus et Fidelis
Pro Deo et Libertate — 1776
~~~
~~Reprinted with permission. See the original article here and leave some comments! 
By  MARK ALEXANDER December 6, 2021 Biden and company have denigrated the distinguished service and sacrifice of all heroic Veterans. On the eve of the 80th anniversary of the Pearl Harbor attack, we are acutely aware of the rapidly declining number of World War II Veterans — those Greatest Generation eyewitnesses to the horrific rise…
By  MARK ALEXANDER December 6, 2021 Biden and company have denigrated the distinguished service and sacrifice of all heroic Veterans. On the eve of the 80th anniversary of the Pearl Harbor attack, we are acutely aware of the rapidly declining number of World War II Veterans — those Greatest Generation eyewitnesses to the horrific rise…