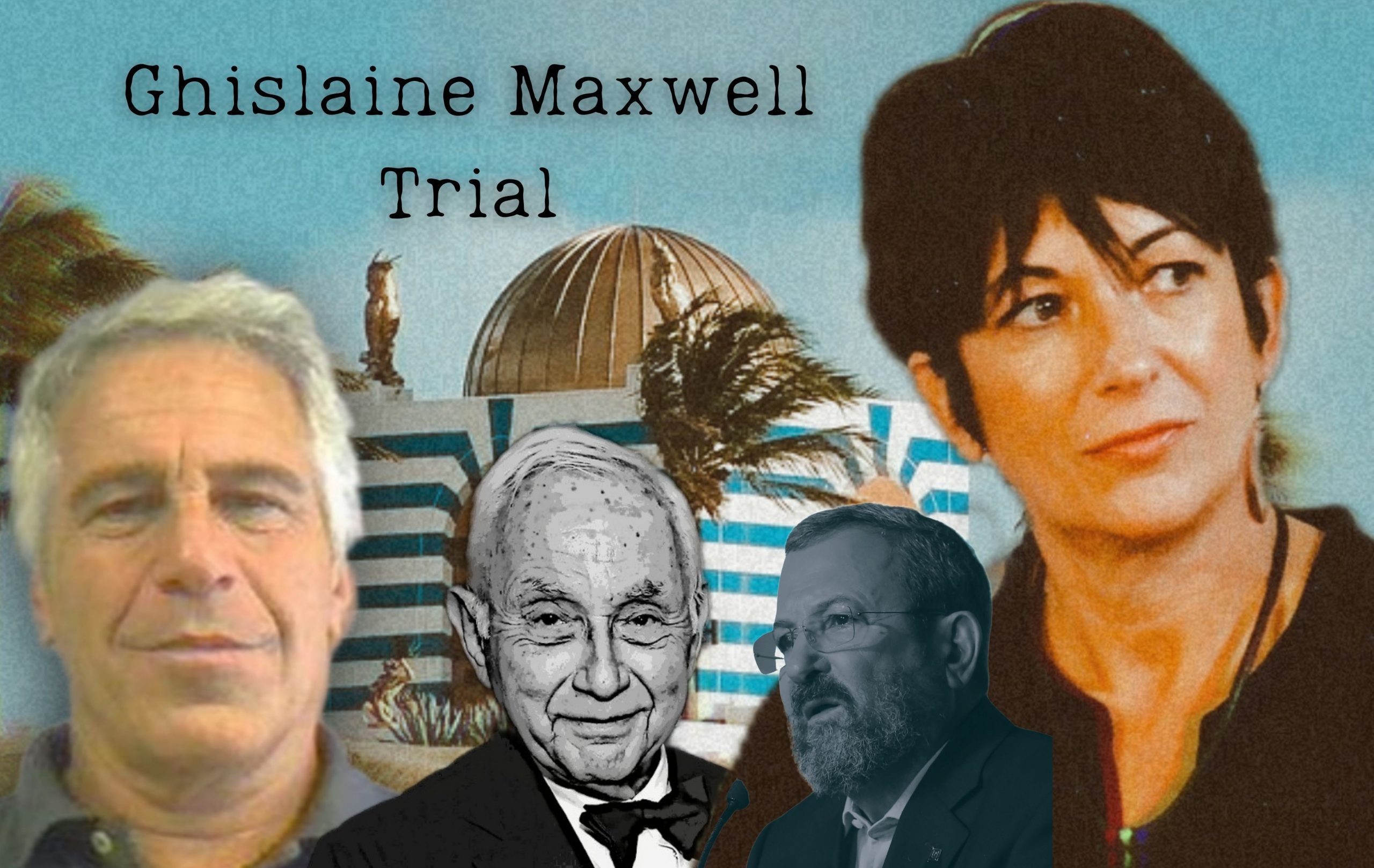 Ghislaine Maxwell Trial Coverage: Day Five
December 3, 2021 — The fifth day of the US v. Ghislaine Maxwell trial has begun. We have been providing daily coverage of the trial and you can view our prior reporting to get caught up on the proceedings here: part one, part two and part three. Part one contains the first two days summaries in one article. Please be sure to read each article in order to get important background information on the case and to get up to date.
Today's Proceedings
Interested parties began arriving at the Manhattan Federal Court this morning:
Epstein/Maxwell accuser Teresa Helm arrives at courthouse ahead of trial day No. 5.

(Teresa's attorney Sigrid McCawley publicly identified her yesterday.) pic.twitter.com/Da1OkkqAp2

— Ben Feuerherd (@benfeuerherd) December 3, 2021
This is the second victim to be publicly identified, the other being Annie Farmer.
Maxwell's siblings, Kevin and Isabel, arrive at the courthouse ahead of trial day No. 5 pic.twitter.com/xOIZtIfl1j

— Ben Feuerherd (@benfeuerherd) December 3, 2021
Isabel Maxwell smirks as she arrives at the Manhattan Federal Court for today's hearing. As reported by Whitney Webb, Isabel is the sibling most like her father Robert and the one carrying out his legacy most, although Ghislaine followed in his footsteps as well. According to Ms. Webb, Isabel was a founding member of the World Economic Forum and has very close ties to Israeli Intelligence:
However, Isabel stands out from her other siblings, and even Ghislaine, in terms of a sense of loyalty to her father and to the state of Israel. According to Elizabeth Maxwell, Isabel's mother, Isabel "is also loyal to the memory of her father, and to what Judaism represents in her life. All my children were brought up as Anglicans, but Isabel was very taken by the Jewish faith and the politics in Israel" compared to her other children, including Ghislaine. 

Indeed, Isabel has close relationships to several prominent former Mossad officials and Israeli heads of state, with several of those relationships having been "forged by her father." A now scrubbed report published by the Jerusalem Post in 2003, entitled "Isabel Maxwell Fights Back," notes that "Maxwell travels in the same circles as her father, but she is more comfortable behind the camera, not in front of it…she is carrying on her father's legacy in Israel, albeit in her own way." It also noted that, by 2003, Isabel was visiting Israel every month, visiting her father's grave on the Mount of Olives at least once every visit.

Aside from her father's own ties to Israeli intelligence, it is worth noting that Isabel's own history – up to the point she joined CommTouch – involved her working for the Israeli intelligence front company used by her father to sell bugged PROMIS software in the U.S., Information on Demand, and subsequently the search engine Magellan, of which she shared ownership with her sister Christine (whose ties to U.S. intelligence will be explored in Part IV) and her sister Ghislaine, a sexual blackmailer and sex trafficker operating on behalf of U.S. and Israeli intelligence. Isabel's past with both Magellan and Information on Demand were clearly known to CommTouch at the time of Isabel's hiring. It also worth noting that, on several occasions, Isabel credits CommTouch's success with the ties of all of its Israeli employeesto the Israeli military and military intelligence, resulting in – per Isabel – a "dogged work ethic" and a "trained mind-set" among its Israeli workforce. 

As will be shown in more detail in Part III of this series, upon departing CommTouch, Isabel deepened her already close ties to prominent Israeli politicians and intelligence officials, serving alongside ex-Mossad directors and counting former Israeli chief intelligence officers and heads of state among her "family friends" and business partners. This involvement continued during the period when her son was given a prominent position at the Middle East affairs desk at the State Department when it was headed by Hillary Clinton, who – as many are now aware – has close and controversial ties to Isabel's sister, Ghislaine. – Whitney Webb
That should give everyone a good idea of why this case is being so tightly controlled and limited in scope. Too many prominent business, financial and political elites would be exposed, as well as the Intelligence Communities and what they do. I highly recommend everyone read the following article by Whitney Webb entitled "The Maxwell Family Business: Espionage" that goes deeply into the major connections of the Maxwell family.
Matthew Russell Lee of Inner City Press has published a very interesting and insightful article as the first week of the Maxwell trial comes to a close.
Maxwell defense attorneys Jeffrey Pagliuca and Laura Menninger arrive at Manhattan federal court ahead of trial day No. 5 pic.twitter.com/581yQPfkHX

— Ben Feuerherd (@benfeuerherd) December 3, 2021
Maxwell's defense attorneys have been very aggressive in this trial.
The "household manual" for employees of Epstein's Palm Beach mansion was entered into evidence at the Maxwell trial Thursday.

Epstein's housekeeper said in court that he found a version of the instructions degrading. pic.twitter.com/4nGMnRtQO5

— Ben Feuerherd (@benfeuerherd) December 3, 2021
Juan Alessi, the housekeeper will be under cross examination by the defense attorneys this morning.
Exhibits entered by prosecutors yesterday in the Ghislaine Maxwell trial include a photo of the "Jeffrey E. Epstein Scholarship Lodge" at Interlochen Arts Camp in Michigan pic.twitter.com/Zd7mY3wald

— Ben Feuerherd (@benfeuerherd) December 2, 2021
This is the "scholarship lodge" at Interlochen that "Jane" testified about.
NEW: Ghislaine Maxwell's brother, Kevin Maxwell, says he was relieved to see her in person and speak with her for the first time in more than 500 days at her trial Wednesday pic.twitter.com/CIZwbqbeX9

— Ben Feuerherd (@benfeuerherd) December 1, 2021
Kevin Maxwell, Ghislaine's brother spoke outside of the courthouse two days ago.
Inner City Press reports on this morning's proceedings before the jury was brought in:
Maxwell's lawyer (before jury comes in) Seeing semen on the table is going to be prejudicial.
AUSA: It was a white stain. It is entirely probative as to whether these massages were just messages or were in fact sexual.
Judge Nathan: I would permit lab tests

— Inner City Press (@innercitypress) December 3, 2021
This is just disgusting.
Assistant US Attorney: The fact that Mr. Epstein had a collection of school girl uniforms is relevant.
Maxwell's lawyer: This has little connection Ms. Maxwell and is prejudicial.
AUSA: School girl costumes, small ones, were found in the massage room.

Maxwell's lawyer: They should not be described as school girl uniforms.
AUSA: I'll just lay a foundation then ask the witness about them.
Judge Nathan: You could say, Without describing them, did you find these items.

Maxwell's lawyer: The interior and art work changed, by 2019. The witness we call "Jane" said it was creepy, with drawing of monsters on the walls and naked women. We think these photos should be excluded. The photos of nude girls in the massage room.

Judge Nathan: Maybe there's a way to position two screens, and only show them to the jurors. I'll ask Ms. Williams to ask the A/V people. Can show video so that only the jurors can see it, and no one else? We'll see. Please bring in the jurors.

Judge Nathan: Mr. Alessi, you may return to the stand. Jury enters. All rise! Maxwell's lawyer: Mr. Alessi, you said you are called Juan but don't you sometimes say, "I am John"?
Alessi: I am John, in English.

Maxwell's lawyer: Ms. Maxwell speaks Spanish and called you Juan. You did not take it as an insult, no?
Alessi: No, I did not.
Maxwell's lawyer: You took $6300 dollars, right?
Alessi: Yes.
Maxwell's lawyer: But didn't you lie – when you stole twice, in fact?

Alessi: I did not lie.
Maxwell's lawyer: Didn't you try to steal a gun? Didn't you steal over $5000 to pay for the immigration papers of your girlfriend?
Alessi: It was not my girlfriend.

Maxwell's lawyer: Police Officer Dawson questioned you?
Alessi: No, I went to him.
Maxwell's lawyer: You told him you went in to steal a gun.
Alessi: I don't recall.
Maxwell's lawyer: You might have said it, but now you don't recall?
Alessi: That's it.

Maxwell's lawyer: & you went back once again to steal money?
Alessi: I did it one time & I think that is what I told the police.
Maxwell's lawyer: You went through the sliding glass door and stole $5600 from Mr. Epstein's briefcase, $100 bills in a white envelope?

Maxwell's lawyer: Show the witness 3504-002, deposition transcript. I move for admission under Rule 801. [Note: "(A) is inconsistent with the declarant's testimony & was given under penalty of perjury at a trial, hearing, or other proceeding or in a deposition;"

Maxwell's lawyer: You stole $6000, when you owned properties valued at $1 million.
Alessi: I sold those properties, to buy the property for the multi-family.
Maxwell's lawyer: Let's look again at 3504-002, deposition page 145.

[Note: During all this, Ghislaine Maxwell is leaning back and even masked, seems pleased with herself. When first we practice to deceive…]
Maxwell's lawyer: I'm having trouble seeing in here.

ALERT: Maxwell's lawyer has just openly said the real name of one of the pseudonymous survivor witnesses.
Judge Nathan: Your are admonished to abide by my rulings.
AUSA: May we approach?
Sidebar begins…

Returning from the sidebar, Maxwell's lawyer pointedly says, "Mr. Alessi, you testified about when JANE met Mr. Epstein and Ms. Maxwell."
Alessi: In this testimony I mistook the two —
Maxwell's lawyer: In 2016 you were directed to the name JANE and you said No.

Now Maxwell's lawyer is cross examining Juan Alessi about Epstein's Palm Beach house. Unclear what Judge Nathan will do about Team Maxwell repeatedly blurting out the real names of pseudonymous survivor(s).

Maxwell's lawyer: Do you see the notation, new moldings in the bedrooms?
Alessi: Yes.
Maxwell's lawyer: And during construction, no one live in its?
Alessi: No, during part of it Mr. Epstein and Ms. Maxwell lived there.
Side note:

Nobody appeared to interrogate this testimony by Epstein ex-pilot, Lawrence Visoski days ago.

"[S]he didn't look young. I mean, wherever you decipher is the definition of 'young,' but she — she was a woman in my category."

— Adam Klasfeld (@KlasfeldReports) December 3, 2021
The pictures of Virginia very clearly show a child, not a "woman" as claimed by former Epstein pilot under oath. Maria Farmer, a victim and sister of Annie Farmer has said that both the pilot Larry Visoski and housekeeper Juan Alessi were "co-conspirators" who enabled child abuse.
Leslie Wexner raped an Epstein survivor as a CHILD!!! TEENS ARE CHILDREN.

Let's put these pervs behind bars.#MaxwellTrialTracker

— ArtisticWhistleBlower, WIDE AWAKE (@ArtisticBlower) December 3, 2021
Wexner has been brought up at trial repeatedly and yet he has not been charged with anything.
Jeffrey Epstein Always Had a Gun at His Bedside and Ghislaine Liked Black Leather Costumes, Butler Reveals

The checklist, according to the 58-page government exhibit, ordered staff to make sure a gun was placed in a bedside table drawer

— Bigfish (@trebillion) December 3, 2021
Even the Daily Beast is being forced to cover this case.
Maxwell's lawyer: You were asked if JANE was driving and you said you never saw Jane driving a car. Those are all questions about Jane, right?
Alessi: I think so.
Maxwell's lawyer: Let's take the break.
Judge Nathan: OK.
Alessi testified yesterday about remembering seeing two girls in Epstein's house who appeared to be minors: "Jane," who testified earlier this week.

The other was Virginia Giuffre, whose civil suit against Maxwell helped spark her criminal prosecution.

— Adam Klasfeld (@KlasfeldReports) December 3, 2021
Florida law enforcement might be the officers who were involved in the 2008 case against Mr. Epstein.
Cross-examination resumes with questioning about Virginia Roberts (aka, Virginia Giuffre).

Alessi testified that he met Virginia at Mar-a-Lago.

— Adam Klasfeld (@KlasfeldReports) December 3, 2021
Maxwell defense attorneys trying to impeach Alessi as a witness:
Alessi says he doesn't know whether Ghislaine Maxwell went in for a treatment or not.
Pagliuca says that he previously testified that Maxwell did.
Vlog: Before US v. #GhislaineMaxwell Day 5, stand up in Foley Square in advance of cross examination of Epstein's house manager Juan Alessi, also about UN links of Epstein and Ghislaine covered up by censorship, new #MaximumMaxwell project https://t.co/A2w03dqlRS pic.twitter.com/CFDwX3DTCa

— Inner City Press (@innercitypress) December 3, 2021
None of the links and connections Maxwell has to the power elite are being discussed in this trial. Maureen Comey, daughter of disgraced former head of the FBI James Comey is leading the trial and has thus far ignored that aspect of Maxwell's life.
On the weather that day Alessi says he met Virginia Roberts at Mar-a-Lago:
Q: You recalled that it was very hot out.
A: I recalled that very much.
They are disputing whether he said the meeting happened in 2001 or 2002.

Maxwell's lawyer: I'm asking about what you [Alessi] said —
AUSA: We ask for the whole thing to be read.
Maxwell's lawyer: So you say, Summer, I remember, I was sweating like hell in the car waiting for Ms. Maxwell to come out of the car.

Maxwell's lawyer: Mr. Alessi, didn't you keep a Rolodex of the girls?
Alessi: No, of the massage therapists.
Maxwell's lawyer: You got referrals for massage therapists?
Alessi: No sir.

Maxwell's lawyer: You said, One of Jeffrey Epstein's friends would say, I got a good massage and you'd say, please give me the answer.
Alessi: I never –
Maxwell's lawyer: You previously said this under oath. May I continue your Honor?
Judge Nathan: Yes.

Maxwell's lawyer: Isn't it true that Mr. Epstein bought other women to the house and told you to remove the pictures of Ms. Maxwell from the house?
Alessi: I did what he told me to do.

Maxwell's lawyer: Why did you THINK you were taking Ms. Maxwell's picture down, when Mr. Epstein had the other women over?
Alessi: I have no idea.

Maxwell's lawyer: Mr. Alessi, at Mr. Epstein's direction you called women and set up massages, correct?
Alessi: Yes.
Maxwell's lawyer: And that doesn't make you guilty of sex trafficking, does it? Assistant US Attorney: Objection!

Maxwell's lawyer: And when you cleaned the massage room, you have saw signs of violence, right? No one complained to your of that?
Alessi: (voice rising) No but I wish they had, I would have done something.

Pagliuca asks whether he ever heard someone looking afraid, screaming or in distress.
"No, sir. Never."
The lawyer asks if he ever saw any signs that anyone was hurt or injured during these massages.
He replies no.
Q: When you were working for Mr. Epstein, you didn't have any doubt that the girls were provided for massages were not of proper age, correct?

Prosecutor: I'm going to object to form.

Judge: Sustained.

— Adam Klasfeld (@KlasfeldReports) December 3, 2021
I think some are going to find it hard to believe that Alessi "would have done something" as he worked for Epstein for years and literally did nothing.
Cross examination concludes.

No redirect.

Alessi steps down.

— Adam Klasfeld (@KlasfeldReports) December 3, 2021
Clearly they weren't "of age;" he even talked about seeing Virginia Roberts and how she was not "of age." Seems contradictory but the prosecution does not redirect.
Now retired, Parkinson worked as a crime scene manager with the Palm Beach Police Department.

— Adam Klasfeld (@KlasfeldReports) December 3, 2021
Testimony turns to Parkinson's visit to Epstein's property, 358 El Brillo Way.

— Adam Klasfeld (@KlasfeldReports) December 3, 2021
This witness testimony stems from a 2005 search of the property in connection to a report of theft.
Parkinson: I participated in a search in Palm Beach.
AUSA Maurene Comey: What is this?
Parkinson: A map or aerial view.
AUSA: Had you been there before?
Parkinson: Yes, on a report of a theft of currency. I met Mr. Jeffrey Epstein.

Now before it gets into what was found during the search – Judge Nathan calls the lunch break; A/V will set up screens only jurors can see.
There is a press conference at SDNY prosecutors' office on another topic but thread will continue – watch this site.
The photos have been entered into evidence, but we have not heard anything yet about the reams of photos and tapes that were in Epstein's vault.
The witness just concluded a viewing of the walkthrough video.

The prosecutor instructs the witness to view three exhibits.

— Adam Klasfeld (@KlasfeldReports) December 3, 2021
Hopefully I will be able to get a copy of the exhibits and publish them here for our readers.
Mid-afternoon recess.

Service advisory: Much of this testimony is visual, including of sealed exhibits that are not available to the press and public.

Live-tweets will be sporadic.

— Adam Klasfeld (@KlasfeldReports) December 3, 2021
Maxwell's lawyer Bobbi Sternheim tells the judge that sealing the roughly 40-minute video conveys a public impression that the house was a "domicile of debauchery."

Only a couple of images in the video were at issue, she said.

— Adam Klasfeld (@KlasfeldReports) December 3, 2021
"Domicile of Debauchery" sounds about right. Court is back in session after a long recess. Jurors are examining various photographs of Epstein's residence. Some are sealed.
completely losing my mind over this courtroom sketch of ghislaine maxwell staring straight at the artist and drawing them right back pic.twitter.com/La8sh4c9Pq

— Jello Bea Arthur (@DJWillMartin) December 2, 2021
I believe this is an intimidation tactic by Maxwell.
With Leslie Wexner (sort of) in the news, please consider reading my recent article on his documented ties to Organized Crime. Wexner is the main kingpin behind the Epstein/Maxwell network who continues to evade justice. @ArtisticBlower https://t.co/mdl3GR2Fih

— Whitney Webb (@_whitneywebb) December 3, 2021
Leslie Wexner has been repeatedly named at trial, and yet no charges have been brought against him. Maria Farmer has identified him as the "head of the snake" of the Epstein/Maxwell ring. This article provides good background information on him and his early years.
Photographs of Jeffrey Epstein with his partially clothed prepubescent goddaughter — including one of her across his lap with him pretending to bite her — will be shown to the jurors in the Ghislaine Maxwell trial, prosecutors revealed today. pic.twitter.com/nzl24ad9Lo

— julie k. brown (@jkbjournalist) December 3, 2021
This is just gross. I don't know anyone who would find that type of thing acceptable.
Source:https://t.co/3yTKDlF9B4

— Maxwell Trial Tracker (@TrackerTrial) December 3, 2021
Pedophiliac art displayed in the Epstein home, where Maxwell also resided will be introduced.
Ghislaine Maxwell's deep state sister is confronted with the right questions!! pic.twitter.com/DKa7yD3pAu

— El Presidento (@ElPresidento46) December 3, 2021
Isabel Maxwell being confronted outside the courthouse today in New York was an amazing moment.
The prosecution team has opened the Ghislaine Maxwell trial with a series of own goals.

🔴From inconsistent testimonies to a surprisingly short opening statement, here's why the prosecution has failed to land the knock-out blow they hoped for #Thread⬇️https://t.co/1Kc3Cc4nPg pic.twitter.com/LDQcGAszrb

— Telegraph World News (@TelegraphWorld) December 3, 2021
Here we have Maureen Comey, James Comey's daughter. A seasoned prosecutor said he was shocked at how short the opening statements were by the prosecution in this case.
Witness day 5: Greg Parkinson, retired police officer/expert in crime scene investigations & fingerprinting.

Relaying the physical layout of Epstein's house at 358 El Brillo Way.

Also mentioned: Pics of Epstein with Pope John Paul II & Fidel Castro.#GhislaineMaxwellTrial pic.twitter.com/XGtDsg4gXR

— (Ghislaine Maxwell Trial Coverage) (@OneAddyAdds) December 3, 2021
I highly recommend everyone follow this young man on Twitter, as he has been providing consistent coverage from outside the courthouse all week.
Cross-examination—Maxwell's counsel asks Parkinson of his knowledge of the defendant.

Q: You don't know who Ghislaine Maxwell is?
A: I do not.

— Adam Klasfeld (@KlasfeldReports) December 3, 2021
This is interesting, as so far Maxwell has been characterized as the "lady of the house" by the other witnesses.
Parkinson: Now the table is in an open position.
Exhibit 51a: Photo of massage table on its side.
AUSA Comey: Where was it manufactured?
Parkinson: Vista, California.
AUSA Comey: No further questions.
Judge Nathan: Mr. Everdell, you may cross.

Maxwell's lawyer Everdell: You previously investigated a burglary there, correct? Parkinson: True.
Everdell: And Mr. Epstein said that several thousand dollars had been stolen, right?
Parkinson: True.

Everdell is jumping around with his questions, laughing uncomfortably now. He asked Parkinson about an exhibit – sealed – that is Epstein's desk and the photos on it.
Testifying now is Michael Dawson, who was one of the detectives who searched Epstein's residence.

He said they were looking for the massage table, sex toys, correspondence and other materials.

— Adam Klasfeld (@KlasfeldReports) December 3, 2021
Still no mention of the video and audio tapes the house was bugged to record.
Judge Nathan: "We're done for the night."

She is prompt about stopping proceedings at 5 p.m.

— Adam Klasfeld (@KlasfeldReports) December 3, 2021
Noting this is their first weekend apart, the judge urges the jury not to discuss or research the case over the break.
30 year old Karyna Shulyak from Belarus, who insist that she was one of his "serious girlfriends," was allegedly the last person who spoke to Jeffrey Epstein on the phone the night before he died.

She has refused to cooperate with the investigation. pic.twitter.com/e9Vi9VQ4vP

— Agenthades (@Agenthades1) March 4, 2020
One thing that has come out is that Epstein liked to arrange marriages, sometimes forcibly, as shown in this Katlyn Doe lawsuit from last year. https://t.co/wL2WUyqJ7Ahttps://t.co/4dEXpiTnGD

— Agenthades (@Agenthades1) March 4, 2020
Photo hanging up in Epstein's house. Not sure what this is. pic.twitter.com/Uyd9Mg8UWG

— Maxwell Trial Tracker (@TrackerTrial) December 3, 2021
Thus concludes the first week of the Maxwell trial. It picks back up Monday morning. We will continue to keep everyone update daily on the progress of the trial, while reminding everyone about the glaring omissions and what is NOT being covered.
December 3, 2021 — The fifth day of the US v. Ghislaine Maxwell trial has begun. We have been providing daily coverage of the trial and you can view our prior reporting to get caught up on the proceedings here: part one, part two and part three. Part one contains the first two days summaries…
December 3, 2021 — The fifth day of the US v. Ghislaine Maxwell trial has begun. We have been providing daily coverage of the trial and you can view our prior reporting to get caught up on the proceedings here: part one, part two and part three. Part one contains the first two days summaries…