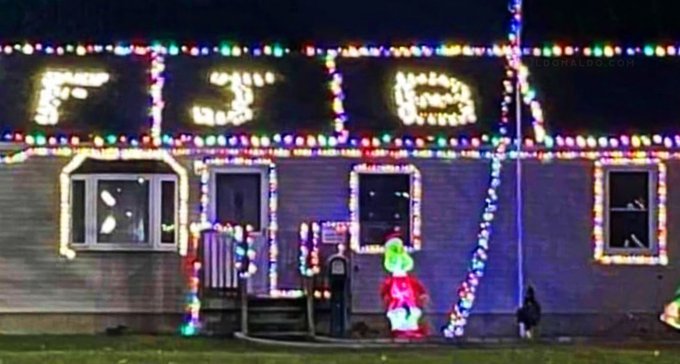 Friday Newsfeed: In A Festive Mood During The Biden Era
December 3, 2021 in From the editors
Christmas 2021 will go down as the official "Little Christmas"…
For we need a little music.
Need a little laughter.
Need a little singing, ringing through the rafter…
And we need a little snappy, "Happy ever after"…
Need a little Christmas now
Rick Moran: Nearly Half of U.S. Households Say Inflation Is Causing Them Hardship
Kevin Downey, Jr: Sorry, Commies, You Can't Ruin Christmas
Why Greg Gutfeld is handily beating the competition in late night TV…
WATCH: President Biden comes to the stage more than 2 minutes after being introduced by LL Cool J at the National Christmas Tree lighting ceremony

— Breaking911 (@Breaking911) December 3, 2021
Twitchy: ROFL! LL Cool J introduces Biden at National Christmas Tree Lighting ceremony and OMG you have to watch what happens next (video)
At least the band continued to play as the titanic was sinking.. this band just gave up.

— Freeman Springs (@FreemanSprings) December 3, 2021
Jobs report was an anemic 210,000 jobs added despite 573,000 expected. It's almost as if firing people for not taking the vaccine isn't a great way to improve the labor scenario.

On the bright side, the White House says gas is down two cents.

— Carol Roth (@caroljsroth) December 3, 2021
I hate that they classify these as jobs *added* when we still haven't recovered all the jobs lost from the pandemic-related shutdowns.

— Novafan23 (@Novafan23) December 3, 2021
I recall during the O/Biden admin jobs cut from full time to part time (in order for employers to dodge O-care) were counted as "new jobs".

— Maggie (@drillanwr) December 3, 2021
Maybe more jobs would have been added if Americans could afford the gas it takes to get to a job? @ComfortablySmug https://t.co/LWjAnl5sNr

— I Might Be Donna (@Crypsis12) December 3, 2021
DWN: Democrats Blasted For Bragging Biden Made Gas 2 Cents Cheaper: 'Worst Defense Of The Biden Admin Yet'
Biden: "I've used every tool available to address price increases and it's beginning to work. Take gasoline and gas prices. Last week I announced the largest ever release from the United States Strategic Petroleum Reserve to increase the supply of oil and help bring down prices." pic.twitter.com/4Y5iWS6jJz

— Tom Elliott (@tomselliott) December 3, 2021
David Rutz: Jen Psaki confronted with poor jobs report live on MSNBC, says she can't comment right away: Psaki says we're seeing 'good trends' after the November jobs report fell short of expectations
Megan Henney: HUGE MISS: Biden reacts to dismal November jobs report that missed expectations – US hiring stumbles in November as economy adds just 210,000 new jobs: Economists expected payrolls to increase by 550,000 in November
VIDEO: Raising wages 'still not enough' to recruit workers amid labor shortage: Ski resort exec: Aspen Skiing Company vice president of communications Jeff Hanle explains how it's a 'bigger problem' than ever to hire employees.
By the way…
Chris Queen: Biden Administration to Restart Trump's 'Remain in Mexico' Policy … And when it is shown to be successful (again) at stopping the hemorrhaging on the border he will take full credit and his administration will insist it's NOT the Trump policy. After all, it's Biden's 'vaccine' and there wasn't any vaccines or vax distribution before old Joe came into office, or something.
California's uninterrupted crime supply chain…
Dom Calicchio: California's zero-bail policy sets free 14 smash-grab robbery suspects, LAPD chief says: Back in March, the California Supreme Court ruled that judges in the state must consider a suspect's ability to pay when setting bail prices
DM: Psaki blames COVID for surge in smash-and-grab raids: Pandemic is 'root cause of lawlessness' and Biden's plans will get more cops 'on the beat', she says … Peppermint Psaki is an unfunny joke.
Crying On-Cue: Other actors call bullshit on Alec Baldwin's "his truth" of the movie set shooting…
The Alec Baldwin interview is an absolute disaster. Like almost as bad as Prince Andrew on BBC.

— Tiana Lowe (@TianaTheFirst) December 3, 2021
Lee Brown: George Clooney calls Alec Baldwin's deadly 'Rust' shooting 'insane'
Nate Day: John Schneider rails against Alec Baldwin for claiming he 'didn't pull the trigger': The 'Dukes of Hazzard' alum also slammed journalist George Stephanopoulos
Alec Baldwin releasing the hammer on a vintage gun is the same as pulling the trigger.

— Randy Quaid (@RandyRRQuaid) December 3, 2021
Truth.

He confessed this to @GStephanopoulos last night.https://t.co/zFbfbTtwOG

— Adam Baldwin (@AdamBaldwin) December 3, 2021
(Adam Baldwin is NOT related to Alec Baldwin)
Maureen Callahan: Alec Baldwin blames the victim in sickening interview
Twitchy: 'Narcissistic sociopath': Alec Baldwin says he feels no guilt over the death of Halyna Hutchins … This, from the same leftist ilk that insists pro 2A and legal gun owners are responsible for everyone else's gun crimes.
Concentration Camp COVID…
This is Howard Springs Quarantine Camp in The Northern Territory of Australia. Indigenous Aboriginal leaders have released videos saying they are being forced to go there.

What happened to helping those who have a history of state oppression.

Where is the international outcry? pic.twitter.com/3tThbMfwhf

— No More Lockdowns UK (@NMLockdownsUK) November 24, 2021
CBS News: Germany announces major restrictions on the unvaccinated as COVID cases surge
Mary Chastain: COVID Madness: Germany Isolates Unvaccinated, Australia Arrests Escapees From Quarantine Compound: Insanity. Once you give these people the power they will not let it go. The craziness in Australia continues but Germany is going over the edge… … Good God, you insane Huns and Ozzies!
Police set up major check points after three teens "escape" from Howard Springs quarantine facility in #Australia#HowardSprings #Quarantine pic.twitter.com/39onACv57W

— AlbertaNationals.com (@AlbertaNational) December 1, 2021
Kevin Downey, Jr: Three Teens Who Escaped From Aussie COVID Camp All Have One Thing in Common, and It's Not the Virus: Australian COVID camps are open for business, and business had been good. Until the escapes began…
J.J.Sefton @ AoSHQ: "Paul Hogan's Heroes Or, Shrimp On The Klaus Barbie"
Kyle Rittenhouse is one thing, and it's a big one. But if you really want to know why we have a Second Amendment, look no further than the absolute abomination that is happening in Australia. G-d help this illegitimate junta and any of its enforcers if they try this shit here. And G-d help us…
Oh, cool your jets, J.J. *tsk-tsk* … Come on now, that won't happen here … Right?
CNBC host Jim Cramer goes on psychotic rant calling for universal vaccine mandate, enforced by the military pic.twitter.com/dqL1TG96Z7

— Jewish Deplorable (@TrumpJew2) November 30, 2021
Ryan King: CNBC's Jim Cramer pushes Biden to implement national vaccine mandate
Coronabros keep getting more insane. Here's Jim Cramer arguing for the military to enforce mandatory covid vaccines. If you decline the vaccine? You're forced to stay home under house arrest. pic.twitter.com/wsVMMK7DVp

— Clay Travis (@ClayTravis) November 30, 2021
It has been debated for a long time, but it is now officially safe to disregard every word spoken by @jimcramer. Military enforcement of mandatory vaccines for everyone? This guy has lost it. Take that idea to Germany. They acted that way in the 1940s.https://t.co/drhuAAR6tU

— Jim Rickards (@JamesGRickards) December 1, 2021
A.J. Kaufman: Biden Tightens Travel Rules and Pushes Boosters in Winter Speech: Reacting just after the speech, however, Dr. Marty Makary was puzzled over how Biden "created artificial construct that we have insufficiently boosted population."…
Stephen Kruiser: The Kruiser Kabana Episode 162: COVID Nazis Can't Ruin My Plans Anymore
Matt Margolis: Psaki Blames Americans for Biden's Broken Promise to 'Shut Down the Virus'
A.J. Kaufman: Vermont: Highest Vaccination Rate, Record-Breaking COVID Numbers
Meanwhile…
India (the largest democracy in the world with population of 1.2 billion ppl) won't buy Pfizer/Moderna novel mRNA vaccines

'Indian govt has declined to meet the US companies' requests for legal protection over any side-effects from use of their shots…"https://t.co/sPhukZ28em

— Kulvinder Kaur MD (@dockaurG) December 2, 2021
Reuters (9/21): India govt won't buy Pfizer, Moderna vaccines amid local output -sources
If you're a "The Walking Dead" fan and also a fan of its prequel (that now has caught up to TWD's timeline) "Fear The Walking Dead" you will recall in FTWD's earliest episodes radios and TVs in the background of scenes are rattling on about "the flu" epidemic and "hurry and get your 'flu shot'". In those episodes I found myself cementing not only the basic idea that the sickness and the after-death 'zombie' conversion was brought on by a virus … and that it was manmade. And the push for the vaccine was either part of the population 'culling' experiment, or an attempt to curtail the explosion of infection that inevitably lead to the zombie apocalypse. No mention(s) of the "flu" aspect or the "flu shots" was ever mentioned again in FTWD or TWD. As everyday passes with this two years 'pandemic', I find the sci-fi apocalyptic story to have been pretty prescient on the bio-weapon aspect, and possibly on the vaccine being part of it, especially when we see how the powers that be cut-down anything that might be used to actually treat those people who get infected/sick from the virus. And yes, they indeed demand the masses now become fear-induced obedient zombies to dictatorial governing.
Jeffrey Epstein STILL Didn't Kill Himself:
BREAKING REPORT: Jeffrey Epstein visited CLINTON WHITE HOUSE at least 17 times during his 8 year term…

MEDIA DEAD SILENT…

— Chuck Callesto (@ChuckCallesto) December 3, 2021
Alec Baldwin is confirmed as present in Epstein's Black Book

— Maxwell Trial Tracker (@TrackerTrial) December 3, 2021
DM: EXCLUSIVE: Jeffrey Epstein's access to the Clinton White House laid bare: Visitor logs reveal pedophile visited the former president at least 17 TIMES – including a dozen in 1994 and twice in one day on three separate occasions
BONUS:
Ladies and Gents, the "Speaker" of The House…
Twitchy: 'Glitch or drunk? YOU decide.' You can see the MOMENT Nancy Pelosi's brain just STOPS in real-time during press conference (watch) … Nancy's 3 Martini meal 3 times a day, with two 3 Martini snacks. Hey, it's 5:00 somewhere, ya know.
~~~
~~Many thanks to Maggie and The Universal Spectator for reprint permission.
December 3, 2021 in From the editors Christmas 2021 will go down as the official "Little Christmas"… For we need a little music.Need a little laughter.Need a little singing, ringing through the rafter…And we need a little snappy, "Happy ever after"…Need a little Christmas now Rick Moran: Nearly Half of U.S. Households Say Inflation Is Causing Them Hardship Kevin…
December 3, 2021 in From the editors Christmas 2021 will go down as the official "Little Christmas"… For we need a little music.Need a little laughter.Need a little singing, ringing through the rafter…And we need a little snappy, "Happy ever after"…Need a little Christmas now Rick Moran: Nearly Half of U.S. Households Say Inflation Is Causing Them Hardship Kevin…