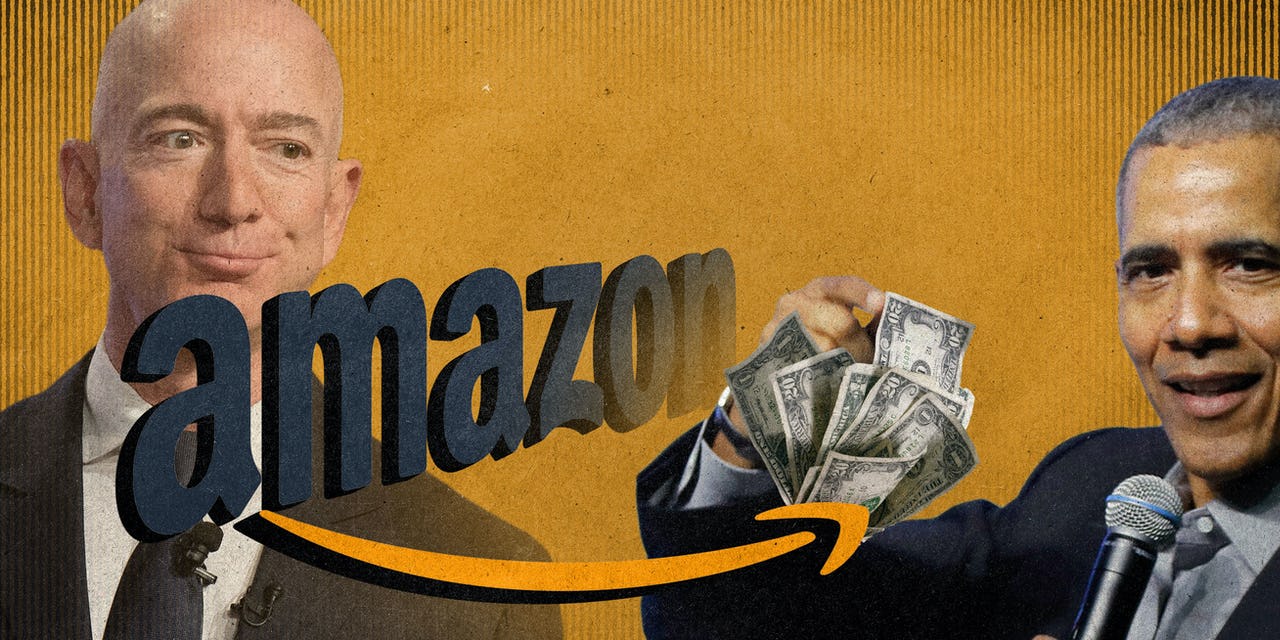 Why Did Bezos Give Obama $100 Million?
December 2, 2021
The oligarch and the former president can't be up to anything good.
Amazon founder, Washington Post owner, space adventurer, and multi-billionaire socialist enemy of Liberty Jeff Bezos recently gifted the Obama Foundation $100 million. The only string attached to the gift is that Bezos wants Barack Obama to name his Chicago-based presidential center after former congressman and civil rights pioneer John Lewis. Valeria Jarrett, longtime Obama lackey and foundation CEO, approved the request in a press statement. That still doesn't answer the question of why Bezos dropped that load on Obama.
Bezos, who also donated $166 million to the NYU Langone Medical Center in New York City, has been on a philanthropic spree since formally stepping down as CEO of Amazon earlier this year. Don't worry, though. With a current net worth of $204.5 billion, Bezos won't be clipping coupons anytime soon. The world's second-richest man had been getting flak from his billionaire brethren in recent years for not giving away his fortune fast enough.
The $100 million Obama gift was not a giveaway, though. Bezos was buying something with his donation, and it wasn't just naming rights for John Lewis, rest in peace. Politicians on both sides of the aisle have issues with Amazon for what many see as anti-competitive business practices, and the Left in specific has it out for Bezos simply because of his outsized wealth. For better or worse, there are a gaggle of Big Tech regulatory schemes being dreamed up in Congress, and it would seem that Bezos's Obama donation is an attempt to "grease" his way into the Left's good political graces. It was Jay Carney, Amazon's global head of corporate affairs, who brokered the deal. Carney, you may recall, was Obama's press secretary and then-Vice President Joe Biden's communications director.
Obama's $500 million presidential center has drawn its share of controversy as well. Construction on the 19-acre project began this fall after five years of legal battles to prevent the center from being located in Jackson Park on Chicago's South Side. While the Obamas were keen to place his presidential library near where the so-called community organizer got his political start, many area residents fear the center will gentrify the neighborhood and eventually force them out. But Barack Obama has never been one to let anything get in the way of celebrating himself, and the center is expected to be completed by 2026.
Media coverage of Bezos's gift to the Obama presidential center has been predictably selective. Stories about influence-peddling billionaires are worthy of CNN or The New York Times only if they include names like Koch or Adelson or Trump.
Though Bezos is a neophyte to the political class, he is a quick learner and has gobs of money to buy his way into the party. His purchase of The Washington Post in 2013, his hiring of Carney, and his burgeoning army of lobbyists prompt one to wonder if Bezos may one day make his bid for a governor's mansion or the White House. Attaching himself to the Obama Foundation is one more step in that nightmarish direction.
Hey, who ever said that Russia gets to have all the oligarchs?
~~~
~~Reprinted with permission. See the original article here and leave some comments! 
December 2, 2021 The oligarch and the former president can't be up to anything good. Amazon founder, Washington Post owner, space adventurer, and multi-billionaire socialist enemy of Liberty Jeff Bezos recently gifted the Obama Foundation $100 million. The only string attached to the gift is that Bezos wants Barack Obama to name his Chicago-based presidential center after former…
December 2, 2021 The oligarch and the former president can't be up to anything good. Amazon founder, Washington Post owner, space adventurer, and multi-billionaire socialist enemy of Liberty Jeff Bezos recently gifted the Obama Foundation $100 million. The only string attached to the gift is that Bezos wants Barack Obama to name his Chicago-based presidential center after former…