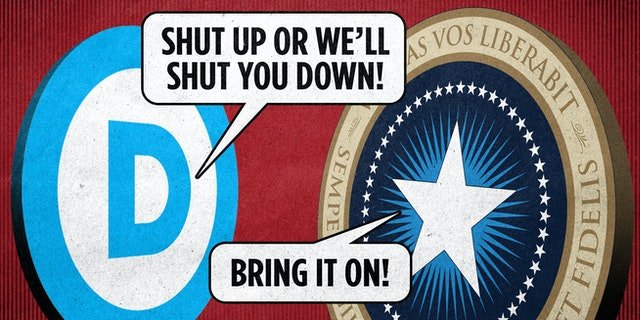 Demo Speech Suppressors Target Patriot Post
By MARK ALEXANDER December 1, 2021 in LeftMedia/Big Tech/ Demo Collusion 
Avoiding social media silencers and invisible advertising influencers.
No government ought to be without censors and where the press is free, no one ever will. —Thomas Jefferson (1792)
After 25 years publishing our nation's premier online journal of American Liberty, our longtime readers know we have higher standards than the multitude of other publications that have emerged since our inception.
One incoming question I see perennially when we're raising our year-end mission and operation funding is, "Why don't you take advertising to offset your expenses like other conservative publishers?"
First and foremost, as we note on our site, "We never post the sensationalist 'click bait' that pervades the pages of Leftmedia platforms and now too many Right-side political news sites. Nor will you find any 'Fake News' fabrications and editorial tripe — content driven by pursuit of market share that determines the advertising revenues on which commercial publications depend."
Thus, "Our website pages and emails are certified 'Ad Free.' Because we do not depend on a single penny of ad revenue, we focus solely on providing you content that is actually newsworthy — worthy of your time — rather than constantly churning the ubiquitous topics which now dominate the mainstream media's relentless 24/7 recycled spin." Moreover, "We do not accept advertising to ensure our advocacy and editorial content is not restrained by commercial influence — as is the case with all mass media outlets. Thus, you will note our website and email editions are free of the offensive advertising which clutters commercial news websites."
So, beyond the invisible influence that advertisers have on editorial content served up by commercial news sites, what offensive advertising am I referencing?
Recently, on our daybreak editors' call, one of our team members posted a screenshot of the home page of a preferred news source, the Washington Examiner. What we saw was, frankly, stunning. This otherwise outstanding publication was allowing its home page to be used by third-party advertisers for promotion of content that is antithetical to what many of its writers advocate, advertising that is outright offensive to many of its readers.
No, this was not a case of "gut worm" image advertisements that pop up on some conservative websites, but ads affirming gender disorientation, in effect promoting activist movements that are attacking the traditional family and faith pillars that are the foundation of American Liberty and, indeed, the foundation of the American nation itself.
Above and beside a headline about "transgender athlete policy" were advertisements for same-sex "marriages." Note below the headline, a promo to subscribe to "the conservative source Americans deserve." Here is that screenshot:
Again, we consider the Washington Examiner to be an outstanding source for conservative news, but its ads are another matter. Consequently, we will remain ad free! That being said, we've been forced to dramatically change our outreach model.
At the same time that we've enjoyed record growth — almost 30% in 2020 — we're under increasing and relentless assault by the Big Tech suppressors of conservative advocacy. The systemic suppression of free speech by Big Tech platforms and their Leftmedia collaborators is the socialist Democrat Party's key strategy for controlling public opinion.
They know that we reach millions of grassroots Americans with our critical message of Liberty, including many "grass tops" leaders and influencers, who use our message to inform their own conservative constituencies. They rely on The Patriot Post as a primary touchstone for Liberty, and consequently, the Left is trying to silence our voice.
For example, since June 2020, Facebook and Twitter have systemically suppressed the reach of our content, with no transparency about or explanation for that suppression, and no recourse. In other words, despite the fact that more than 700,000 people on that platform have deliberately selected to follow our content, apparently Facebook is showing that content to only 15% of the audience we had a year ago. The platform will never reveal that, of course, but our incoming traffic from social media platforms is down almost 85%.
How did Facebook do that?
Primarily by using so-called "fact-checkers," a.k.a. Leftmedia hacks who on rare occasions — and by using specious arguments — insist our content is factually wrong. By rare, I mean the system is rigged such that a handful of complaints in a year can cripple all of the constituent-building we've done for many years, with no recourse available to us.
Are those complaints legitimate? No, but that doesn't matter.
A case in point would be the suspension of my Twitter account last month.
On October 3rd, after Joe Biden's disgraceful surrender and retreat from Afghanistan, I wrote this post: "According to @POTUS Biden, we can negotiate with the Islamist terrorists… The Taliban hanged a dead body from a crane in the main square of Herat City in western Afghanistan." Clearly, they were sending a very visible message to anyone who might challenge their tyrannical authority — yet Joe Biden asserted we could work with these thugs.
Twitter then suspended my account, insisting my post was a fake news violation. To the contrary, it was absolutely factual, as the Associated Press had documented.
Our social media director immediately appealed the suspension, and within a day we received the following message: "Our support team has reviewed your account and it appears we made an error. We've determined there was no violation and have restored your account to full functionality. We sincerely apologize for any inconvenience and appreciate you taking the time to submit your appeal request to us."
But the account was not restored despite repeated attempts to contact Twitter. Consequently, after a month-long blackout, I decided to test the suspension by removing the "offending post," and within minutes the account was restored. In other words, according to the leftist fascists who control Twitter: We'll restore your account only when you remove certain inconvenient truths.
Moreover, just in time for this column, the Twitter commissars announced a new set of rules this week. Unless their Leftmedia "fact-checkers" determine a post regarding a public figure is "in the public interest or adds value to public discourse," they "may remove the content." For the most part, they are just codifying what they have been doing all along.
Keep in mind, these are the same Leftmedia and social media giants that promoted, non-stop, the now-debunked Trump/Russia collusion lie fabricated by Hillary Clinton to keep Donald Trump on the ropes for three years. Consider also the unprecedented blackout Twitter imposed on factual revelations ahead of the election last year regarding Joe Biden's secret financial deals with the Red Chinese, the most dangerous threat to our nation and the future of Liberty.
Making matters worse, congressional hearings begin this week on Biden's hyper-partisan nominee to the Federal Communications Commission, socialist Gigi Sohn. She is an advocate for suppression of First Amendment rights, claiming Fox News is "state-sponsored propaganda" and questioning whether conservative Sinclair Broadcast Group is "qualified to be a broadcast licensee at all." But Biden's parrots claim she is "one of the nation's leading public advocates for open, affordable, and democratic communications networks." Right.
So, what's the bottom line?
While it's important to our editorial integrity that we not take advertising, our political news and analysis content has been systematically suppressed by social media platform "arbiters of truth." Until a year ago, those platforms were the primary conduits leading people to our site.
Consequently, we have had to significantly expand our budget to reach potential readers directly, and we have done so with exceptional results. But what was once virtually free is now expensive.
Thus, please support The Patriot Fund, the most cost-effective investment you can make to ensure the future of Liberty. We're the Web's most influential grassroots journal promoting freedom and challenging the Leftmedia narrative. We rely 100% on the voluntary financial support of Patriots like you!
Semper Vigilans Fortis Paratus et Fidelis
Pro Deo et Libertate — 1776
---
Join us in prayer for our nation's Military Patriots standing in harm's way, for our First Responders, and for their families. Please lift up your Patriot team and our mission to support and defend our Republic's Founding Principle of Liberty, in order to ignite the fires of freedom in the hearts and minds of our countrymen.
~~~
~~Reprinted with permission. See the original article here and leave some comments! 
By MARK ALEXANDER December 1, 2021 in LeftMedia/Big Tech/ Demo Collusion  Avoiding social media silencers and invisible advertising influencers. No government ought to be without censors and where the press is free, no one ever will. —Thomas Jefferson (1792) After 25 years publishing our nation's premier online journal of American Liberty, our longtime readers know we have…
By MARK ALEXANDER December 1, 2021 in LeftMedia/Big Tech/ Demo Collusion  Avoiding social media silencers and invisible advertising influencers. No government ought to be without censors and where the press is free, no one ever will. —Thomas Jefferson (1792) After 25 years publishing our nation's premier online journal of American Liberty, our longtime readers know we have…